Wrinkle-free dress shirts make it simple to look great. And forget about the stiff and uncomfortable options from years ago; these shirts, in superior materials and the latest hues, feel as good as they look. Shop our faves below, and remember, you'll never pay sales tax with Teeanime.
No More Ironing with These Shirts
Never worry about going to the dry cleaners last minute to clean and iron your shirts. No one has time for that! This list provides you with high-quality Wrinkle-free dress shirts at some of the best prices online.
10. Non-Iron Solid Dress Shirt by Nordstrom $39
Nordstrom's 100% cotton dress shirt has a conventional fit, a button-down collar, and is intended to require little to no ironing. Blue French, which is available in four colors, is our favorite.
9. Trim Fit Non-Iron Dress Shirt by Tailorbyrd $90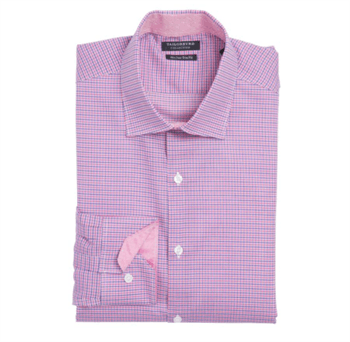 Tailorbyrd's fuchsia patterned trim-fit shirt makes a statement (while leaving the iron in the closet).
8. Trim Fit Non-Iron Graphic Stretch Dress Shirt by Calibrate $70
This shirt's elastic, easy-care cotton makes it quite comfortable, the distinctive pattern looks beautiful, and it comes out of the dryer ready to wear.
7. Classic-Fit Non-Iron Stretch Check Shirt by Banana Republic $80
Banana Republic offers a complete selection of non-iron men's dress shirts. This checkered pattern shirt has a traditional fit and style that we appreciate.
6. Classic-Fit Non-Iron Stretch Gingham Shirt by Banana Republic $80
Gingham shirts are always in style, and the natural stretch and non-iron properties of this blue gingham shirt will make it an instant favorite.
5. Non-Iron Candy Stripe Dress Shirt by Brooks Brothers $92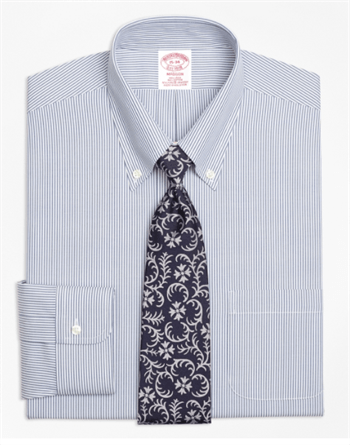 This dress shirt has been specifically treated to resist wrinkles, it's crafted from American-grown Supima cotton broadcloth with just enough stretch for comfort, and it has Brooks Brothers' characteristic 6-Pleat shirring.
4. Infinite Non-Iron Slim Fit Dress Shirt by Calvin Klein $100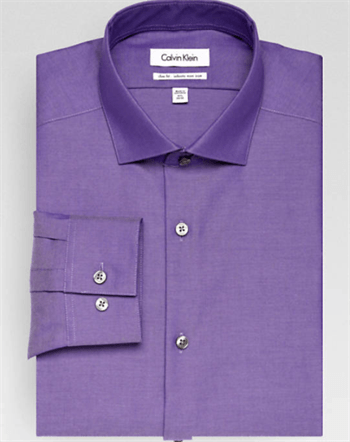 Calvin Klein's purple dress shirt is made of crisp, non-iron cotton and looks great with everything from jeans to suits.
3. Blue & Berry Check Slim Fit Dress Shirt by Esquire $90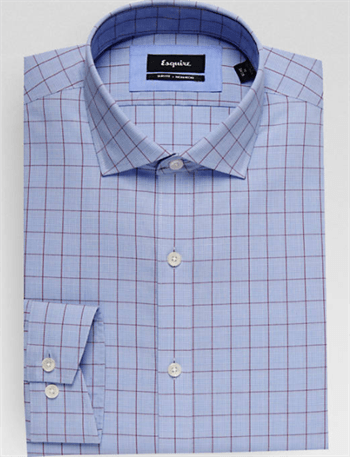 Do you want a sharp, clean appearance without having to use an iron? This Esquire non-iron dress shirt looks terrific without the extra effort – just pull it out of the dryer and go!
2. Marc Anthony Slim-Fit Non-Iron Stretch Dress Shirt $60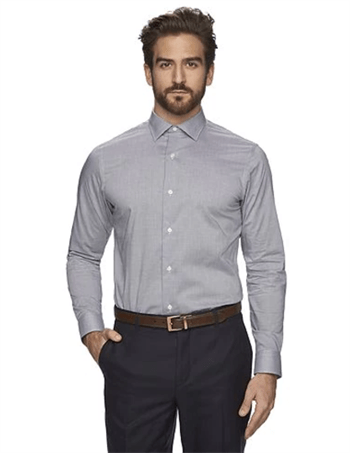 This Marc Anthony dress shirt has a modern appearance and thin fit. It requires little to no ironing and has a spread collar to permit broader tie knots.
1. Men's Solid No Iron Supima Oxford by Lands' End $50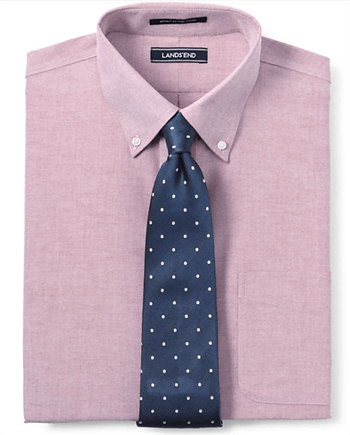 Do you need to replenish your closet with easy-care, no-iron work shirts? This Lands' End dress shirt boasts classic dress-shirt tailoring in 100% cotton that stays smooth for 30 washes, and if you buy two or more, you save $5 on each shirt.