Isn't there a vintage aesthetic all over? If you're not sure what it means or need some clothing inspiration, keep reading – we've got you covered!
In the previous few years, over 500,000 diverse styles have emerged, ranging from #cottagecore to #retroaesthetic. In this post, we'll look at the definition of vintage aesthetic and how it relates to other aesthetics.
When surrounded by a plethora of varied aesthetics, a millennial like myself becomes dizzy. We were obsessed with musical genres while I was in school; there were alters, rockers, goths, punks, rappers, and discoheads among us — and that was all. People typically make up their minds and stick to a style. Listening to Britney one day and Iron Maiden the next was practically inappropriate, if not blasphemous.
Thankfully, this has all changed. Committing to a single style or genre is pointless in a world where everything is just one click away for anyone.
It's perfectly fine if you're sad on Monday, but you want to party like there's no Wednesday on Tuesday. It's much more acceptable to indicate this through your regular attire and aesthetic. So, go with Teeanime for all your doubts!
What exactly is vintage aesthetic then?
The word "vintage aesthetic" refers to a wide range of aesthetics. Entering the hashtag #vintageaesthetic on Instagram yields a rather varied result.
Let's look at what these two words mean independently to see what's common in these styles.
Vintage refers to anything that is not new (at least 15-20 years old) or antique (not more than a century old). As a result, we can discuss Y2K vintage, 1990s vintage, and 1940s vintage.
The term "aesthetic" is derived from the Greek word "aisthetikos," and it refers to sensitivity, sentience, and even perception. "Aesthetics is a discipline of philosophy that deals with the nature of beauty and taste," according to Wikipedia. It signifies something lovely or nice as an adjective.
When you put these two terms together, you get the sense that vintage aesthetic means reveling in the beauty ideals of the last few decades.
How to dress vintage
"That's all really brilliant and instructive…" you may say now. But I want to exude a vintage aesthetic, so how should I dress?"
As vintage aesthetic changes from decades to decades and from style to style, there are no hard rules to do it 'correctly'.
You should just go to some vintage shops or charity – you'll find one-of-a-kind and authentic stuff in any thrift store. The top online vintage shops even have these clothes perfectly designed – you can easily steal some wardrobe ideas from them.
It's actually that easy. You don't need top-tier stylists or fashion experts. Things that are disgusting do not survive for decades.
How fast fashion brands cannibalize vintage aesthetics and why it's bad for us
Fast fashion firms have even begun to cannibalize vintage aesthetics, which is ludicrous given their track record of being careless nonchalants. It's self-evident that you can't produce vintage aesthetics with fresh stuff. How can something that was made recently be considered vintage?
The truth is that you don't have to create anything for vintage. It is already present. You simply must accept it. Rework it. Restore it. Recreate it.
Now, let's brainstorm some ideas for your sets and have a look at the varied aesthetics of the last few decades. First, let's go back in time to the last century.
2000s vintage Y2K aesthetic
Pleated skirts, soft sweatpants, rhinestone butterflies, and plumber's cracks are all on the menu. That's right, it's the 2000s. Only the devil knows how this era, defined by Paris Hilton's and Christina Aguilera's ultra-thin brows, came back into favor. To be honest, I was hoping that after a couple of years of 90s resurgence, we'd return to the 60s and I wouldn't have to wear these low-waisted trousers again… but no such luck. So put on your stone-washed jeans and rhinestone belts!
90s vintage grunge aesthetic
Oh, the 1990s, the last decade before the Internet. It's no surprise that the 70s throwback flower-power love flood was a major fashion trend. The other — the polar opposite — was Kurt Cobain-grunge. Lumberjack shirts, big denim jackets, Chuck Taylors, and tattered mom jeans are all must-haves.
80s vintage retro aesthetic
Stranger Things has made 1980s clothes hip again. Weird geometric designs, hideous sweaters, and the ultra-trendy over-over-oversized broad-shouldered feminist blazers with puffy sleeves.
70s vintage hippie aesthetic
70s hippy dress looks to be coming back doubly doubled nowadays, thanks to its rebirth in the 1990s: we have crocheted items, blazer-cut leather coats, and pointed collars. And flared trousers have finally taken the role of skinny jeans!
60s vintage mod aesthetic
60s fashion, particularly in the early half of the decade, primarily follows Mary Quant's mod line: straight cuts, clean shapes, and vivid geometric patterns. The second half is virtually the polar opposite: the flower-power psychedelic style, with its swirling, wild patterns and jabot shirts, is everything from clean.
Aesthetics types from fairycore to farmcore:
But enough with categorizing everything by decade. Many aesthetics are not tied to a specific era yet are, at their core, vintage. Let's have a look at a couple of them!
Fairycore aesthetic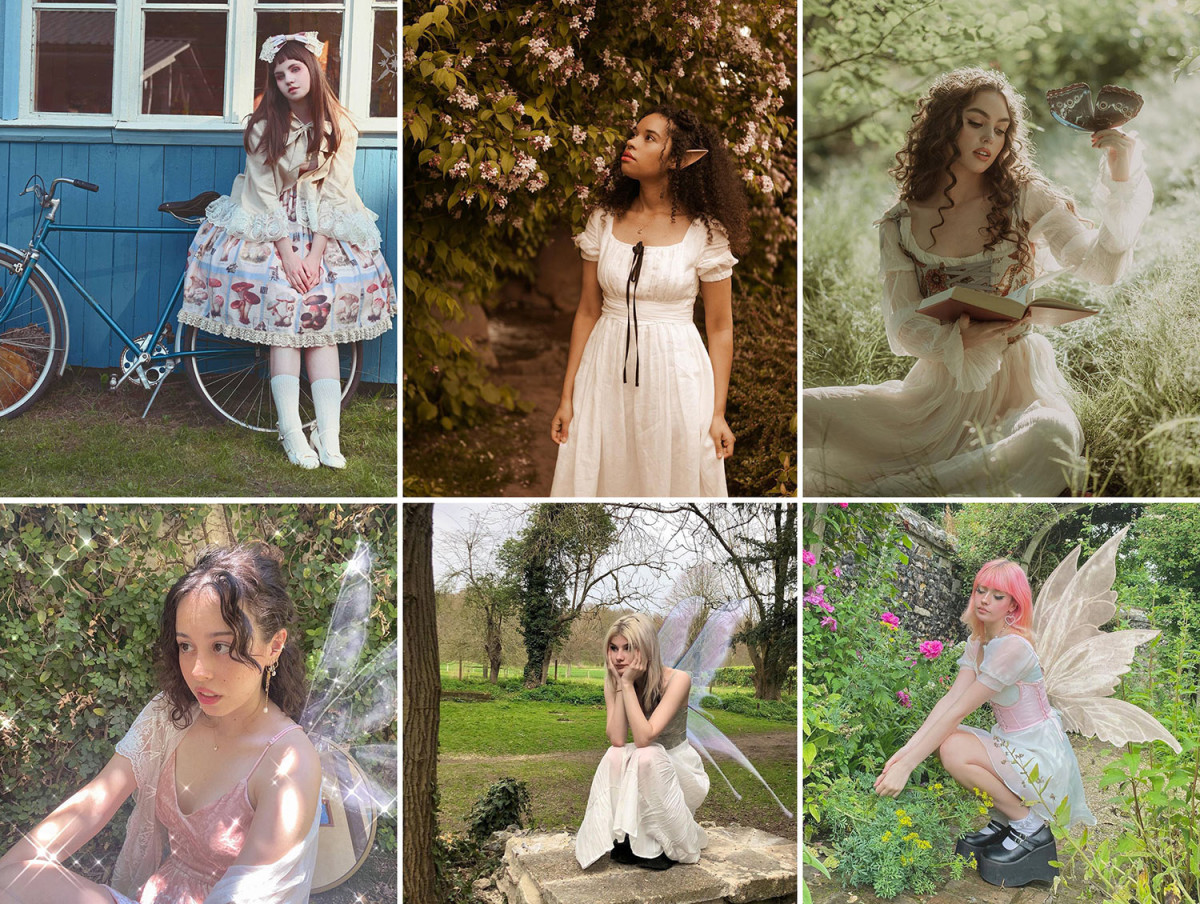 The first Lord of the Rings film was released in 2001, therefore it's no wonder that the second wave of 2000s fashion made elf ears and butterfly wings obligatory accessories. To be honest, it's pretty gratifying 3 to see that what was formerly considered loser-geeky is now considered hip.
Cottagecore / farmcore aesthetic
Frills, laces, and peasant blouses are all popular. Cottagecore seems so romantic, but that's what it is. So, omen is omen. Remember to shoot pictures in a field with lots of farm animals in the background. This look is reminiscent of the vintage aesthetic of the 1970s.
Antique aesthetic
This one fetishizes the fin de siècle mood of the turn of the century. It's difficult to tell it apart from fairycore and cottagecore; antique has the frills and beautiful embellishments, but without the butterfly wings and straw bales.
Why it's better and more sustainable to wear vintage clothes
Is there anything more aesthetic nowadays than being sustainable, given that we've nearly depleted our planet's resources? You're probably depressed and powerless in the face of climate change, forest fires, and other natural disasters. You believe you have no options, and it appears like outlawing plastic straws will only delay our demise by a few seconds. Yes, nothing will change until the Fortune 500 becomes a little more responsible. Still, wearing vintage is a terrific idea because it is ready and done. We won't have to poison more of our streams or murder more animals just to seem attractive. It's not a big deal, like selective waste collection, but it may be a game changer if we reach critical mass.