What is heat transfer printing, and how is it done? Keep reading with Teeanime to find out!
What Is Heat Transfer Printing?
Heat-transfer printing, also known as thermal-wax transfer printing, thermal printing, or thermal-transfer printing, use heat to transfer an image from wax to an object. Heat press printing techniques can be used to make images that are preprinted on a single wax sheet or images that are printed on the fly by layering wax dye on the object. Printing on fabric with heat transfer can replace or supplement other methods of printing.
What Equipment & Supplies Do You Need?
Here's what you need to do a successful digital heat transfer so that you can print a logo on the product you want:
A Computer
To make your own design and print it for heat transfer, you need a computer with graphic design software.
A Heat Transfer Printer
For heat press applications, you'll need a printer that's a good bit bigger than the one you usually use so you can print bigger designs. Also, heat transfer printers work just like regular inkjet printers; they just need a different ink and special transfer paper.
Heat Transfer Ink
Using different kinds of inks, heat transfer printing can make different kinds of finishes. Inkjet, on the other hand, is the most common type of ink because it is the easiest to get and the cheapest. When doing dye sublimation printing, you can also use pigment ink, which won't fade, or sublimation ink.
Heat Transfer Paper
What is transfer paper used for? So, it's a special kind of paper made for heat transfer. It is usually covered with a pigmented polymer film and wax, which, when heated, forms a permanent bond with the fibers of the fabric. Heat transfer paper usually comes in sheets that are 13″ by 19″ so that designers have more room to work.
Cutter
You will also need a vinyl cutter to cut out your design from the heat transfer paper and stick it to the substrate.
Heat Press
This one comes in different sizes and shapes based on how it will be used for heat transfer. Clamshell presses and swing-away flatbed machines are used to make custom T-shirts and other flat clothing or accessories, like hats. Then there are heat presses that look like cylinders and are used to put designs on round things like custom water bottles and coffee mugs.
Heat Pads
On the bottom platen of the heat press, there are heat pads. During the heat transfer process or when you are learning how to make heat transfers, they serve as the surface for the product. Most of the time, they are made of foam that can handle heat or silicone rubber.
Heat Tape
It can handle heat and holds the heat transfer paper in place on the product.
Heat Resistant Sheeting
They are usually made of Teflon and go between the heating platen and the heat transfer paper to keep the heat press clean and keep the heat transfer paper from getting too hot.
Substrates
The thing you want to decorate is called the substrate. It can be anything, like a cup, a bag, a sweatshirt, a polo shirt, or a custom-made t-shirt. In other words, the substrate is where your heat-transferred masterpiece will go.
How Does Heat Transfer Printing Work?
Heat transfer can be done in many ways, such as digital appliqué transfers, inkjet transfers, vinyl transfers, dye-sublimation transfers, etc. But for now, let's talk about heat transfer in the business world:
Gather Your Supplies: Before you can start, you need to have everything you'll need on hand.
Make Your Design: You can mock up your design on your computer using software for graphic design. Don't forget to think about the color and size of the heat transfer ink.
Print the Design: Use sublimation ink, inkjet ink, or pigment ink, depending on your product and application, to print your custom design or brand's logo onto special heat transfer paper.
Cut Out the Design: To cut out the design, you will need a vinyl cutter. This is only needed for transfers that come from a supplier, a store, or are printed.
How to Warm Up Your Heat Press: To warm up your heat press, open it and separate the heat platen from the heat pad. Leave the heat platen alone while it warms up. The temperature is usually set between 350 and 375 °F for most heat transfer applications.
Adjust the Pressure: The pressure is determined by the thickness of the fabric, with thicker fabrics requiring less pressure. Most of the time, medium or high pressure is required.
Set the Time:
Pay close attention to this step because the time needed to do it changes depending on how the heat is transferred. Set the time by following the steps:
Digital Appliqué Transfer: 20 to 30 seconds
Inkjet Transfer Paper: 14 to 18 seconds
Vinyl Transfer: 45 to 60 seconds
Dye Sublimation Transfer: 25 to 30 seconds
Set the Substrate and Transfer: Place your product on the plate and the transfer paper face up wherever you desire on your product in the pressing region. For appliqué and vinyl transfer, you must protect the heat transfer paper with a thin towel.
Push the handle down to close the press after placing your product. After setting pressure, time, and temperature, pressing the start button should be easy.
After the timer goes off, open the press and remove the film while the heat transfer paper is still hot. Your product has your design. Your personalized heat-pressed garment is finished.
When Is Heat Transfer Printing an Ideal Choice?
When done right, heat-transfer printing makes high-quality, colorful prints that look like photos. This makes it perfect for printing digital photos. It's also a great way to personalize or add prints to fabrics, like the number on a sports uniform. Direct-thermal printing can wear out over time, so heat-transfer printing is a better long-term choice.
Novelty Fabrics and Materials for Heat Transfer 
The best thing to print on with thermal transfer is paper. It also does a great job of printing pictures on other things, like clothes and textiles. Images that are printed with heat-transfer are resistant to water, wear, and glue. Heat transfer printing can also be used to print your favorite pictures on hard objects and even acrylics, like coffee mugs.
Classification of Heat Press
There are three types of heat transfer printing, which are:
Vinyl Printing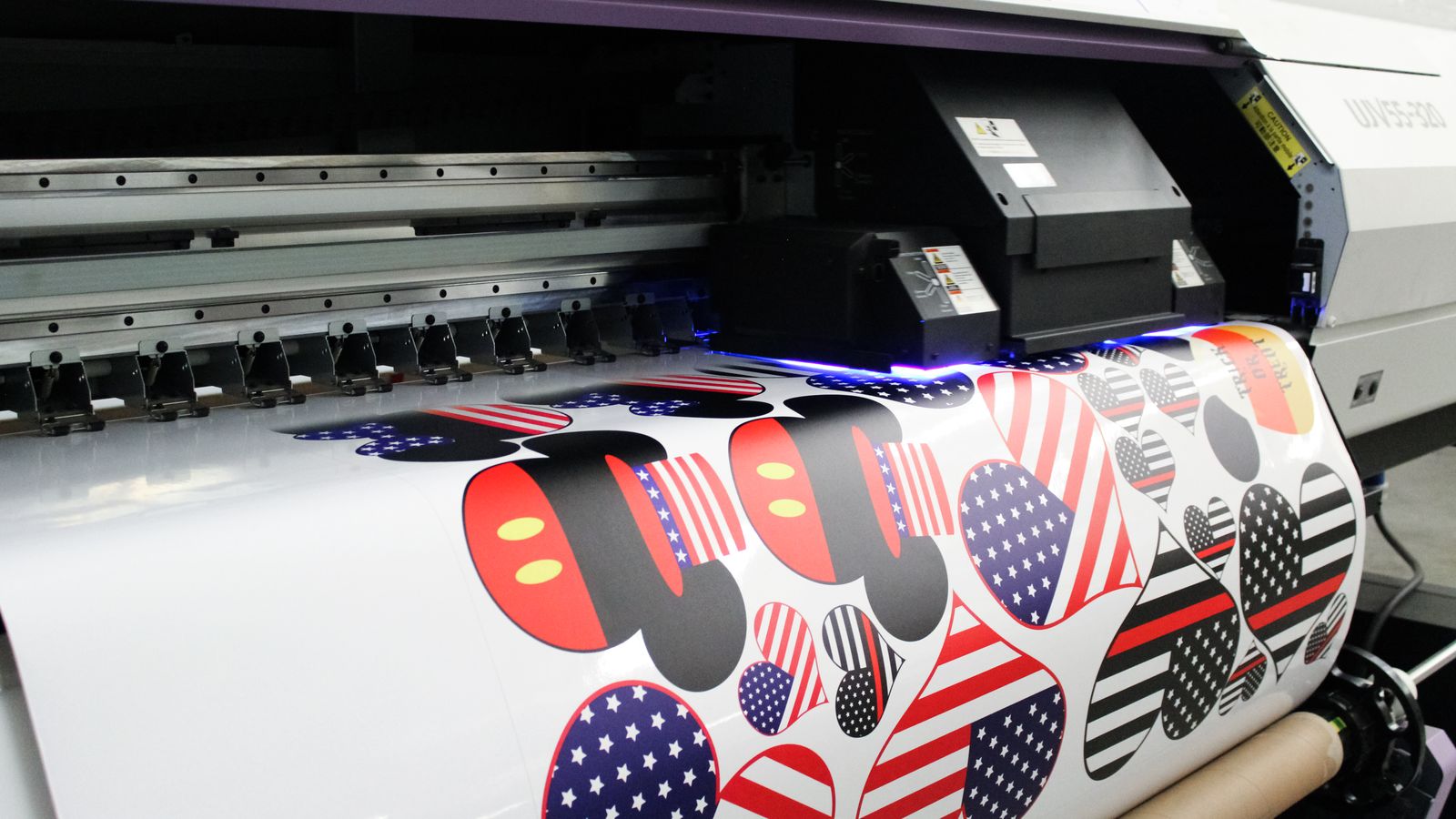 Vinyl printing works well with glitter, hologram, flock, reflective material, PU, and glow-in-the-dark vinyl transfer films. But this method of printing can only be used to print in one color. Most users, on the other hand, choose the mini heat press in this case.
Using the software, the art is made, and then the line is sent to the plotter or vinyl cutter to be cut. After you cut it, you have to get rid of any extra vinyl from the original vinyl transfer film. At last, the fabric is ready to be heated.
Sublimation Printing
Sublimation printing works best on quick-drying T-shirts, microfiber, dry fit, jersey, polyester, and material-coated surfaces like coated plates, coated mugs, etc. For this method, you will need paper, sublimation ink, and a heat press printing machine.
This takes about a minute and uses high pressure and heat to transfer the sublimation ink to your fabric. Most sublimation T-shirts leave behind bright, permanent images and colors that feel soft to the touch.
Transfer Printing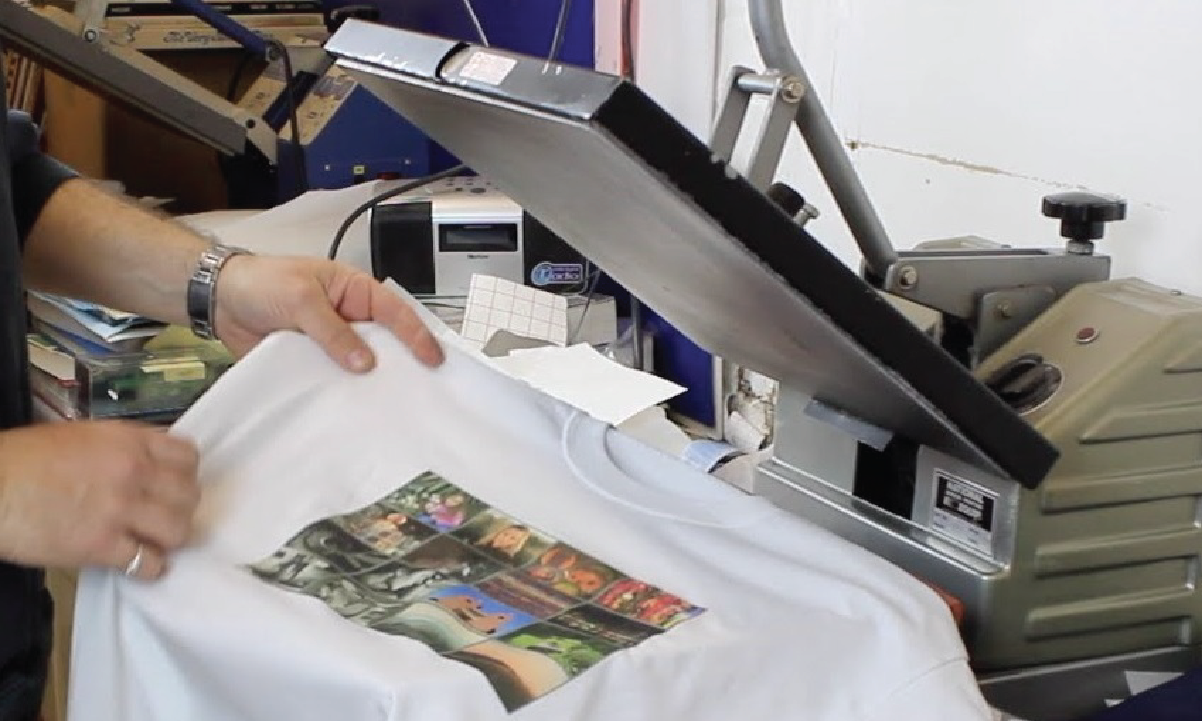 Transfer printing works great for all colors and types of t-shirt fabrics, like cotton, polyester, caps, etc. In order to print it, pigment ink and transfer paper are used.
Light transfer paper comes in two different kinds. One one is based on a white T-shirt, and the other one is based on a dark T-shirt. If you want to get better print quality from a digital heat press, you should use the original transfer paper.
Conclusion
Heat transfer printing can be used for many things, from labels and receipts to custom-made clothes. You can use it to make designs that are the best, most vivid, and most eye-catching. So, use our guide to learn everything you need to know about heat transfer printing before you start.