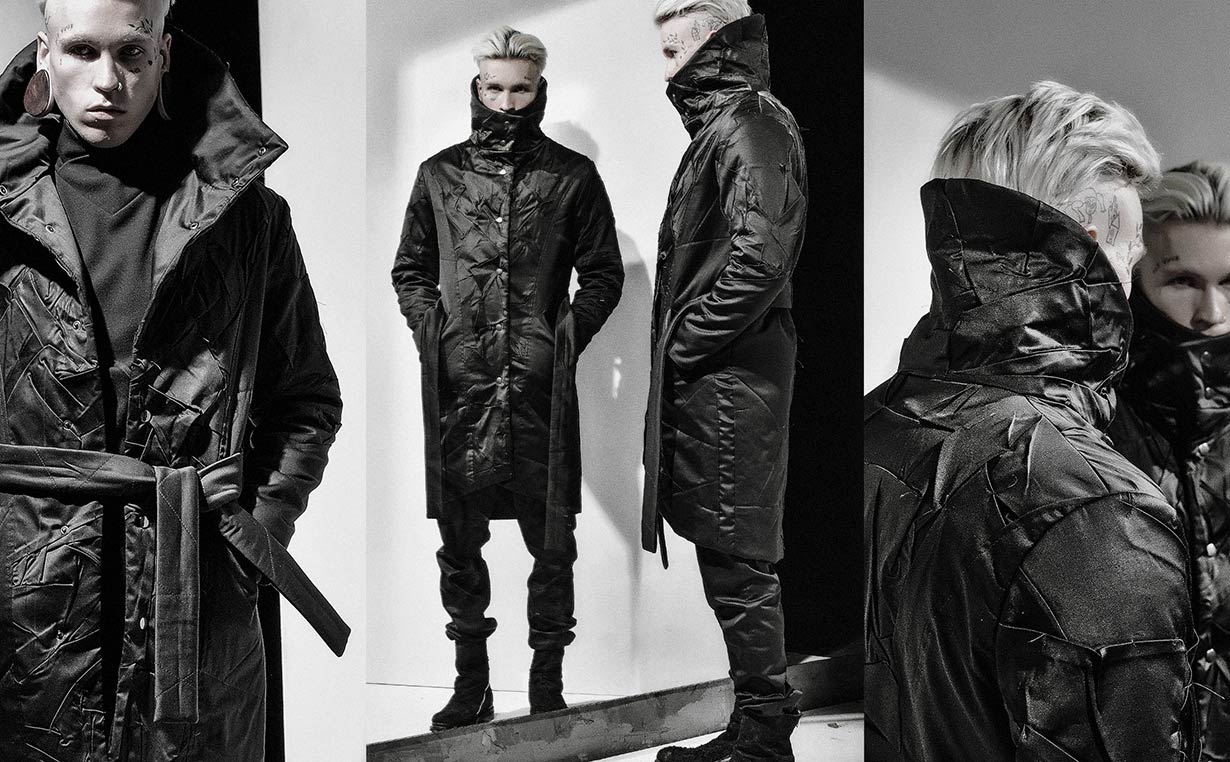 Are you an individualist who utilizes fashion to express yourself? Then you may be a part of a fashion trend that has inspired movements known as subcultures. Techwear and Darkwear are major subculture trends.
Subcultures of fashion, such as techwear, have grown in popularity in recent years. These styles tend to favor high-performance materials and building processes.
Athletic exercise puts a strain on techwear. At the same time, they provide an improved level of comfort and style.
There are several parallels between techwear and darkwear. However, keep in mind that there are variances between the two that set them unique.
So, what's the difference? Continue reading with Teeanime to learn about the differences between these two rising subcultures and the attire that distinguishes them.
What Is Darkwear?
Darkwear is a new fashion subculture that combines streetwear with athleisure. Darkwear employs a "dark" aesthetic to achieve a sleek, high-end look. This attire has a more sophisticated and professional appearance.
Darkwear fashion designers use higher-end fabrics and a deeper color palette. These options are the trend's visual staples. Darkwear goes beyond the trendiness of its forefathers.
It has sumptuous fabrics, clean and minimalistic silhouettes, and a color palette that is neutral. Darkwear lacks the loud and obtrusive patterns found in athleisure and streetwear.
What Is Techwear? 
Since its popularity, techwear clothing has emerged as a separate fashion trend. The outfit merges athleisure, urban streetwear, and cyberpunk fashion. Because of its unwavering focus on function and wearability, techwear is in high demand.
Techwear is a subculture that celebrates the marriage of fashion and functionality. It exists because of the synthetic fabrics utilized. These fabrics are lightweight, breathable, and moisture-wicking.
Designers can use these textiles to create clothing that are both fashionable and utilitarian. One significant advantage of wearing techwear clothing is that it simplifies your life. You can bring more for a weekend trip or stay dry in the weather.
Techwear clothes include more daring and experimental design styles. Techwear stands out from other fashion trends thanks to details like practical pockets, striking reflective features, and complicated multi-layer construction. This is due not only to its utilitarian properties, but also to its striking aesthetic.
The cyberpunk aesthetic lies at the heart of techwear.
Cyberpunk is an aesthetic inspired by "high technology and low life," as defined by William Gibson. He coined the term "neuromancer" in the preface to his 1984 novel "Neuromancer," where he first used it.
How Are Darkwear and Techwear Similar?
Aside from being subcultures influenced by functional textiles, darkwear and techwear have a lot of stylistic commonalities. The neutral colors and clean, modern silhouettes contribute to this. The two have neutral colors and minimal branding in common.
Their similarity on this aspect stems from the fact that both subcultures seek for a more adult audience. They aim to avoid eye-catching patterns and designs.
Lightweight, stretchy, moisture-wicking, and durable textiles are preferred for darkwear and techwear. These garments are more breathable and less restrictive than standard textiles. These designs' advantages allow users to remain comfortable even throughout intense activity.
How Are Darkwear and Techwear Different?
While there are some similarities between darkwear and techwear, there are also some variances. Darkwear is frequently distinguished by neutral tones and elegant designs, whereas techwear is distinguished by bold hues and experimental design silhouettes.
While both subcultures are rooted in athletic performance wear, darkwear outfits appear more professional and elevated. This makes them suitable for business or more formal settings.
The styles of techwear are more informal and athleisure-inspired. As a result, techwear is appropriate for both outdoor activities and regular wear.
Warcore and Cyberpunk in Today's Fashion Trends
The "warcore" fashion trend is inspired by military gear. Accessories such as combat boots, belts, and bags are frequently included. Warcore refers to the emergence of military tactical clothing.
Warcore adheres to the ideals of techwear while incorporating technical materials into functional clothing. This look pushes the limits of military design by making garments more practical.
Warcore apparel is either solid or camouflage in color. Many warcore fans believe that it is more practical than other subculture dress fads.
Warcore, like other subculture fashion, is an evolution of techwear. However, military elements in techwear include chest rigs, tactical gloves, and bulletproof vests.
Warcore is not an exception to the monochromatic tone, as this vibe is very widespread in the techwear culture. Desaturated tones of khaki or other camouflage are permitted in Warcore. However, you will quickly see that black is the prevailing hue in this futuristic design.
Cyberpunk is more than a fashion trend; it is an attitude and a way of life. Many people have referred to cyberpunk as a political philosophy. Here's a basic rundown of the ideas and characteristics of cyberpunk fashion.
Cyberpunk is a gloomy, post-apocalyptic aesthetic that combines anti-authoritarian ideas with futuristic DIY and hacking. The cyberpunk aesthetic is not constrained by any rules. This is because it is the result of a rebellious society that allows for a great deal of individual expression.
While there are subgenres such as cybergoth, steampunk, and post-apocalyptic fashion, cyberpunk fashion emphasizes having a punk worldview. It also implies that you dress accordingly. In a world where the virtual is as real as the real, it is all about pushing the boundaries of what is acceptable and creating your own reality.
Future-Proof Fashion
The "tech" or "future-proof" subcultures of fashion have been getting more and more popular over the past few years. It can be hard to point to a single cause for this rise. But that could be because people today are more open to technology.
People who wear clothes that can be worn in the future are also among the most up-to-date on the latest tech trends. They often get to try new products and services before anyone else. You can see this in the way they use technology that is always changing.
People who are into this subculture might wear smart speakers, smartphones, and VR headsets. As techwear becomes more popular, so does their interest in clothes with technology built in.
Carrying Capacity of Techwear
Techwear products are made with a clear focus on how much storage space they offer. We carry more gadgets and the chargers they need with us now. So, whether the bag has a complicated design like detachable modular attachments or a simple one like pockets with zippers, you can carry more and worry less.
This is because waterproof fabrics and clothes that can hold more weight were made for these styles. Features like laptop sleeves and pockets on the inside of techwear can be useful. These can make it easier to carry bags and backpacks.
The Aesthetics of Techwear
Techwear is a tough business to get into head-on. But because it can be changed, there is a lot of room for experimentation. Buying a shell or a pair of pants can add to what you already have.
It's easy to add these things to your outfit. Want to know how to dress to look like you know a lot about techwear? You can get the techwear look by using a few different things.
Most people think of darker, less bright colors when they think of techwear. But there are some items and brands that have a certain color and style. Most of the pieces have a simple, sleek design that is both practical and stylish.
Most of the textiles are very technical, so they don't have much in the way of branding. Tape on the seams and different buckles and straps will help the clothes stay in shape in different ways. Most men who are dressed in full tech gear will look mysterious and moody.
This is because many of the pieces of clothing have fake masks and hoods. But you can always add a technical piece to a darker, gothic-inspired streetwear outfit.
You can even put a shell on top of a more simple menswear outfit. The adaptability and straightforward color scheme are why techwear is rising in popularity.
Fashion Tips for Techwear
If you want to add techwear to your wardrobe, there are a few things you should remember. The difference between "techwear" and "EDM" or "rave wear" is important to know. Even though the two are similar, they are not the same thing.
You should make sure that the techwear you buy is of good quality. No matter how much something costs, it's not worth it if it's not good. If you don't do your research, they might fall apart sooner rather than later.
Last but not least, techwear isn't just jackets and pants. You can wear pieces in small ways with your everyday clothes. For example, you could wear a bracelet that charges your phone wirelessly or a pair of headphones.