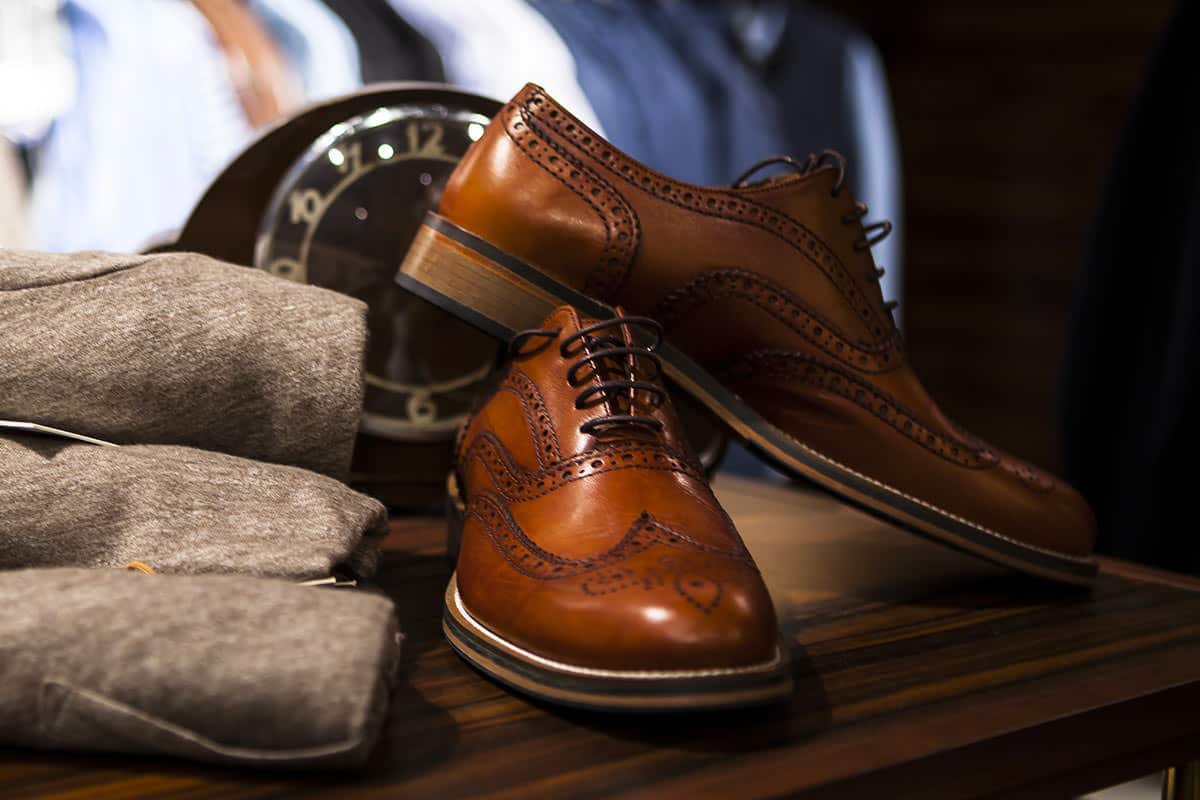 Oxford shoes are sophisticated, stylish dress shoes that come in a variety of styles to suit any occasion. Oxfords can dress up or down various ensembles and are essential footwear for any closet, particularly a capsule wardrobe. So, go with Teeanime for all your doubts!
What Is an Oxford Shoe?
Oxford shoes are a type of exquisite dress shoe with a closed lacing system hidden within the top part of the shoe. Oxfords are traditional men's dress shoes, but the timeless style has made its way into women's fashion. The classic shoe comes in a variety of textures, including patent leather, calf leather, suede, and canvas. Oxfords come in three different toe styles: cap toe, wingtip, and plain toe. Plain-toe Oxfords are the most formal version of the classic dress shoe, and are frequently worn with tuxedos and suits for formal occasions. Cap-toe Oxfords have a seam across the toe and are a staple of business wear.
A Brief History of the Oxford Shoe
The precise origins of the Oxford are uncertain, however one origin story claims that they originated in Scotland and Ireland, as cap-toe Oxfords are also known as Balmorals, a homage to the region's famed castle. Here's a timeline of the evolution of the Oxford shoe:
Oxfords are derived from boots. Tight, high-fitting boots (with heels) dominated menswear in the 1700s, but that would soon alter in the 1800s, when a half-boot—the Oxonian shoe—became popular among Oxford University students. These half-boots had side slits that made walking around campus more comfortable, and they would soon evolve into the Oxford shoe.
Lace is used for the first time. The slits were replaced with laces as the Oxonian progressed, and those laces made their way to the instep. The typical men's Oxford shoe was born when the ankle and heel were lowered for more exposure.
The designer of the Chelsea boot gives his opinion on Oxfords. The word "Oxford shoe" was coined in a published review by Joseph Sparkes Hall, the shoemaker who invented the Chelsea boots—classic ankle-high boots that are still popular in men's footwear. Hall described the Oxford as a wonderful walking shoe in a review of the fashionable shoe.
Oxfords are becoming increasingly popular among ladies. This style eventually found its way to the United States, where women adopted it as well. Women who wore Oxfords were deemed rebellious at the time since they deviated from the normal heel height.
What Are the Defining Characteristics of Oxford Shoes?
Specific characteristics of Oxford shoes include:
Lacing is closed. Oxford shoes have a closed lacing system on the side tabs that are sewed beneath the vamp, or upper front part of the shoe.
Low-heeled shoes. While the classic shoe is derived from a series of higher heeled boots, the Oxford shoes are distinguished by low heels, comparable to a loafer, making them simpler to walk in than boots with higher heels.
Ankle is exposed. Oxfords have a low-cut ankle, which gives the wearer extra stylistic options by enabling them to show off their bare ankle or a colorful sock.
5 Types of Oxford Shoes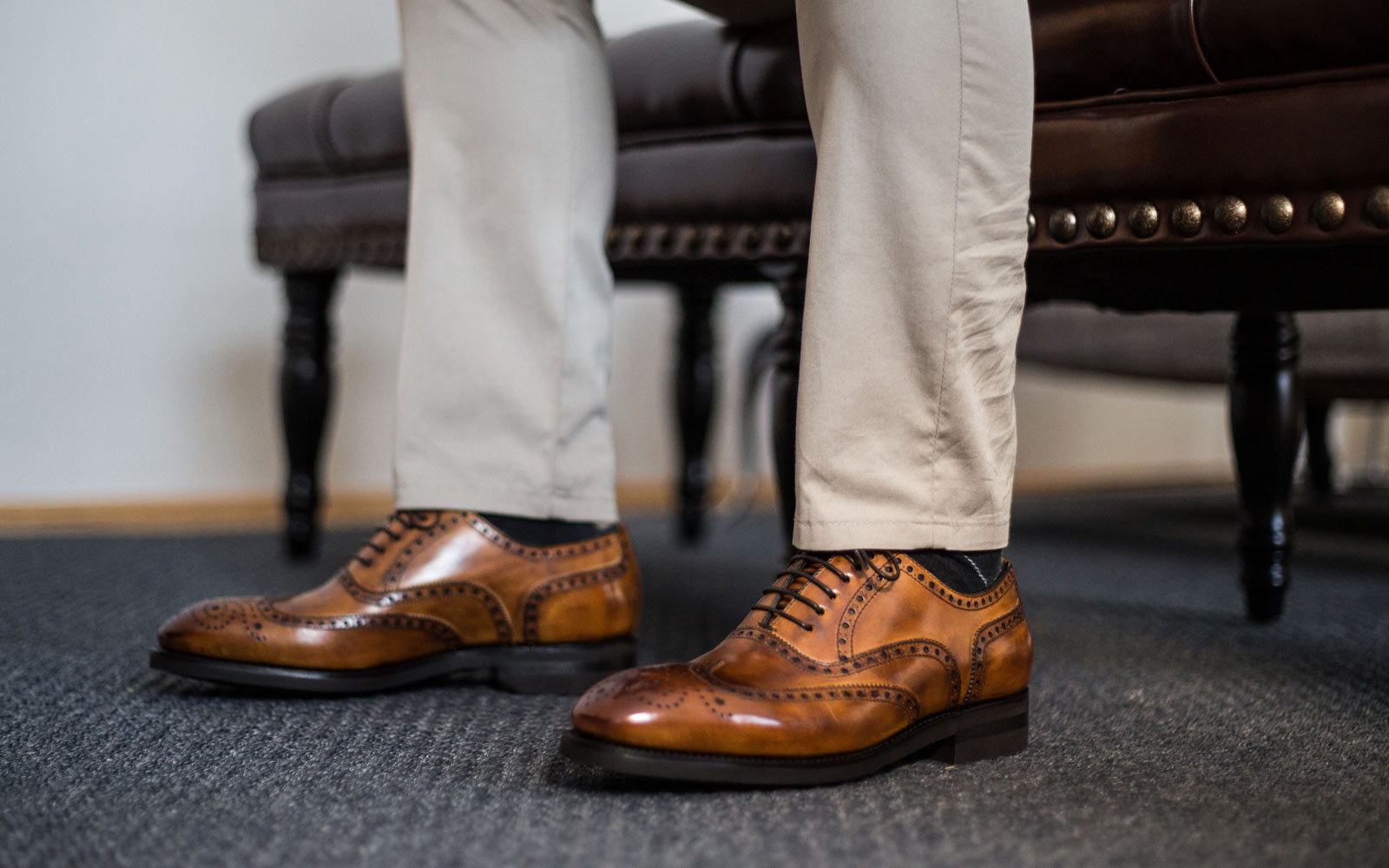 There are numerous Oxford shoe types available, including:
1. Classic: This style, often known as plain-toe Oxfords, is more formal than other Oxford shoes. With little design and no toe cap, these formal shoes—particularly dark brown and black Oxfords—look great with formal clothes such as tuxedos. Discover the various men's suit styles that can be worn with Oxfords.
2. Cap-toe: Cap-toe Oxfords are named after the leather piece stitched over the toe box, creating a "cap." Cap-toes are ideal for work (think chinos and a blazer) and other occasions that need sophisticated casual wear.
3. Wingtip: Sometimes known as brogue Oxfords (because to their decorative perforations, also known as broguing), this style of shoe features wingtips that continue along the side of the shoe, followed by a pointed toe cap with a "M" or "W" form. Wingtip Oxfords aren't as formal as cap-toe Oxfords, but they're a good choice for a night out on the town or a networking event.
4. Saddle: These retro Oxfords were popularized in the 1950s, when they were a staple of school dress regulations and were worn for sports such as tennis and cheering. Saddle Oxfords have a plain toe and a saddle-shaped leather strip down the center of the shoe body (and usually in a contrasting color). The defining colors of this two-tone style are black and white.
5. Whole-cut: Whole-cut oxfords are constructed from a single piece of leather. The basic design on a whole-cut Oxford makes it suitable for both formal and casual use.
What Is the Difference Between Oxford and Derby Shoes?
The biggest distinction between Oxford and Derby shoes is the laces. The quarters (side panels) of the Oxford are stitched underneath the vamp, but the Derby features an open lacing system with the quarters sewn on top.
Want to Learn More About Unleashing Your Inner Fashionista?
Get a MasterClass Annual Membership and Tan France will be your personal style guru. The fashion expert from Queer Eye reveals everything he knows about creating a capsule collection, defining a distinctive look, understanding dimensions, and more (including why it's crucial to wear underwear to bed)—all in a soothing British accent, no less.