From Cottagecore to Y2K, it's time to dive deeper into some of Gen-Z's fashion choices. These aesthetics, which range from in-person apparel to metaverse digital purchases, can help provide needed insights into the Zoomer style and mindset. The Gen-Z look is both recognizable and original, with a strong eye for sustainable items and an appreciation of fads from previous periods.
What is the significance of this? Gen-Z is presently the world's largest generation. And these aesthetics, which include fashion, music, design, and others, are undeniably popular. In reality, by 2021, each of the key gen-Z aesthetics had topped five million annual views on YouTube, totaling over a billion views. And those aesthetics influence where Gen-Z spends its money. Particularly on wear. Piper Sandler estimates that Gen-Z will spend $350 billion on apparel in 2021, accounting for 22% of their total expenditure.
But it's not just about throwbacks. To truly get Gen-Z aesthetics, you need to dive into some "core" ideals with Teeanime.
Cottagecore – really old is really in
People began fleeing cities when Covid initially swept the world two years ago. People were isolated, preparing their own bread in a rustic mindset that seemed a century old. Oh, and don't forget about the costume dramas like Bridgerton and Outlander that are destroying the streaming platforms at the same time. A new clothing look began to emerge, connecting these principles together.
Cottagecore is rooted on a desire for a simpler, more sustainable way of life. It frequently evokes rural England, particularly in terms of romantic longing. Consider Bridgerton, Jane Austen, or the Brontes. Beyond apparel, this includes garden design, home decor, architecture, and even metaverse purchasing. Cottagecore is predicted to be the single biggest design trend of 2022 by The Hustle. This is mostly attributable to YouTube and TikTok stars promoting the concepts. 44% of Gen-Z expressly attribute their purchases to influencers.
Royalcore – Who Doesn't Want to be a Princess?
Cottagecore has inspired various niche aesthetics, notably among people of color. Cabincore combines simplicity and heavy flannel. Carnivalcore, because every cottage needs a disco ball. Royalcore, which recalls English romances like Cottagecore, concentrates on monarchy.
It's the antithesis of cottagecore. Royalcore celebrates the pandemic's collapse by embracing grandeur. Popular as a house choice and for fashion (after watching The Crown, don't you want your home to look like the Queen's?), this incorporates sweeping dresses, rich jewelry, and more.
Princesscore subsets Royalcore. This aesthetic combines the popularity of Bridgerton with Disney lovers. Princesscore includes puffy clothes and elegance. Emily McCormick used Princesscore to become a TikTok influencer with 1.6 million followers. 44% of Gen-Z trusts influencers.
Dark Academia – Brood about School
It's not all cottagecore and similar styles. In reality, Dark Academia began to dominate TikTok, Instagram, and other social media platforms in 2021. When schools began to close during the early epidemic, this aesthetic exploded, creating a new haven for all things scholarly. The aesthetic is based on gothic influences, which are particularly prevalent in Oxford and Cambridge, and is connected with dark colors, uniforms, and secrets.
Consider Harry Potter meets Umbrella Academy. While the colors in cottagecore are frequently light, and the colors in royalcore usually strong or bright, Dark Academia is dark. Browns, tans, deep violets, and blacks are common colors. The YA hearthrobs: the gloomy acadmeic, the wounded souls.
This aesthetic, like other trends, is gaining millions of views on social media, particularly among Gen-Z. Why? With the pandemic, Gen-Z students in high school and college were forced out of the classroom, and the term "Zoomer," which was formerly synonymous with Gen-Z, took on a new, harsher meaning.
At the same time, student loans in America were delayed, and American students began to notice the burden of student debt. These debts are vastly different in this country than in others, and canceling student loans has become an active political issue. Enter Dark Academia, a virtual schooling design that is still fashionable, with Seventeen magazine listing the top 10 Dark Academia clothes for 2022. Many Zoomers yearn for an idealistic version of school, one that is affordable and never stops. In direct response to the melancholy feel of dark academia, the bright academia design offers a similar concentration on schools but with lighter colors and a more positive tone.
Y2K – It's Back
It's no secret that many Gen-Z aesthetics are retro, and with a pandemic, racial reckoning, climate change, political upheaval, and a big land conflict in Europe that may or may not spark a new cold war or global war, let's just say anxiety is high. And the age Gen-Z remembers is loaded with its own concerns: Y2K. The Matrix has returned – no, not the terrible new film with the glossy outfits, naked midriffs, and strange. Vogue attributes the Y2K resurrection to celebrities such as Dua Lipa and Lizzo, as well as social media influencers on TikTok and Instagram.
Despite the apparent links to fear, others attribute Y2popularity K's to its unintended positivity. According to Jessica Beresford of the Financial Times, these aesthetics let people "embrace the same type of optimism that came with the turn of a new decade." After all, the huge Y2K panic turned out to be nothing. Perhaps Gen-Z is looking forward to getting beyond fear and into hope.
Fairycore Grunge – Escape Humanity Altogether
New aesthetics arise all the time, especially on TikTok. TikTok is still Gen-favorite Z's platform, and they are responding to many of these trends. Fairycore Grunge was only getting started in March 2022, when this was written. This bizarre mash-up of Twilight and magic even incorporates a dash of terror. This escapist aesthetic can be characterized by earth tones, dark colors, flowing skirts, tight corsets, fingerless gloves, fairy wings, or pointy ears.
Teen Vogue compares Fairycore Grunge to the Japanese style Mori Girl, or Forest Girl, which incorporates a call to mysticism and nature. Donning fairy wings serves as an escapism, especially in these turbulent times, but it also connects to larger fandoms. In addition to Twilight and shows like Winx Club, many people are returning to TikTok, inspired by one of BookTok's most popular series: Sarah J Maas's Court of Thorns and Roses, a fantasy romance about fae and humans falling in love and escaping. Goblincore, which entails dressing up as a full goblin with loads of makeup, and Mermaidcore, which focuses on colourful mermaid-like hair, are two spinoffs.
Coconut Girl – Kick Back on the Beach
Not all Gen-Z fashion is dark and strange. The Coconut Girl look mixes simplicity and the beach. "The Coconut Girl movement is the result of post-COVID daydreaming and youthful summer hope. "After all, who doesn't want to be the girl with the coconut, smiling for photos on a tropical vacation?" Carrera Kurnik, director of Fashion Snoops, adds. Pastel colors, halter tops, shell and bead necklaces, and hibiscus flowers everywhere.
While some have condemned Coconut Girl as a passing fad, the fashion debuted just last week at one of Hawaii's fashion shows. And it's back with its casual ease and enthusiastic excitement.
E-Girl and E-Boy – The Hotties Online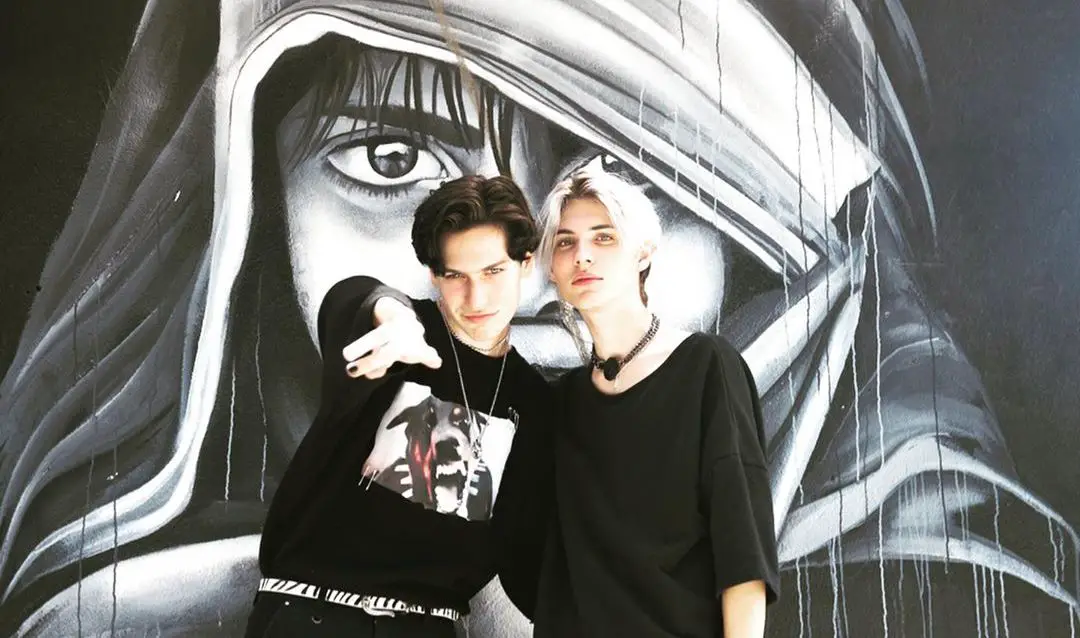 Generation Z has long relied on social media influencers. The e-girl and e-boy subsets are individuals whose persona centers around their ability to influence. The e stands for electronic, and these young men, women, or non-binaries have established avatars based on their unique personalities. This style is hypersexualized and can turn nasty quickly, but it is intended on teenage sex appeal. Consider 90s boy bands filtered through constant reality TV. Oversized denim, black and white stripes, and jogging clothes can all be worn as e-girl or e-boy fashion.
Typically, the look incorporates vintage aspects as well as geek culture. Anime, video games, and goth all play a part. Plaid skirts, metal chains, neon leggings, and hair. The e-girls and e-boys don't want to blend in; they want to be seen. There are also seductive components. The e-boys are hunks, while the e-girls are flirts. Collars and leashes, for example, are frequently used in this aesthetic.
Angelcore – Girls in the Clouds
Angelcore has over 52 million TikTok views on his own. This hyper-feminized aesthetic strives to imbue every woman with Venus and Aphrodite. Ethereal white garments, clouds, gold jewelry, lace, and flowers. This aesthetic's core component is classically girlie – picture Barbie meets Victoria's Secret. While Royalcore fans imagine themselves as royalty and Fairycore fans immerse themselves in the mystical world of fairies, Angelcore fans imagine themselves as goddesses or angels.
Zoomers who want angelcore don't simply buy clothes; they surround themselves with ethereal accessories and attitudes that transport them to the sky. "The all-in-one buying app Klarna reports that searches for Angelcore clothing pieces are at an all-time high," according to Nylon magazine. White and light pink gowns, for example, witnessed a 244% spike in searches [only] in August." Many angelcore fans, similar to e-girl admirers, take the innocent sentiments and give them a suggestive twist, injecting the aura with sexuality. Angelcore's polar opposite, devilcore, is at the tail end of this metamorphosis, with dark hues, blood imagery, and lewdness.
VSCO Girls – Valley Girls who Love the Turtles
VSCO is an abbreviation for Visual Supply Company. The VSCO app, which was released in 2011, allows users to create and edit selfies. TikTok users, like most Gen-Zers, grabbed an idea and transformed it into a nostalgic style. VSCO (pronounced visco) Girls all start with a starter set of brands, and unlike other aesthetics, VSCO Girls all attempt to look the same.
The main words are simple, beachy, preppy, and throwback. It all starts with a beginning kit, which includes a wrist scrunchie, an oversized shirt, a signature accessory, and reusable straws. Yes, the straws are quite large. Tops that are too big and bottoms that are too little. Hydroflasks and Birkenstocks. There were also a lot of selfies at the beach. VSCO girls frequently wear identical brands and even try to imitate one other's demeanor. VSCO boys exist as well, usually dressed in Vans, Nikes, and Vineyard Vines tees. The VSCO females are uniform in style, but they also have one of the most environmentally responsible and sustainability-minded aesthetics. They are arguably a modern counterpart of the '90s Valley Girls. Pura Vida bracelets, Fjällräven Knken backpacks, and a lot of discourse about turtle conservation are all part of it.
The Bottom Line
Where do you begin with all of this information? Knit's 2022 Gen Z vs Millennial Apparel & Fashion Report is a safe bet, since it offers purchasing insights, shopping trends, and a comprehensive buyer's journey for two generations of apparel retail consumers. And if you have any further inquiries after that? We've got you covered – just contact us to get your questions answered.