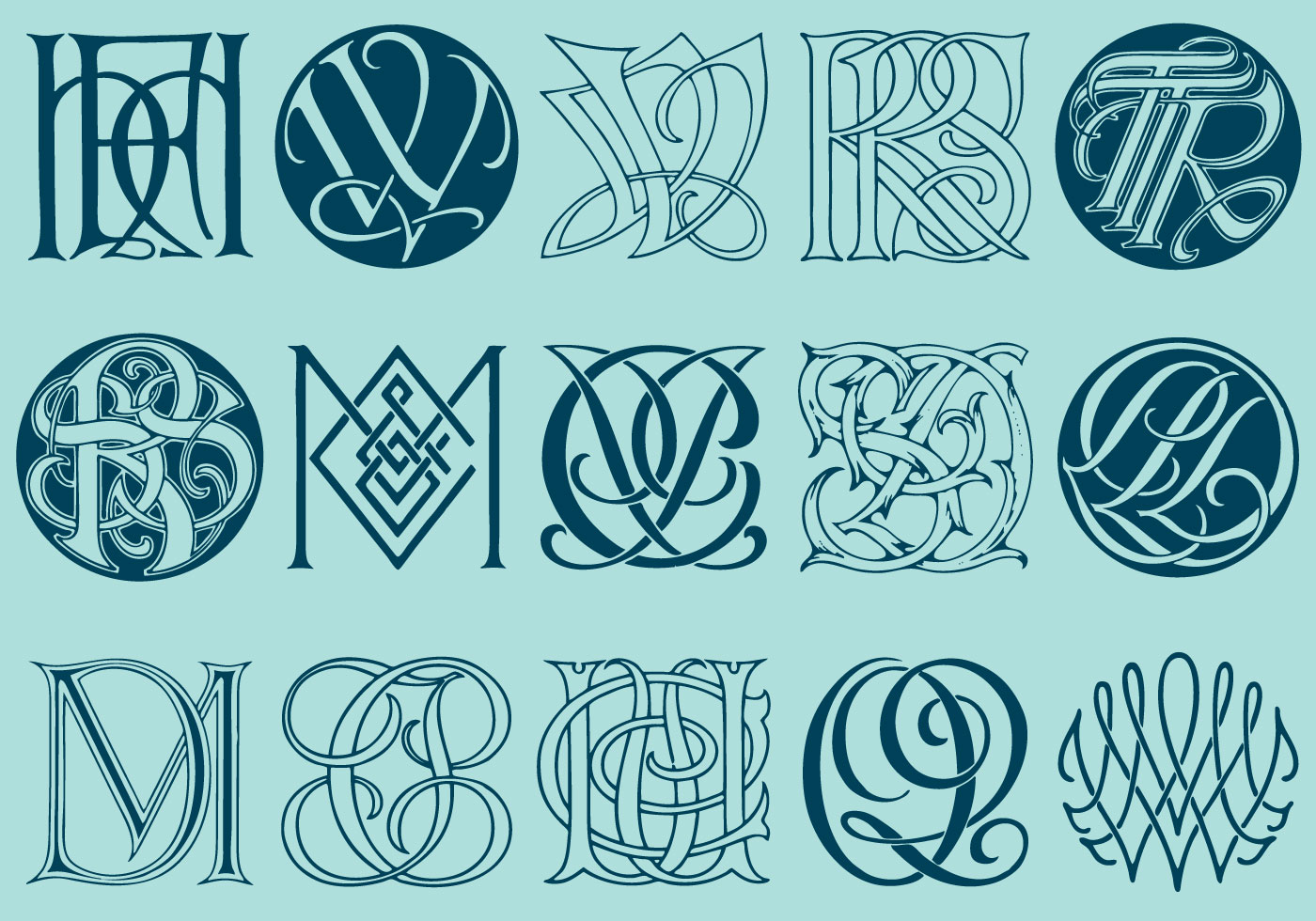 In today's brand design, monograms are a powerful tool. Teeanime will go over the history of monograms as well as different monogram styles and how to use them in this post. Finally, you can find some fantastic monogram fonts to get you started on your next project. Elements has also provided us with some fantastic monogram design ideas.
But what exactly is a monogram? A monogram is a motif composed of two or more letters that combine to form one symbol. Companies have long used monograms as identifiable trademarks and symbols for a country's reigning sovereign. The goal is to reduce a brand, person, or even a country to a single visual that best symbolizes them.
If you're a beginning designer seeking for some monogram design inspiration, check out Envato Elements and GraphicRiver. There are numerous monogram styles to choose from.
The History of Monograms
Monograms were royal signatures throughout history. 350 BC coins bear the first monogram. Greek cities created coins with their initials. Christian emblems use monograms. The Chi Rho monogram is the first two letters of Christ's Greek name. Middle Ages artisans signed their work with monograms. Victorians used monograms as status symbols.
Monograms have sometimes been utilized as resistance symbols. During the conflict, the PW for Polska Walczca (Fighting Poland) was employed, also known as 'the Anchor' due to its distinctive shape.
Monograms began as a functional method of identification and expanded into a brand design tool for businesses. Some examples of modern monograms include the iconic LV emblem for Louis Vuitton, which was designed to prohibit the creation of counterfeit designer baggage. Coco Chanel's emblem is an interlocking 'C,' which is a mark of high-class elegance.
How Do Monograms Work? Types of Monogram Styles
Monogram letters have always been popular, but during the Victorian era, they became more noticeable. Monograms were used on a lot of things, especially by the rich and the growing middle class. For monograms to work, we need more than just the initials of the company. We need to make sure that the way the monogram looks also shows what the brand stands for. Throughout history, different types of monograms have been used for many different things. We can divide the types of monograms into:
Crown: It is common for royal families all over the world to have an official monogram. These are used on royal seals and clothes.
Brand: Brands with long names may choose to use only their initials as monograms. It's common for a brand name to be made up of two or three letters, and the style must match the brand's overall feel.
Personal: Monograms are also very popular at weddings. They can be put on invitations, cakes, and clothes.
How to Design a Monogram
There are numerous monogram styles and samples to pick from. When it comes to branding and monogramming, there are no hard and fast rules to follow, but as long as it makes sense and appears to be a coherent brand, you should be fine.
So, how do initials look on a monogram? As a general rule, the monogram initials order for personal usage is as follows:
Soon-to-be or married couples: The monogram contains the bride's first initial, the couple's last name, and the groom's first initial. For the names Andrea and Mark Baker, the monogram would be ABM.
Monogramming women: The monogram should include her first, middle, and last name initials. For instance, for Andrea Marie Jones, the monogram would be AMJ. Traditionally, a woman's maiden initials can be used, even after marriage. For instance, if Andrea married Mark Baker, the monogram would be ABJ.
Monogramming for men: Some people prefer to use a slightly different order: the first, middle, and last name initials. For Mark Thomas Smith, the monogram would be MTS. It's also possible to use the last name in the second position, so the monogram would be MST.
Monogramming for children: The same rule is followed for children. The order is first, last, and middle name initials. For instance, for Andrea Elizabeth Fischer, the monogram would be AFE.
This three-letter modern monogram logo perfectly exemplifies the monogram initials guidelines. The template is entirely editable, so you can add your own initials, and it's ideal for a wedding or a brand name made out of three letter initials. Remember to use the specified monogram letter order!
Different Monogram Styles and Arrangements
There are numerous monogram styles and layouts available. When it comes to monogram styles, if the monogram is for a brand, make sure you're adhering to your brand vision. This allows you to successfully convert the soul of the organization into a successful monogram design. As a general rule, use the same principle as display typefaces. Use the style that best fits the project's goal.
There are numerous sorts of monogram layouts. The following are the most prevalent monogram arrangements:
The initial style monogram is simply a one-letter monogram that uses only the initial of the firm or name. Depending on the style you want, this single-letter monogram can potentially contain beautiful flourishes.
The block Three-letter monograms often use this style. All the letters in this style are the same height and width.
The traditional style is often used for names and monograms with three letters. The first and middle name initials are on the sides, and the last name initial is in the middle. Both of the side initials are a little bit smaller so that the last name stands out.
The stacked style works best for monograms with three letters. The initials of the first and middle names are put on top of each other and to the left. Last name goes on the right, and height should be the same as the first two.
The interlocking monogram style is often used with flourished fonts. These elements will come into contact with each other in this manner.
The circle monogram style works well for two- and three-letter monograms. The characters are either inside a circle or can be curved to resemble a circle.
The diamond monogram style works the same way as the circle monogram. The characters can fit within a diamond shape or can take the shape of a diamond.
The split-letter monogram consists of a small space overlapping the initial character. This space can contain the complete word of what the initial stands for.
How to Make a Monogram
Use the company/brand name, or if creating monograms for personal use, recall the monogram definition. As the foundation of your design, use two or more letters. Then you can get creative with how the letters blend or interlock. There is no wrong or right way to accomplish it—just make sure it makes sense and matches with the goals of your business.
Adobe Illustrator is the ideal software for designing monograms since it allows you to deconstruct, merge, cut, and interlock letters. So, if you're wondering how to design a monogram, choose software that allows you to deal with vectors and cut characters.
The use of monograms increased dramatically throughout the Victorian era. They were being used on every piece of clothing and personal item. If you're wondering how to monogram for personal use, the best options are embroidery or stamping.
Monogram Examples and Assets from Envato Elements
View this assortment of monogram resources to spark some creativity. There are also professional monogram fonts available. Determine the amount of initials you have and the sort of arrangement you want to create using the information above. Before you begin working on your own monogram, make sure to review the rules we outlined above.
URH Monogram Logo (EPS, AI, PSD)
Looking for a modern circle monogram? This style is ideal for firms with three-letter names. The slab serifs on the monogram logo lend it a rustic feel, which is ideal for a firm that sells handcrafted and handmade goods. This is a fantastic monogram example, and if you want to start your own, make sure to read the monogram definition at the beginning of this post to ensure a good design.
AW Vintage Monogram Logo (AI, EPS)
With this two-letter sign monogram, you may pay respect to antique Americana. This logo has an interlocking pattern and is completely modifiable in AI and EPS files. Include this one-of-a-kind sign monogram in your next sports-themed project!
20 Monogram & Crest Logos (AI, PSD, EPS)
This logo set that includes crests and many forms of monograms. You can find everything from cursive monograms to elements to inspire you to create your own monogram patterns. You may change everything from the size to the colors in this assortment of monogram design options.
Tender Feeling: Monogram/Fonts (EPS, JPG, PNG)
This delicate and exquisite cursive modern monogram, which would be ideal for wedding invites. This hand-drawn monogram initials font includes 14 pre-made logos and has exquisite, delicate flowers. Uppercase, lowercase, and ampersand characters are included in the floral monogram initials font. You may construct numerous monogram formats with this font, so you don't have to keep to the standard circle or stacked—time it's to go outside the box!
Monogram World Serif (AI, EPS, PNG, PSD, OTF, WOFF)
There are almost 600 monogram combinations in this monogram serif font. Each letter was created with the intention of being combined to form two-letter monograms. The uppercase and lowercase letters have somewhat distinct characteristics in order to fit together. Extra points for the ten high-resolution textures that complement the monogram design. If you want to mix numerous letters, this is the interlocking monogram font to choose. You could even create a stacked monogram, which would look wonderful because the letters are different heights! With this full set, you won't have to worry about how to design a monogram.
Love Story Monogram Font (TTF, OTF, WOFF)
Create a stylish wedding invitation using romantic monogram fonts like this one. The unusual flourishes give the monogram font a pleasant airiness and natural vibe. The package includes TTF, OTF, and WOFF files, as well as AI and EPS characters. The swirls on the characters make it ideal for use as a circular monogram font.
Fine Future: Monogram Initials (AI, EPS)
With this stunning logo containing monogram initials, you can create a luxury brand. This sleek and stylish logo is available as a vector and is simple to customize. Create a monogram pattern for the ultimate feeling of grandeur to further develop the brand.
WAW Monogram Font (OTF, TTF, WOFF)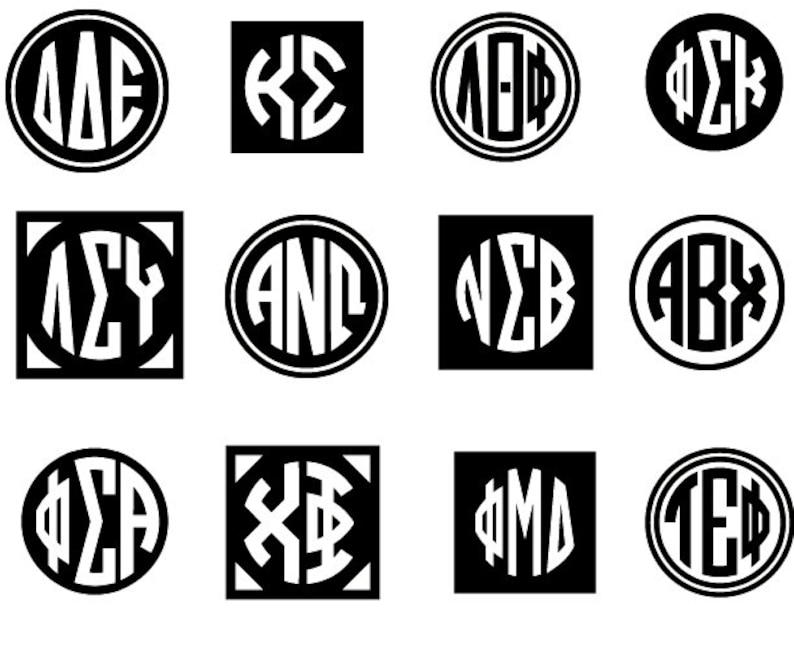 This script monogram font has several swirl possibilities if you want something extremely personalized. Each font file contains swirls on various sides of the characters, as well as a fancy version if you want to go all out! Check out the monogram definition and rule of thumb to create your own own monogram!
AV/VA Monogram Logo (AI, EPS, JPG, PSD)
With this two-letter monogram logo, you can build a strong brand. This eye-catching design is ideal for a restaurant brand. You can use whatever combination you need and supplement it with your preferred font beneath to enhance the brand.
Conclusion
We've answered your questions on the significance of monograms, how to make a monogram, and other useful information in this post. We discussed the various monogram initials orders for men, women, and children.
If you're looking for monogram fonts for your next project, go no further than Envato Elements and GraphicRiver. There are numerous alternatives available to assist you in creating your own monogram.