Let's talk monochromatic! Here's everything you need to know to style your own monochrome looks.
In this post, you'll find tips on how to style monochrome outfits. So, go with Teeanime for all your doubts!
Fashion is enjoyable. Styling an outfit is an excellent approach to stimulate your creativity. However, it can be overwhelming at times. Look, I understand. It's a fast-paced, constantly evolving industry. Trends and fashions change in the blink of an eye. It can be overwhelming if you are putting your toes into the fashion water for the first time.
I'm here to help you.
In this new series, I'll offer styling guidance on some of the most perplexing and tough styling issues. I'll share all of my secrets, tips, and hacks for creating fantastic ensembles. I'll also provide you examples in three levels of difficulty to teach you step by step.
Let's start with a monochrome look!
I'll show you three monochromatic outfits (plus more at the bottom) and teach you how to build a monochromatic look step by step below.
What is a monochromatic outfit?
The term "monochrome" refers to a single color. And monochromatic color schemes begin with a single base hue (for example, blue) and are extended with shades, tones, and tints of that hue (e.g., pastel blue and navy blue).
In fashion, this means that we build and style an outfit utilizing only hues of a single color. While you can use a single color, you can balance it out using numerous shades and tints. The best thing about a monochromatic look is how simple it is to pull together a coherent and put-together outfit.
When worn correctly, a monochromatic outfit may be both unexpected and fashionable. (The monotone look is quite popular right now!) It may appear difficult to pull off, but I assure you that it is far easier than it appears.
Tips, Tricks, & Hacks for Wearing Monochrome Outfits:
Look, I'm a big fan of color. Particularly in my closet. In my bedroom, I actually have a rainbow rack (see below). When I want to wear a monochromatic outfit, this makes it so much easier.
Having a lot of things in the same hue is quite beneficial, but I understand that not everyone has that type of closet. The good news is that it is not required if you follow the proper styling guidelines.
There are a few things you should know before going monochromatic. These ideas and tactics will help you achieve a monochromatic appearance on a budget.
Be comfortable. Begin with a hue that you adore and that makes you feel at ease. If black is your color, go for an all-black look. If it's green, go with it. Furthermore, if you like that color and feel at ease wearing it, chances are you have additional stuff in that color.
Black and white shoes get a pass. Maybe you're going for an all-orange outfit. The only problem is that you don't have any orange shoes. Relax, your monochromatic outfit isn't over. I promise that your white or black sneakers will still look excellent.
Patterns and textured fabrics are your best friends. Textured textiles provide depth and character to the outfit. Patterns frequently come in multiple colors, which is fine as long as the dominant color is the one you choose to complement the rest of your outfit.
Makeup and hair are also accessories. Perhaps you only own one outfit in that hue and want to add more items to it to *create* a monochromatic ensemble. Match your cosmetics and hair accessories, too.
Now that you've learned these tricks, it's time to put your outfit together. If nothing else, wearing a single color will force you to look at your wardrobe with new eyes, allowing you to notice new outfit combinations that you might not have considered otherwise.
So, choose your favorite hue and let's get started!
Monochrome Outfit Examples:
1. Easy Mode – Jeans & Neutrals Monochrome Outfit
Let us begin simply and without intricacy. Something simple. We all have a perfectly acceptable monochromatic look waiting for us within our wardrobes, and the majority of us aren't even aware of it. That expression? You're wearing jeans and a simple, neutral tee.
Blue denim is a wardrobe staple for everyone. I chose a pair of wide-leg blue jeans and a navy blue hoodie for my easy-mode monochromatic outfit. Then I simply put on a standard pair of blue Converse. I was having difficulty accessorizing until I recalled I had this blue neck scarf.
As an example, you might try a monochromatic outfit using your favorite pair of jeans as the foundation. Blue, white, off-white, beige, or black pants can be combined with a shirt of the same color family.
When styling blue or off-white, attempt to blend lighter and darker tones together rather than going for a single hue. It will be easy to achieve a consistent look this way. (I did this with a dark blue blouse and light blue pants, as shown above.)
Shoes and accessories should be fine because these are neutrals. If you're still unsure, my advice is to stick to comparable colors. Stick to lighter shoes and accessories with lighter clothes (white, off-white, or beige). Stick to deeper colours for darker clothing (blue, grey, or black).
2. Medium Mode – Orange Monochrome Outfit with Patterns & Textured Fabrics
Let's take it up a notch now. I'll add patterns and texture to this one. Patterns can be challenging to work with, but the simplest approach to make them work is to incorporate them into a monochromatic style. Remember to concentrate on the pattern's dominating hue.
I chose an orange look for my medium-level outfit. I started the outfit with a simple orange tank top and patterned cropped jeans.
My jeans have a pink and white pattern, but the print is primarily orange, so they still function. I tossed on an orange silk shirt to provide depth and layering. Finally, I chose a pair of white clunky shoes with a tiny orange pattern on the sole.
Patterns and textiles may add a lot of interest to a monochromatic outfit! The most crucial piece of advise I can give is to not be afraid to experiment with pattern and texture, especially if you're looking for a brightly colored monochromatic design.
If you're afraid about combining too much pattern and texture, consider a patterned item with a simple texture (silk, linen). This can be difficult, but with practice, you'll discover what works best with what you have in your closet.
I strongly advise using your makeup as an additional accessory for this type of appearance. You don't have to do full eye makeup as I did, but coordinating lipstick or blush could be nice.
3. Hard Mode – Pink Monochrome Outfit
Let's combine all of our ideas to into one outfit.
When you're becoming advanced, it helps to take a thorough look inside your closet and ask yourself, what is the main hue you see?
This is arguably the greatest hue to achieve a completely monochromatic effect. A number of parts are required to produce a coherent look when combining all of these features.
For my difficult-level monochromatic outfit, I wore a basic, cropped, light-pink top. I paired the top with a pair of tie-dye pink mom jeans. I put on my fluffy pink coat to layer. Finally, my shoes are pink Vans, and my bag is light pink in color.
This style exemplifies all of my advice at once: It's a completely monochromatic ensemble in a color I feel at ease with and enjoy wearing. Pink is the hue that appears the most in my wardrobe. That doesn't mean that all of my pink goods match together, but I arrived at this particular combination after a lot of experimentation.
This outfit checks every box. The tie-dye pattern features many shades of pink, the texture of the coat provides depth, and the accessories and shoes all refer to distinct aspects in the look. They all work together to achieve a striking monochrome effect.
Other Monochrome Outfit Examples
In case you're looking for styling ideas for your favorite color, here are some more monochrome outfit samples from the CF archives:
Yellow Monochrome Outfit
When it comes to monochrome looks, variety is your friend—especially when it comes to more difficult colors like yellow. Choosing items in a variety of styles, textures, and/or color variants will make your outfit look planned and put-together, rather than haphazard.
Begin by slipping a loose-fitting light yellow shirt into a pair of bright yellow culottes to achieve this style. Put on some bright yellow hoop earrings and an artistic raffia-wrapped bangle. These stylish knotted sandals ground this unique appearance and would look great with a variety of looks in a variety of colors.
Grab a fashionable bright yellow crossbody purse to complete this bright and lively combination.
Blue Monochrome Outfit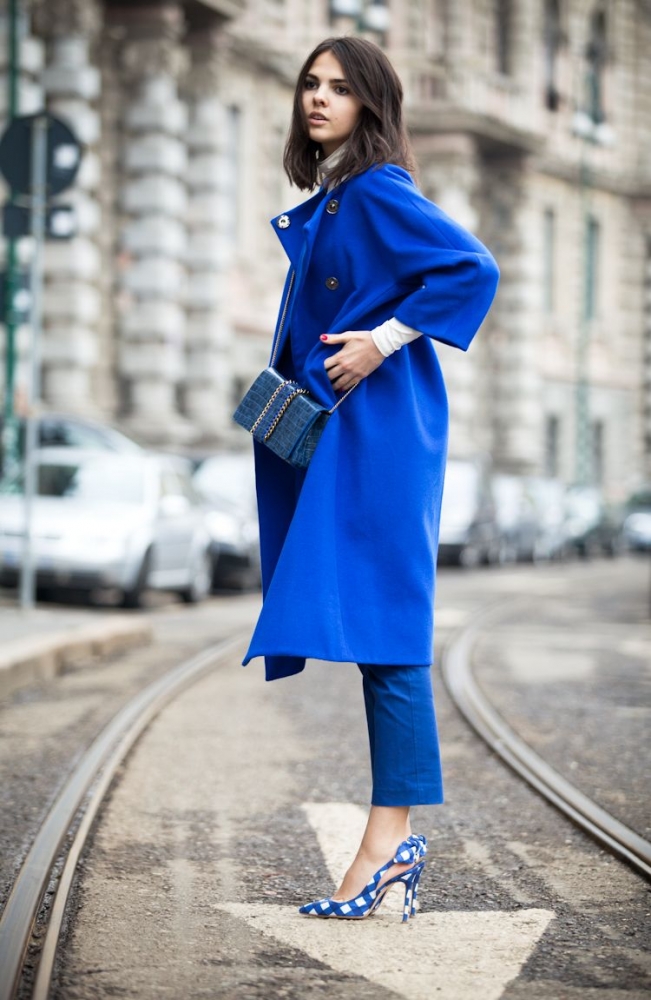 Perhaps your style is more laid-back, and you're seeking for a more subdued monochrome approach. That's where this stylish monotone blue ensemble comes in!
To recreate it, start by pairing a contemporary pale blue blouse with a super-cute pair of retro-inspired blue denim shorts. Then, put on a simple-yet-eye-catching blue opal necklace, which is sure to get you a lot of praises.
A classic hair item, in my opinion, can never go wrong. And this chambray headband is ideal. Speaking of "traditional," these blue Keds are a fun and comfortable footwear option. Furthermore, these sneakers are ideal for days when it's not quite sandal season but you still want to avoid heavier footwear.
Pick up a powder blue faux-leather backpack to complete this casual-chic appearance.
Pink Monochrome Outfit (#2)
I put up something a little dressier for this pink outfit that can be worn both throughout the day and at night. Begin by putting on this gorgeous pale pink poplin top to achieve this playful and feminine style. Then, add a stunning dark pink eyelet embroidered midi skirt.
Add some dainty pink jewelry, such these adorable climber earrings, this vintage-meets-modern charm necklace, and a beautiful double-layer beaded bracelet.
The perfect approach to complement this charming look is with a pair of big pale pink sunglasses. In terms of footwear, you can never go wrong with classic pinky-beige heeled sandals.
Choose a pale pink beaded bag in a vintage-inspired outfit to complete this girly and beautiful look.
Black Monochrome Outfit
This black monotone outfit is ideal for a family meal or an evening of drinks with friends.
The turtleneck gives the style a luxurious vibe, and the accessories are kept to a minimum. The dress and waistcoat can then speak for itself.
Denim Monochrome Outfit
Denim-on-denim used to be a no-no, but it's now a must-do. All you have to do is do it correctly. Denim monotone ensembles are easy to put together.
When blending denim, make sure the washes are varied. At least one of the pieces should be in a dark wash, similar to or darker than the jeans seen above. Wear the western button-down tucked in or untucked and unbuttoned over a vintage shirt. With the addition of a denim scrunchie, you've nailed the throwback aesthetic.
Gray Monochrome Outfit
This cool and casual appearance is ideal for a weekend, school day, or any other "on the move" occasion. The tee and ripped jeans are wonderfully complemented by girlie accessories such as a pom hat and a sparkle shoe.
The blazer is black, yet it works well with the gray and protects the outfit from seeming dreary. To make this look stand out, try a pop of lip color!
Final Thoughts on Monochromatic Outfits:
It's difficult to put together an outfit that is entirely monochromatic. Even with the type of closet I had, I had some problems. However, it is an aesthetic that is extremely enjoyable to perfect. Borrow from your siblings' closets, your parents' closets, and even your S/closet. O's Mix and combine fabrics, patterns, and things to create the ideal combination for you and the desired style.
Try out monochromatic! Especially if your closet is full with neutrals. Instead of clashing, adopting monochromatic can offer up a world of possibilities for neutral closets.
This is only a beginner's tutorial, but I hope it helps those of you who are unsure where to begin. Fashion experimentation is cool. It can also be frightening. Because it is the first thing others notice, their emotions can have a significant impact on our self-esteem and confidence. This has a direct impact on how we show ourselves to the world. And looking for styling tips and tricks might be perplexing. There can be a lot of rules that don't apply and a lot of unwritten techniques that do.
With this new series, I hope to be of assistance to those of you who find fashion a little scary and perplexing. I'll attempt to clear up any confusion, provide as many tips as I can, and share all of my tricks with you.
The most crucial piece of advise I can give you right now is that fashion is yours. There are also no rules.