It didn't help that 2020 was a rather backwards year for fashion, as
Teeanime
went farther towards vintage styles. Abstract geometrics, mood rings, and neoprene jackets were popular in the 1990s and served as a visual expression of MTV optimism. In recent years, we've witnessed a resurrection of outmoded styles in an attempt to recreate the glory days, which has allowed the famous bumbag to finally make a comeback. So swallow your pride and learn how to wear a fanny pack. The goofy silhouette of a fanny pack usually brings back good memories for mums and dads alike. It reminds us of childhood visits to Disneyland, garage sales, and grocery shopping with our parents. The bum bag evokes sentimentality, so it's easy to see why it's been resurrected.
What Is a Fanny Pack?
Go ahead and ask your parents this question. They'll gladly tell you stories about the classic fanny pack.
Simply described, a bumbag is a form of carry-on that is intended to provide a hands-free option. It may be worn in a variety of ways, including the waistbelt style, the crossbody look, and the backpack appearance.
The majority of fanny packs have a zipper closing and a classic trapezoid shape. They're commonly fastened to a lengthy piece of nylon webbing with an adjustable buckle.
History of Fanny Packs
Ötzi, a famed mummy, isn't exclusively known as an archeological relic. He happens to be a trendsetter as well. The first-ever fanny pack was developed 5,000 years ago and was made from traditional calf leather.
His idea of modern-day valuables did not include cellphones or wallets. Instead, the bumbag contained primitive tools that were critical to his life. Fortunately, fashion has progressed beyond Tzi's prehistoric predecessor.
The fanny pack would re-enter the fashion world via ancient Egypt and Scotland. People in the Victorian and Middle Ages also accepted the bumbag as a fashionable accessory, which gave way to the chatelaine purse.
Melba Stone patented the classic fanny pack, which we've all come to know and love, in the 1960s.
During the 1980s and 1990s, the bumbag was very popular. The fanny pack has been reintroduced as a sought essential since then, thanks to tourism and haute couture.
As you might expect, this contentious carry-on has seen many highs and lows as a result of rapid fashion. Surprisingly, it has managed to remain fashionable over the years.
When to Wear a Fanny Pack
A pair of jeans and a crewneck tee complete the classic fanny pack ensemble. I believe it is reasonable to state that this particular carry-on may only be worn casually.
The bumbag is a more practical option for trendsetters to consider for errands, laid-back hangouts, and leisurely hikes. Furthermore, because to its hands-free design, users will not have back or shoulder ache.
Obviously, fanny packs and formal occasions function just as well as oil combined with water. Its large silhouette, combined with its streetwear design, clashes with formal gowns and tuxedos.
That being said, haute couture has a knack for marrying opposite aesthetics together, so don't be surprised if you encounter a mish-mash of the two during fashion week.
How to Wear a Fanny Pack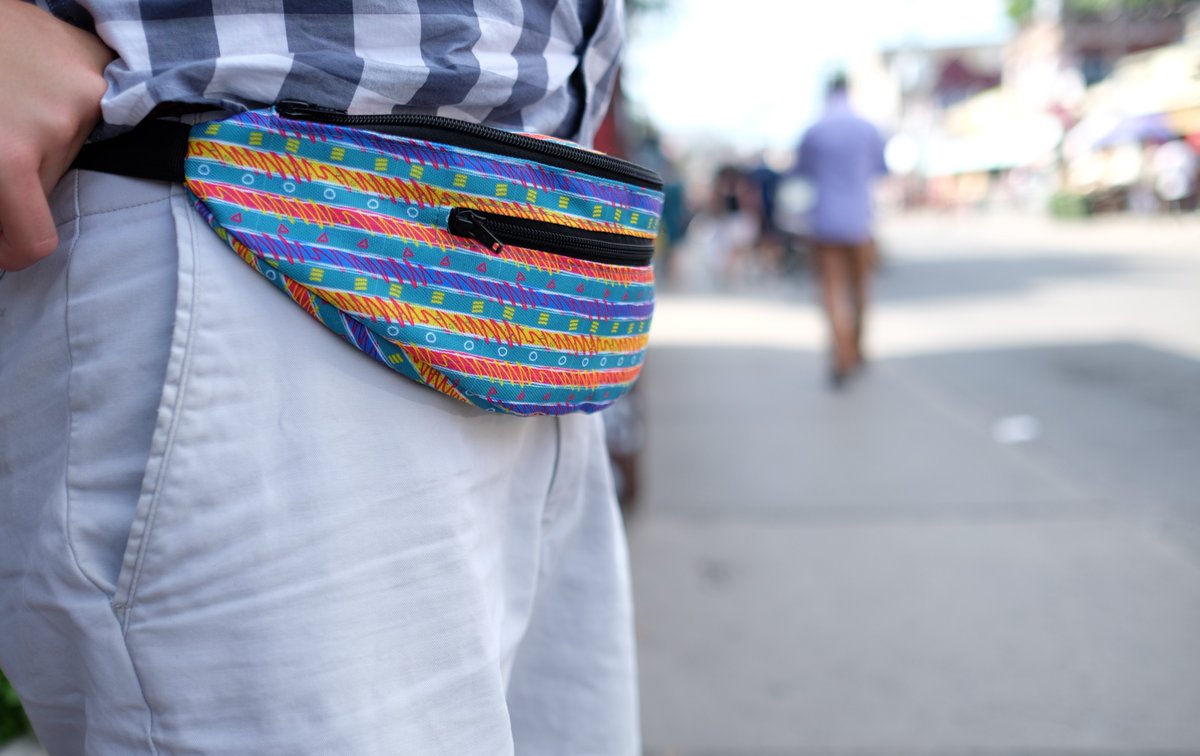 I understand that dad-core isn't the most visually appealing trend to follow. Because of the cheesy nature of the bumbag, it's pretty easy to accidentally embrace that 'fatherly' attitude.
If you wish to project a different vibe, we'll teach you how to wear a fanny pack with 10 outfit suggestions.
Trendsetters will be relieved to find that this guide is free of intended corniness, from blazer coats to midi skirts.
What Type of Fanny Packs Can You Get?
Since the first Melba Stone fanny pack came out in 1960, the classic bumbag has been redesigned hundreds of times. For someone who dresses casually, there are too many options to choose from. On the other hand, the huge selection gives people who set trends a unique chance to try out different styles. It's easy to get "lost in the sauce," so we'll give you a short list of stylish fanny packs to think about.
The traditional fanny pack: Typically made out of canvas, cotton, and nylon, this bumbag keeps things simple and straightforward for casual dressers.
The luxury fanny pack: This includes designs made by brands like Balenciaga and Prada. They usually feature the logo on the front for additional flexing.
The dainty fanny pack: Typically made out of leather, this unique belt bag features a demure silhouette. It warrants a more elegant ensemble instead of a streetwear outfit.
The oversized fanny pack: If you're looking to store more goods, we suggest opting for this kind of belt bag. It's rather generous in size and closely mirrors the shape of a backpack.
How to Choose the Best Fanny Pack
Bags are an important part of every outfit. In the end, it doesn't matter if you have a fanny pack, a crossbody purse, or a clutch. Good carry-ons are known to be expensive, so people who set the trends should always think carefully about what they buy. If you want to be a good shopper, you should judge each fanny pack on five things: quality, material, design, usefulness, and price. The materials used have a lot to do with the quality. Canvas, cotton, nylon, polyester, and leather are common materials for making fanny packs. Since their main job is to keep your things safe, they should feel strong when you put stress on them. Thin fabrics usually show a lot of wear and tear, so it's important to choose a bumbag with thick material weight.
Of course, there are other things that also affect quality. Zippers, storage pockets, mesh webbing, and straps that you can change the length of are all good things to have. Design is a big part of how well something fits. At the end of the day, you want to find a fanny pack that fits in with your style. Pieces with bright colors and patterns are often hard to match with other clothes, which is why it's best to choose a classic color or shape instead of something new. Another thing to think about is how practical the belt bag is. You don't want to settle for one that is hard to carry and has little storage space.
When it comes to price, fanny packs can cost anywhere from $20 to $1,000. Online, it's not hard to find cheap options, but that shouldn't stop you from buying a designer piece. If you wear belt bags often, maybe it's time to treat yourself to something nicer.
How to Style Your Fanny Pack
It's time to get control back. For a long time, fanny packs were thought to be the worst kind of bag. But because Y2K and '80s fashion are back in style, the classic belt bag has become a must-have in 2022. We're sure that our guide on "how to wear a fanny pack" has given people who don't know much about fashion some good ideas for how to put together an outfit. But if you're still having trouble putting together a good outfit, we'll give you some tips on how to style your FP.
The crossbody method: Considered an easy way to style a fanny pack, this fashion tip allows you to keep your belongings close to your chest.
The waist-belt method: If you want to mirror that retro '90s aesthetic, this styling tip can help you showcase that classic look.
The backpack method: It's a 'less invasive' method compared to the crossbody look. Plus, with this nifty hack, you'll exude that coveted schoolboy aesthetic.
Keychains: Instead of opting for traditional jewelry, we recommend pimping out your belt bag with an assortment of keychains and pins.
Fashion Tips to Avoid With a Fanny Pack
There was a reason why people thought fanny packs were cheesy years ago. The iconic belt bag had a hard time in the early 2000s because it was often worn with outfits that didn't look good on it. If you don't want to go back to this controversial time in fashion, this "how to wear a fanny pack" guide will give you some tips on how not to wear this type of bag.
Low-rise pants: The excessive bulk of a fanny pack is enough to weigh down your bottoms. As such, wearing a pair of low-rise jeans may result in 'accidental exposure.'
Belts: If you're going to wear your fanny pack on your waist, it's best to leave your belt at home.
Gimmicky fanny packs: Belt bags that feature quotes and bizarre images will always be considered out-of-style. To guarantee continued use, we recommend opting for simpler designs instead.
The 'second bag' look: If you're going to wear a fanny pack, you must commit to the aesthetic. Carrying around an additional purse or clutch will ruin your outfit's entire vibe.
How to Take Care of Fanny Packs
Like any other kind of bag, fanny packs need to be taken care of. As a safety measure, you should check the laundry tag twice. Some bags can be put in a machine, while others might need help from a professional. For regular cleaning, we suggest using a microfiber cloth or a brush to remove any extra dirt or dust. With a damp rag and a small amount of mild soap, stains are easy to remove. When it comes to storage, bags should be kept somewhere dark and dry. If you really want to keep your fanny pack in good shape, you must store it in a cardboard box.
Best Places to Buy Fanny Packs
Before we end this guide on "how to wear a fanny pack," we thought it would be best to leave our readers with a few suggestions. So here are some places you can buy your next (or first) fanny pack.
Nordstrom
Saks Fifth Avenue
Zumiez
ASOS
Urban Outfitters
Final Thoughts
You have to face cheesy fashion head-on if you want to fully embrace the fanny pack. Even though it's a style that some people don't like, it's undeniably fun to play with. From bucket hats to corny floral shirts, the styles of the 1980s and 1990s have a certain charm. The bum bag is no different because it has just the right amount of retro style. Here's hoping you now know how to wear a fanny pack, whether you want to wear it with a turtleneck, a trench coat, or something else. Our list of outfit ideas is full of OOTD inspiration, so you'll definitely find a look that speaks to you.