There's a reason you haven't been wearing that lovely knitted beret on your hatstand, and it's not because it doesn't look fantastic on your head. The truth is that wearing a beret is a delicate art form. It requires a bit more effort than a baseball cap and should be worn with clothing that compliment its ultra-chic look.
Although an extremely adaptable garment, wearing one right needs some practice. Don't worry—after reading this guide, you'll know just how to wear a beret and make it work with your personal style. So, for all your doubts, trust Teeanime!
What is a Beret?
If you're drawn to a beret but don't know why it's so special (or why we're using so many French terms), we're delighted you're here. Before we explain you how to wear a beret, let's define it.
The French flat cap has been a men's and women's fashion staple for centuries. Traditionally constructed from wool, you may now get the style in velvet, cotton, polyester, and leather with a thread band around the base to fit snugly on your head.
History of the Beret
Many people wear the beret without knowing where it came from. Though it is not required before learning how to wear a beret, the more information you have, the better. When someone compliments your "magnifique chapeau," you've got an immediate conversation starter.
It's a win-win situation. You get a lovely hat and sound like you know what you're talking about. Maybe you'll make a new fashion-forward pal. Oh, the advantages of wearing a beret, they go on and on! Now for some background information:
Some think "beret" dates to 1825, while others say the hat has Bronze Age roots (3300 to 1200 BC). Originally worn by Pyrenean shepherds, aristocracy and artists later adopted the beret.
Since felt is made by rubbing sheep's wool with a little water, the soft, structureless cap would have required no stitching. The classic beret style was created by expanding the top of the wool while keeping the base tight.
"Beret" derives from the Latin word "birretum," which means "bearnais berret" in French.
The bearnais berret was a flat-topped cap worn by working-class people, then by revolutionaries and fashionistas.
When to Wear a Beret
Even though berets are often worn to keep warm, you don't have to only wear your favorite one when it's cold outside. The classy hat looks great on women when worn with high-waisted paper bag shorts and a t-shirt, or with a short overall dress and combat boots.
Any of these outfits can be worn on summer adventures like treasure hunts at the farmer's market, picnics in the park, or simple trips to the grocery store.
If you do decide to go out in the winter, wearing one with a dress coat and knee-high boots is a classic look that everyone should try at least once in their lives.
A beret is the perfect accessory for date nights and fancy events in the winter when it's cold outside.
Now that you know when to wear one, let's get to what you came here for: a guide on how to wear a beret.
How to Wear a Beret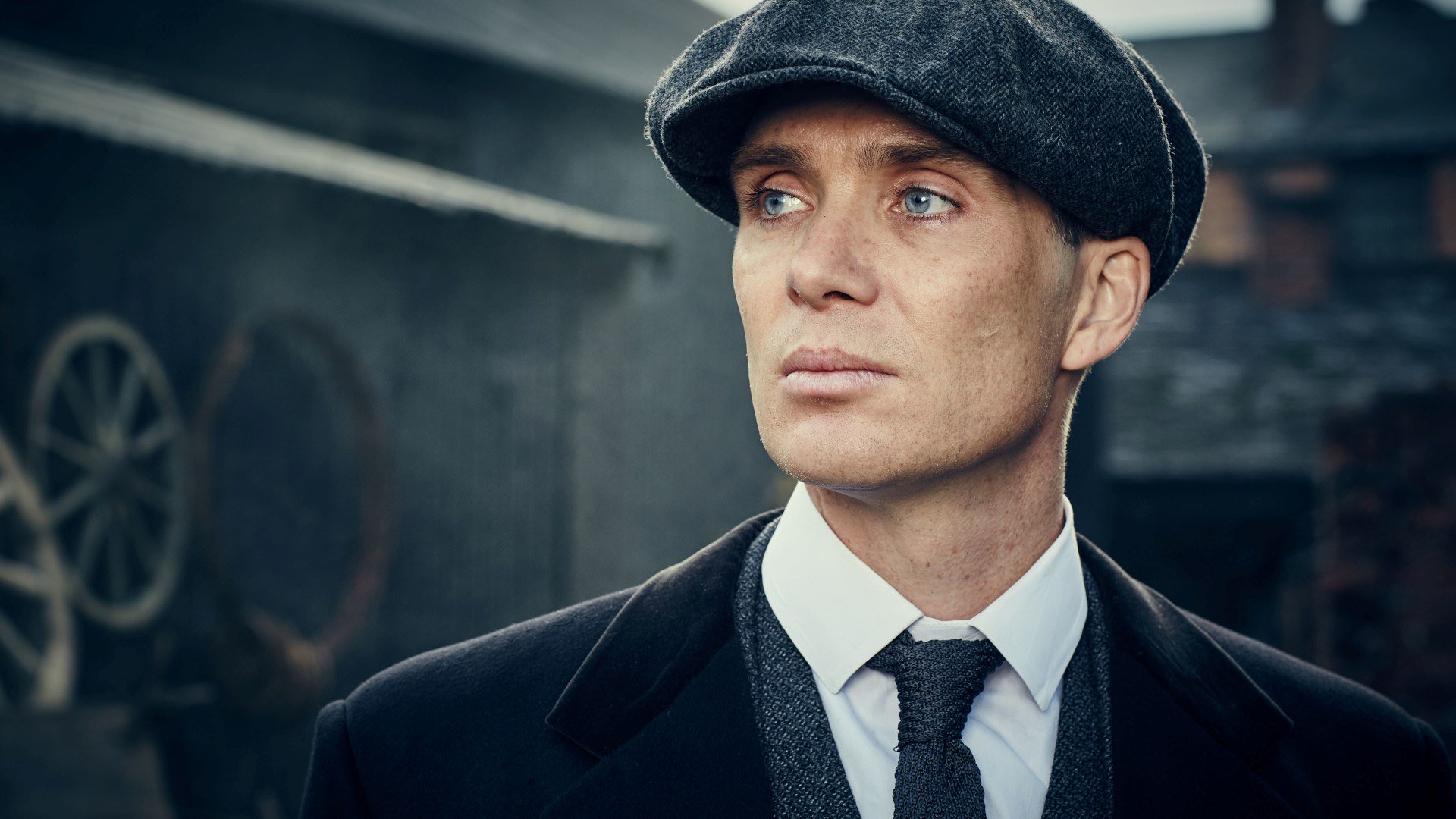 If you're not used to wearing hats, they can be a little daunting. How far back should it be placed? Is it appropriate to tip? Is it going over my ears? These are just a few of the concerns you may have when staring in the mirror and attempting to position your new hat.
The truth is that once you know how to wear a beret correctly, your entire confidence level shifts, and you go from hemming and hawing over your favorite hat to fully rocking it. Let's start with the fundamentals.
Most of the time, you put a beret on the top of your head.
Even though you can pull it down over your ears, it sits about an inch behind your ears about three-quarters of the way up your forehead.
You will tuck the hat's brim, which will hold it in place and give it shape.
How you wear a beret will depend on how you wear your hair. Long hair and bangs? You might want to move it back a bit on your head. Want to make a peak out of it? Pull the front of it forward. Need a better idea of how the style looks? Here are some style ideas that will show you how to wear a beret correctly.
5 Outfit Ideas with a Beret for Women
Matching Florals
A beret is an excellent complement to flirtatious spring looks. We adore this black blouse with lovely blooms combined with a matching beret. Swipe on a gorgeous, rich red lipstick and a strong black flick of eyeliner to keep your makeup look neutral.
Wear this ensemble to a casual lunch date, to church, or for a morning stroll down your favorite retail strip with a crossbody bag. Not to mention the cafe coffee and croissant.
Add Some Leather
People prefer to think of berets as having a restrictively exquisite aesthetic, however the beret's past is full with defiance. When paired with something a little edgier, such as a leather jacket, the sophisticated beret becomes a fashion revolution.
This red patent leather jacket, as seen above, amps up the oomph of your ensemble. A traditional black beret adds an extra cool-girl edge to an otherwise plain ensemble. The tiger tee gets extra points.
Classic Style Done Right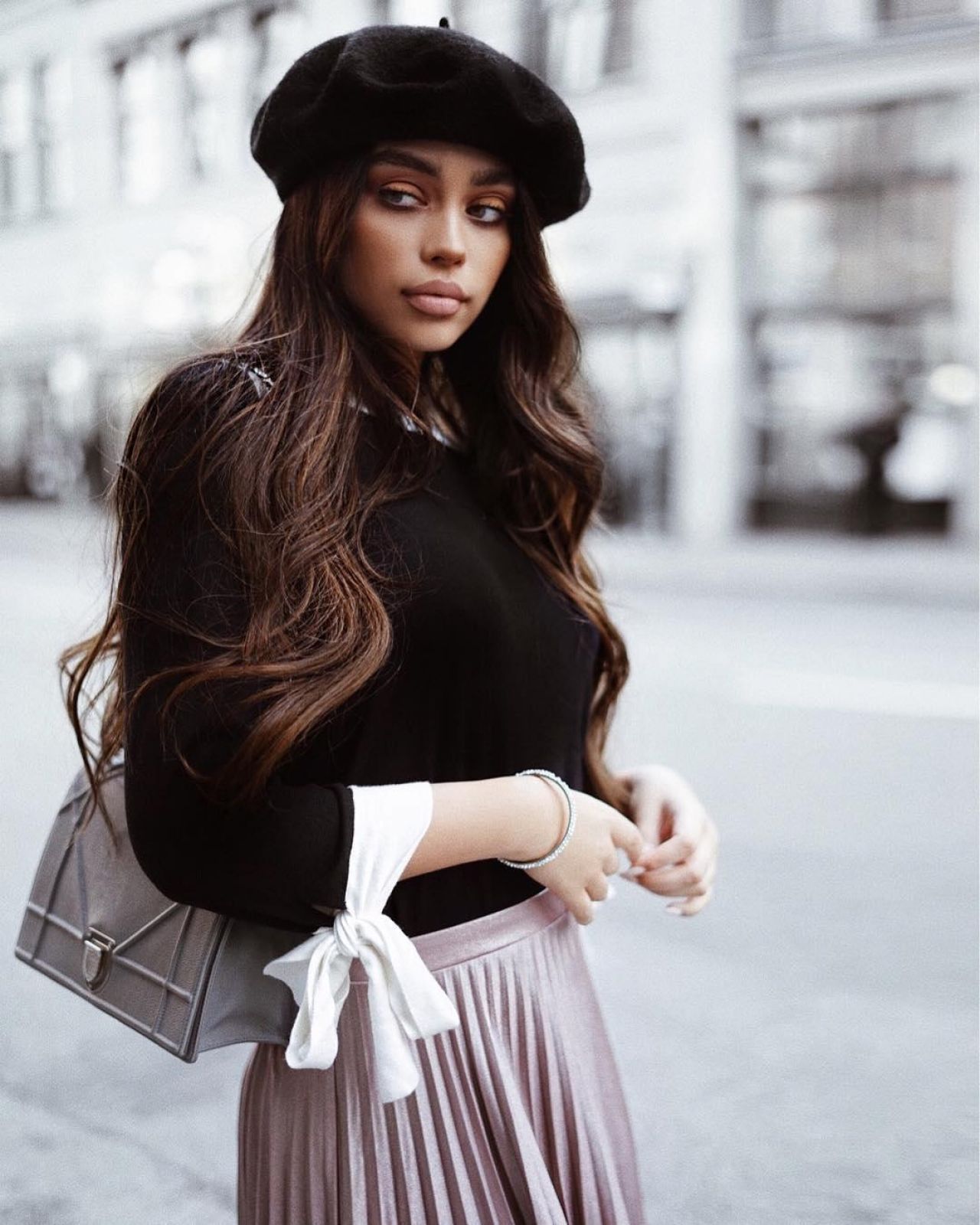 Stripes, berets, and red lipstick aren't usually synonymous with Parisian style. This working ensemble, as seen above, combines the silky pleated texture of a long skirt with the charming bow details of a blouse and sweater combo. It's modern, feminine, and completely French without being overly so.
The beret adds a little warmth and hair control on windy city days, and it looks effortlessly chic here. On a Monday, walk into the office looking like this to get your week started right.
Flirty & Short
We adore this lighthearted ensemble. This outfit is very Coco Chanel meets Dion Davenport for anyone who isn't scared to show a little leg, and we're absolutely here for it.
Semi-sheer tights protect your stunning gams, while a low, black heel adds elegance without being too serious. For added glitz, use pearls or diamonds.
This young but beautiful example of how to wear a beret is ideal for early October. Wear it to your favorite cocktail bar for a girls' night out.
Luxe & Casual
If you only have one beret, we recommend getting it in red. The color goes well with brown, black, and blonde hair and is suitable for all seasons.
With its effortless simplicity, this late summer combination conveys holiday thoughts by teaming tailored paper bag pants with your favorite comfy top.
Open-toed sandals complete the style and make walking through your favorite European city's cobblestone streets a breeze. Who says you can't drink a glass of wine at 10:00 a.m.?
5 Outfit Ideas with a Beret for Men
Black Tee & Jeans
When it comes to headwear, often the less complicated the ensemble, the better. This all-black ensemble is a prime example. This outfit, which is accented with gold chains and a plethora of tattoos, demonstrates that berets can be worn with any style.
This is a laid-back summer outfit, so wear it to the park, the bar, or gallery hopping with your new lover. If your previous search for "how to wear a beret men" left you disappointed, this style is sure to please.
Retro Style
This one has a retro vibe because to the over-a-century-old flair the vehicle coat adds to any ensemble. The addition of vertical mustard stripes to contrast the navy is a wise option, and leaving the bottom untucked gives this conventionally put-together ensemble a tastefully chaotic vibe.
The beret is worn peaked at the back here, almost like a reverse cap. This style adds to its informal appeal, making it a go-to for weekend outings no matter what you do.
Classic Gentleman
This is an example of how to wear a beret from head to toe, combining the polished look of a neat white button-down with the soft, wool of a pullover sweater and beret. Making the beret into a peak gives the hat a cap-like appearance that is reminiscent of the traditional paperboy style.
Keep everything fitting but not too tight for a workplace or late-night dinner at a Parisian cafe look.
Rock Chic
This asymmetrical leather jacket has it all. The thick, soft leather is a wonderful companion to a classic back beret, from its off-center zipper to its non-matching compartments. Finish with a thin, pattern scarf and eyewear to elevate this edgy look into refined territory.
Don't be frightened to wear this on your way to work. Underneath, a button-down works well, but the leather will keep you toasty (and looking beautiful) on your journey.
Patterned Shirt & Linen Jacket
Though a more daring dress, it is one that can be tailored to your individual taste. A bright, patterned shirt is layered beneath a casual linen jacket and tailored khakis in this look.
There's definitely a Toni Montana vibe going on here, but the addition of the beret elevates this casual weekend look into something more retro classic than a Colombian drug king.
Wear it to the club or a semi-upscale restaurant for lunch, or take your hunny on a boat ride across the lake. This one is light and comfortable enough to wear in the spring, early summer, or on a cold summer night.
How to Style a Beret
As you can see from the examples above, a beret can be worn with many different styles, from rocker to retro to modern, and by both young and old people.
A beret gives a casual outfit a chic edge, whether you're going to school or to the movies. It looks cute with jeans and a t-shirt and curls that bounce or a fringe that is straight as a board.
Do you want to know how to put on a knitted beret? Put on a skirt and a blouse, and you're done! Your outfit is feminine and classy, and it looks like it's all there.
Men don't wear a beret as much in the summer as they do in the winter, but it can be done, fellas! Consider wearing a beret with a backwards peak with a simple white t-shirt and tailored pants for a casual look with a bit of edge.
We love the look of a soft wool beret with a smooth leather jacket with shiny hardware. This is an obvious choice for the winter months. Put on some black jeans and combat boots for a rocker look you can wear out for drinks on a Friday night.
Fashion Tips to Avoid With a Beret
The beret is an essential part of any fashion-savvy person's wardrobe. It's a great accessory that pulls together almost any outfit. A beret and a formal track suit? Just ask Missy Elliot.
But even though this elegant hat has a lot to offer, there are a few things you might want to stay away from when styling it. If you want to know how to wear a French beret right, here's what not to do:
Ditch the stripes
If you wear a striped shirt with a beret, you might as well grab your poodle Fifi, hop on your bike, and put a baguette in the basket. To put it another way, it's just too common. Don't wear the usual shirt with black and white stripes. If you must wear stripes, try vertical ones or a thin pinstriped button-down.
Avoid overdone makeup looks
When it comes to the beret, it is a hat that says a lot. We think that people have trouble wearing accessories because they have a personality of their own. It's kind of like a fedora, but it's cool. Keep your makeup simple. All you need to look beautiful is a bold cat eyeliner and a swipe of red lipstick.
High ponytails
This one just makes sense. Avoid high hairstyles if you want to look stylish and put together. If you have a ponytail higher than the nape of your neck, your beret will either sit funny on your head or cover part of your hairstyle. You're not doing yourself any good either way. If you have to pony, do it quietly.
Best Places to Buy a Beret
Now that you know how to wear a beret, all you need to do is go out and buy one. Berets have been a part of chic fashion for the past 100 years, so it shouldn't be too hard to find one.
You can find them in the fall/winter collections of many designers, but instead of going to stores one at a time, we suggest going to online shops that carry a few different brands. After all, different things make life interesting.
ASOS has a great selection of berets for men and women that are priced well. We were thrilled to find more than one leather beret in its stock, along with wool and knitted options.
You can also find the cutest animal print and pompom berets at Bloomingdales. If you go to NET-A-PORTER, you can shop for designer styles.
Final Thoughts
Berets have a lot more going on than meets the eye. Everyone wants to wear this style, but most people are afraid they can't pull it off. By now, we hope you know how to wear a beret and feel a little more comfortable with this French fashion staple.
Berets are perfect for every month of the year, whether you're going to the movies or looking for something warm and stylish to wear while ice skating in the park. This basic piece of clothing is both versatile and cool, so we hope you'll wear it often.