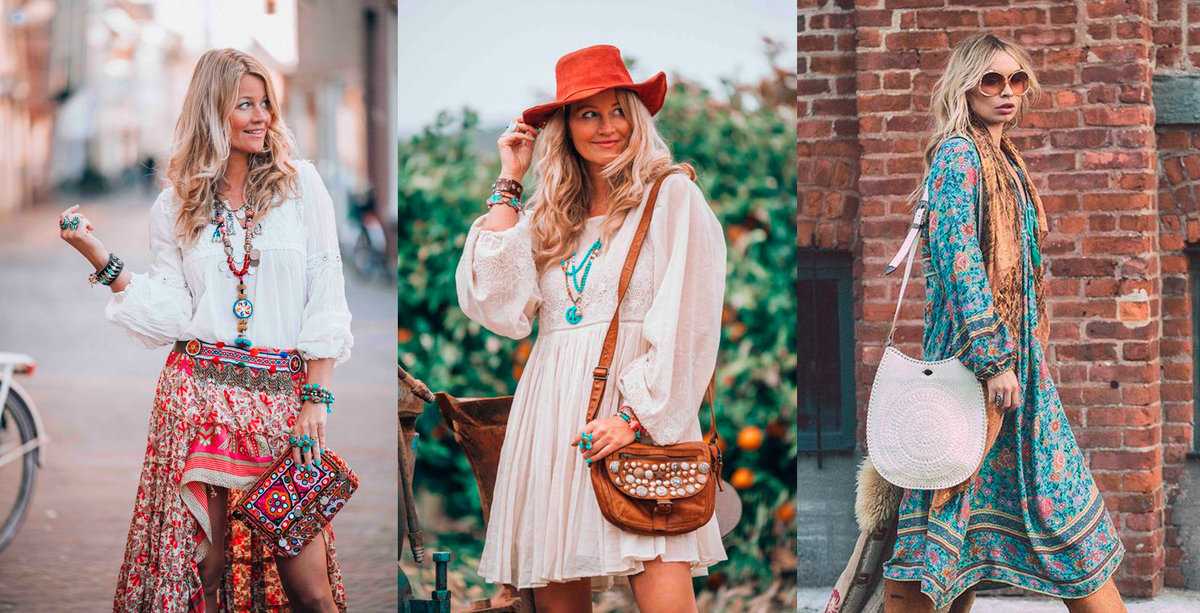 1. Defining Bohemian Style
Artistic, easygoing, and free…
But first, what exactly is bohemian fashion? Go with Teeanime for all your doubts!
Bohemian fashion is closely tied to hippie fashion, and it combines natural materials, classic patterns, neutrals, and warm colors with 70s style embellishments and a penchant for striking accessories.
Bohemian attire is more than just a passing fad. It's a distinct culture in its own right, with a distinct worldview and a tangled past. While it is closely connected with hippie styles of the 1960s and 1970s, bohemian fashion is now part of mainstream society. However, bohemian fashion originated as a counterculture in the nineteenth century. With its loose-fitted clothing items, casual accessories, and overall artistic, creative hodgepodge of elements, the boho style is now a genuine phenomenon, one that follows the lines of effortless, relaxed design.
Bohemian styles express the lifestyle attitude that goes with them: an alternative to traditional dressing, along with an equally alternative, more liberated lifestyle and a social position against everything from materialism to societal restraints.
What does bohemian style mean?
Bohemian fashion has a long history, dating back to the late 1960s and early 1970s. The style, often known as 'boho chic' or 'boho,' incorporates natural materials, earthy colors, and hippie-inspired patterns.
Where does the Bohemian style come from?
The origins of bohemian style are strongly linked to the bohemians, a subculture that emerged in France following the French Revolution. As a result of the loss of the previous patronage system, many artists fell into poverty during this period.
What is the difference between bohemian and hippie?
Bohemian dress is relaxed, quirky, and expressive. Bohemians, like hippies, are free-spirited and refuse to dress to comply. Bohemians, like hippies, are generally romantic, with a wanderlust lifestyle.
2. History of Bohemian Style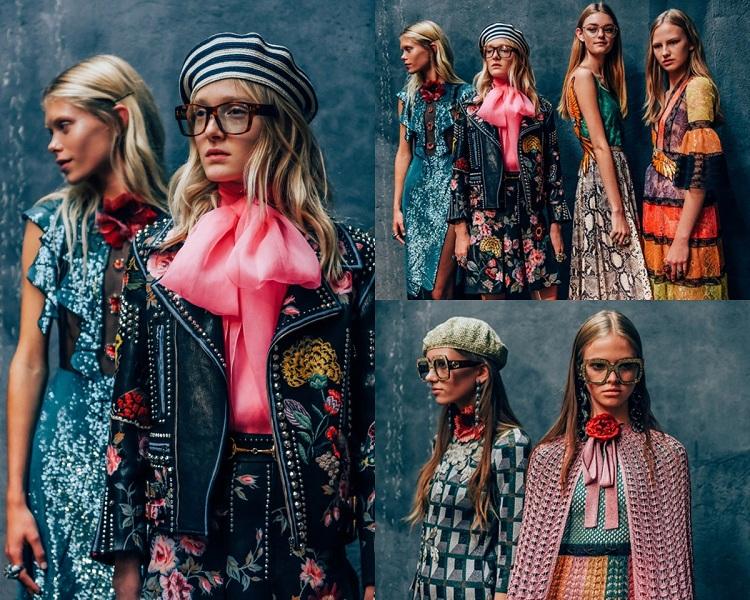 Bohemian fashion is defined as a style that is distinct from the dominant fashion trends of the moment. In reality, this is the exact definition over the entire history of the trend. Over 200 years ago, the term "bohemian" refers to an unusual fashion sense associated with artists of the day, as well as writers and certain eccentric thinkers.
The Beginnings
The Bohemians are first mentioned around the end of the 18th century, during the French Revolution. Artists and creatives were obliged to live in poverty back then due to the social and economic conditions. As a result, artists of the time began to dress in discarded and old attire. Soon after, when the economy steadied, artists began to express their creative side more through clothing – and frequently in quirky and extremely artistic ways.
The popular opinion of the time was that artists dressed similarly to itinerant gypsies from the Balkan region of Eastern Europe, in a region known as Bohemia. As a result, the term "bohemian" became synonymous with a culture, or, more accurately, a counterculture, linked with creativity, artistic expression, and a rejection of social conventions and conventional aesthetics.
The Romantics and French Bohemians
Around the middle of the nineteenth century, the Romantics (intellectuals who identified with Romantic art of the time) became linked with the French Bohemians. Flowy clothing, oriental-inspired attire, medieval elements, and colorful materials, as well as gypsy-inspired accessories and hair, ancient coats, and damaged fabrics, were blended into the aesthetics of the groups. While many complimented these characteristics at the time, they were all significantly different from the mainstream tendencies of the day.
The Aesthetic Movement
Bohemians' fashion evolved significantly over time. What began as a need (poorly dressed people) evolved into an ideology – one opposed to materialism, in favor of shared living spaces, against social customs, and frequently against personal hygiene. Later, the Bohemians joined the Aesthetic Movement, which opposed the tight corsets and crinolines of the time. As a result, Aesthetic Movement supporters adopted a new lifestyle and dress style that emphasized loose fits, hand embroidery, and medieval-inspired motifs. The newly created counterculture was referenced in literature and music at the time, with artists such as Henri Murger and Puccini dedicating compositions to the Bohemians.
The Early 20th Century Bohemian Icons
Designers began bringing bohemian fashion to the next level in the early twentieth century. Among them was Paul Poiret, who included ethnic characteristics such as Russian and Middle Eastern components into his designs. Similarly, textile designer William Morris produced a number of designs for both interior design and apparel, including luxuriant flower prints, paisley, and swirls, all of which were detailed and extremely ornamental.
The Hippie Era
In the 1960s, the Bohemian Movement took on a new meaning that was about to change what fashion meant. When the Hippie Movement was going against normal ways of living, people started wearing things like ethnic dresses, embroideries, mixed prints, volume, fringe, and flared shapes. The hippies were against everything: mainstream values, materialism, established institutions, and social norms. This was clear in the way they dressed, which was different from the sleek, polished, and classy styles of the previous decade.
3. A Bohemian Capsule Wardrobe: 20 Must-Haves
If you want to start a bohemian wardrobe, a capsule collection with basic bohemian pieces is a good place to start. You need no more than 20 key pieces that you can easily mix and match. The good thing about going bohemian is that almost everything goes with everything else. Here is an example capsule collection with tops, bottoms, outerwear, accessories, and one-pieces to help you get started.
The Color Palette
One of the easiest rules to apply when it comes to creating a bohemian capsule wardrobe is to start from a curated color palette.
Tip 1: Include both warm and cold hues. A good general rule is to opt for a collection in 6 to 12 hues. Choose less if you gravitate towards a minimalistic style and more if you love prints and aim for a boho look.
Tip 2: Use sister and cousin shades. For example, incorporate three shades of brown (caramel, maroon, latte or terracotta color) or fours shades of blue (turquoise, steel, sky blue and navy) and avoid solitaire, isolated colors. This tip will help you curate a capsule wardrobe where everything is easily matched, which adds to the versatility of the collection.
Tip 3: Include neutrals, pastels, as well as rich hues. Avoid artificial, neon colors, as well as highly saturated garments.
Tip 4: Mixing prints is much easier when you start with a hue palette, which is why putting a lot of thought into your color scheme is essential.
4. Bohemian Style: Materials, Patterns, Techniques and Elements
Bohemian style has a lot of different shapes and cuts, as well as just as many, if not more, unique materials, patterns, and ways of making clothes. In general, bohemian designs use natural materials in colors found in nature, patterns inspired by art and rustic elements, and a wide range of ethnic, folk, and floral patterns. We have made a list of the most important bohemian elements, from the most common fabrics to the most well-known prints and patterns.
Materials
Lace – bohemian lace is usually more rustic in appearance than delicate silk lace, and more often than not, it comes in white or ivory hues;
Crochet – lace's shabby cousin, borrowed from the interior design arena and incorporated in festival-ready crops, bags and even bikinis;
Leather – faux or genuine, in shades of natural brown or taupe and preferably worn-out;
Denim – light, dark, distressed, acid;
Suede – usually used in the creation of accessories and as a staple of boho footwear;
Wood – used for shoe platforms, bangle types of bracelets, beads and other jewelry pieces;
Turquoise – the most popular bohemian gem, adorning rings, various earring styles and necklaces;
Rattan – used in the creation of bags and shoes.
Patterns
Trellis – a symmetrical pattern that comes in a variety of forms, from stylized ones to highly ornamental Moroccan tile-inspired designs characteristic to bohemian clothing;
Ikat – both a technique and a pattern that involves resist dyeing the fabrics prior to weaving them;
Floral – large scale, small scale, colorful or muted, bohemian florals are anything but stylized and minimalistic;
Tribal – inspired by African cultures, tribal prints are a staple in boho clothing, often found in bold and bright hues;
Kilim – Turkish rugs reinvented as winter coats, bags and vests, featuring handmade flat tapestry designs;
Paisley – originating in Persia, paisley is an exotic pattern that is highly intricate and ornamental, often featuring mysterious symbolism;
Lattice – a repetitive pattern that is not necessarily bohemian, but found often as part of boho clothing in its more intricate versions.
Techniques
Macramé – a type of knotting technique, used to produce textiles both for interior design and clothing items, often used in the creation of vests, beach cover-ups and bags;
Tie-dye – borrowed from the hippie culture of the 60s, tie-dye is a technique used to produce groovy patterns;
Distressed – old, vintage and worn-out are trademarks of bohemian style, with distressed denim and leather being the most popular choices;
Patchwork – used in the creation of bags (either textiles or leather) or incorporated in clothing designs either as a main textile or as an applique.
Embellishments
Embroidery – used to add additional artistic vibes to clothing and accessories;
Fringe – crafted from leather, rope or yarn and used to adorn boots, bags, jackets, vests, kimonos and more;
Pom-poms – a more recent addition to bohemian aesthetics, pompoms are used to adorn clutches, blouses and bikinis;
Studs – another embellishment used mainly on accessories and footwear, but also on outerwear;
Tassels – used as trims in clothing or as part of jewelry design;
Appliques – including crystals, sequins, beads, lace and florals, used to decorate jackets, handbags, shoes and more.
5. Bohemian Trendsetters and Influencers
Bohemian style was always seen as a counterculture – until the early 2000s, that is. As a result of celebrity culture, boho style, as well as boho chic, finally achieved mainstream status in the first decade of the 21st century. With movie stars, singers, models, as well as famous celebrity designers sporting distressed denim paired with suede, maxis or flouncy floral dresses and tunics, boho style became an iconic trend in its own right.
The Disco-Era Bohemians
Prior to the 2000s, stars like Janis Joplin, Stevie Nicks and Donna Summer fully adhered to the boho trend during the disco and hippie-infused 60s and 70s. While the bohemian trend was embraced by many subcultures, these particular decades did not fully adopt the artsy trend to the fullest. What did these divas have in common? A plethora of cape-like shawls, top hats, circle sunglasses, winged out sleeves and flared pants, plus flower power patterns galore.
Top Bohemian Influencers of the Early 2000s
1. Rachel Zoe
She is a major person in the boho trend – not because she is famous, but because she was the genius behind the scenes. We're talking about celebrity stylist Rachel Zoe, who rose to prominence in the early 2000s by styling celebs who would go on to become some of the most prominent bohemian style icons. Nicole Ritchie is a prime example.
2. Nicole Ritchie
Nicole Ritchie is without a doubt one of the key figures responsible for the 2000s bohemian resurgence. Not only is the socialite / reality personality / fashion designer one of the most influential boho-cool and boho-chic trendsetters, but she also has her own bohemian-inspired lines. Nicole is also an expert at making super-loose fits seem great, as well as a master at mixing prints and embellishing maxi dresses.
3. Sienna Miller
Another pivotal celeb who revived the bohemian trend: Sienna Miller, who has been rocking the boho chic look since the early 2000s. Sienna takes an eclectic approach to bohemian style, combining elements that are not supposed to go together, yet somehow magically do. As one of the original batch of modern celebs that rocked boho fashion, Sienna let her style evolve during the years. More recently, the actress transitioned towards a more sophisticated look for the red carpet, but kept her notoriously disheveled boho look for casual weekends.
4. Vanessa Hudgens
While she currently describes her style as simply 'chic', Vanessa Hudgens was once the queen of boho-chic. While she keeps it glam on the red carpet, Vanessa does the paparazzi stroll in summer music festival-ready ensembles. Similarly to Nicole Ritchie, Vanessa's absolute favorites include: maxi dresses, suede boots and gladiators, denims, loose tees and flowing skirts.
Other Honorable Mentions
Zoe Kravitz – With parents like Lisa Bonet and Lenny Kravitz and a stepfather like Jason Momoa, it's no surprise that actress Zoe Kravitz is a veritable boho style pioneer. As a result, Zoe is a master at looking totally effortless at all times, whether she's walking the red carpet or doing the pap walk.
Mary-Kate and Ashley Olsen The Olsen twins were part of the original team who made bohemian style the big sensation that it is today. As masters of the 'everything goes with everything' aesthetic, Mary-Kate and Ashley always infused an air of whimsy or mystery into their ensembles.
Anyone who has ever attended Coachella knows that it has become a culture and a lifestyle in its own right, as well as a true representation of today's more grungy-infused boho aesthetic. Coachella is all about that SoCal, effortless aesthetic, from Victoria's Secret models to social media stars, and from A-listers to average people. Distressed denim, lace cover-ups and crochet crops, bandanas and headbands, all-kids boots, sunnies, temporary tattoos, flouncy maxis, and an overabundance of accessories are must-haves for nailing the SoCal look.
6. Bohemian Jewelry and Accessories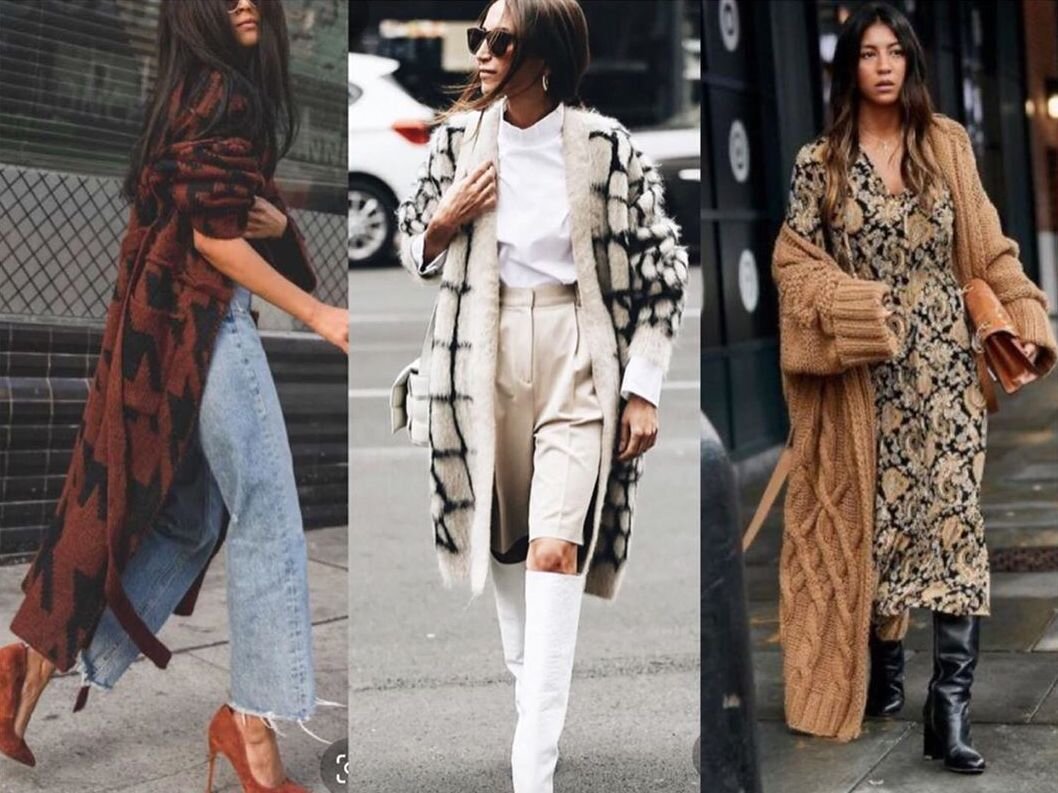 When going for a bohemian appearance, your jewelry and accessories are equally as vital as your outfit. From turquoise glitter to headbands, perforated bags to fringe and tassels, these are the primary sorts of accessories and jewelry you'll need to put together an all-boho wardrobe.
Bohemian Accessories
Bohemian accoutrements are quite easy to spot. As a general rule, everything plain, basic, and uncomplicated is unlikely to be bohemian. To begin, if you're looking at a handbag or a pair of shoes with trims, pompoms, tassels and fringe, perforated parts, appliques and embroideries, ethnic prints and patterns, you've probably found a bohemian treasure. Furthermore, anything with streamlined silhouettes, rigid cuts, classic designs, or exquisite lines deviates significantly from boho style. When it comes to choosing textiles for boho accessories, natural is ideal, which includes canvas, leather (including fantastic faux alternatives), linen, rattan, wood, rope, and so on.
Furthermore, designs and patterns are common bohemian components in accessories like as handbags, shoes, and hats. The collection of boho-inspired accessories is delightfully inspiring, with anything from Mexican prints to tribal African patterns and ikat to Turkish, Persian, or Moroccan detailing.
What to Look for in Accessories
Bags
Fringe bags
Perforated leather bags
Unstructured totes an shoulder bags
Ethnic print drawstring bags
Embroidered backpacks
Natural fabrics, genuine or faux leather and suede
Beaded clutches with boho trims
Canvas bucket bags in folk prints (Moroccan, Mexican, etc.)
Trims like tassels, lace and pompoms
Macramé bags
Patchwork bags and clutches
Rattan bags
Shoes
Gladiator sandals
Suede ankle boots
Lace-up flat boots
Clunky heels
Platform heels, wood platforms
Ballet flats with appliques
Perforated boots
Embroidered footwear
Ethnic print boots
Swedish hasbeens
Headwear
Fedora hats
Straw hats
Bandanas in boho prints
Turbans
Floral headbands
Floral hairpins
White and Tahitian pearl hairpins
Extra Bohemian Accessories
Vintage sunnies
Studded suede or leather belts
Embroidered belts
Oversize scarves
Bohemian Jewelry
Bohemian jewelry defies minimalism. Maximalist boho bracelets, necklaces, rings, and gem-decked hoop earrings are easy to spot. Bohemian jewelry can be intricate, massive, beaded, with or without diamonds, and in numerous antiqued finishes.
Avoid shiny, polished metals and opt for matte, subdued metals to spot bohemian jewelry. If they have turquoise gems, tribal carvings, natural gemstones, or Moroccan-inspired motifs, then better. Bohemian jewelry, like apparel and accessories, uses natural materials including gemstones, white and colorful pearls, leather, opal, wood (bangles, beads), and bone.
What to Look for in Jewelry
Natural materials: metals, gems and pearls
Turquoise anything
Intricate beaded designs
Wood beads and accents
Artsy stackable rings
Layered necklaces (chain, pearl or gem adorned, personalized and featuring charms)
Antiqued silver and antiqued gold metals
Jewelry with an artisanal feel
Mexican bracelets
African finger rings and African necklaces
Moroccan jewelry
Large pendants, large rings
Tassels
Elevating Boho Outfits with Dressier Jewelry Pieces
Look for jewelry that combines pearls with fringe, tassels, and other bohemian characteristics if you wish to wear pearls. Fantasy mother of pearl jewelry with semi-precious jewels or tarnished metals is boho-chic and great for weekend and vacation outfits.
Pearls elevate your attire from hippy to boho-chic for dressier situations. Choose precious metals with a soft, delicate luster. When dressing up, consider natural stones like Akoya pearls, turquoise, or amethyst. Well-chosen jewelry may elevate any ensemble. If you wish to wear a bohemian dress to a wedding, anniversary, or other formal event, a baroque pearl ring or pearl, amethyst, or other precious stone earrings are a fantastic compromise.
Bohemian, beach, and ocean-themed brides love pearl jewelry. Pearl hairpins, headpieces, complex statement bracelets, and anklets are fashionable. Single pearl necklaces, dangling pearl earrings, and baroque pearls are also bridal accessories.
What to Avoid When Shopping for Boho Jewelry and Accessories
Neon colors unless they are part of ethnic-inspired designs
Artificial fabrics like latex, low-quality faux fabrics
Plastic
Lucite
Artificial, saturated shades
Minimalistic jewelry, unless used for complex layering
Futuristic and geometric jewelry
Conclusion
What began as a subculture reflecting a quirky, unusual segment of the society a couple hundred years ago has evolved into its own mainstream culture. Bohemian fashion is more than just a passing fad, and it is more than just a passing fad. It's a way of life, replete with a very recognized and equally artistic way of dressing. Bohemian style, as a style where the most eclectic blend of prints and materials meet, is not only a depiction of a diverse range of cultures around the world, but also a fusion of many classic fashion eras.