There are certain types of shirts that every man should have in his wardrobe, regardless of whether he is a businessman or a barista. Some styles, such as Oxford button-downs and casual chambray, are made for specific events and seasons yet may be worn practically anywhere. Keep reading if you need help picking which type of shirt for men to buy. Teeanime have done the hard work for you.
1. Oxford Button-Down Shirt
The Oxford button-down, invented by John Brooks in 1896, became an instant classic. This shirt is a relaxed spin on the traditional dress design, distinguished by its thicker fabric and button-down collar. It's ideal for a variety of occasions, including weddings and corporate functions. Choose lighter colors for a corporate environment and darker shades for a more informal occasion.
2. Dress Shirt
The dress shirt is perfect for impressing because it is both elegant and simple. It has a thicker collar than a conventional shirt, a pointed, wing, or cutaway collar, and double cuffs. A tuxedo or three-piece suit with a bow tie and cufflinks complements the dress shirt best. It is frequently seen at black-tie events or on James Bond himself.
3. Cuban Collar Shirt
Bring out your best cigars and lounge in the sun in a Cuban collar shirt. These shirts, with short sleeves and an open collar, are an important summer staple that will help you look and feel cool. Don't be misled; this shirt doesn't have to make you look like you're on vacation with the kids; with the appropriate styling, you can look as cool as a cucumber. You may keep it casual or beachy sharp, depending on your mood, with an array of colors and designs to select from. It is excellent for relaxed occasions like as a festival or an afternoon at the pub; reveal a little breast while also looking sleek.
4. Overshirt
The overshirt is useful in the transitional seasons when it is too chilly for a T-shirt alone but too warm for a coat. It is versatile and is generally worn over another shirt, such as a T-shirt or a button-down. The overshirt's attractiveness lies in its simplicity; match a simple T-shirt underneath with a block-colored?.b overshirt. Blues and greys are ideal for a night out, whereas neutral colors are perfect for daytime activities.
5. Flannel Shirt
A flannel shirt will keep you warm and elegant. The flannel shirt, which is commonly seen on those who live in chilly locations, is made of thick, soft fabric and generally comes in a checkered pattern. Flannel is your greatest option for keeping warm on cold days. You'll be the coolest guy in the room if you wear it with a T-shirt and jeans.
6. Office Shirt
Roll up your sleeves and go to work while being stylish. The office shirt is an excellent option for folks who work at a desk; think business casual. Colors such as whites and pastel blues are ideal for the workplace. Choose textures like oxfords and herringbones for a more relaxed look without needing to wear a tie.
7. Chambray
Chambray shirts are one of the most versatile pieces of clothing you can own. Unlike denim, it is made of a light fabric with a plain weave, resulting in a casual and comfortable piece of clothing. These shirts are ideal for any relaxed or fine casual occasion. Pair it with jeans or chinos to keep it casual. If you want to dress up the appearance, pair the chambray with a blazer; the options are unlimited.
8. Classic Short Sleeve Shirt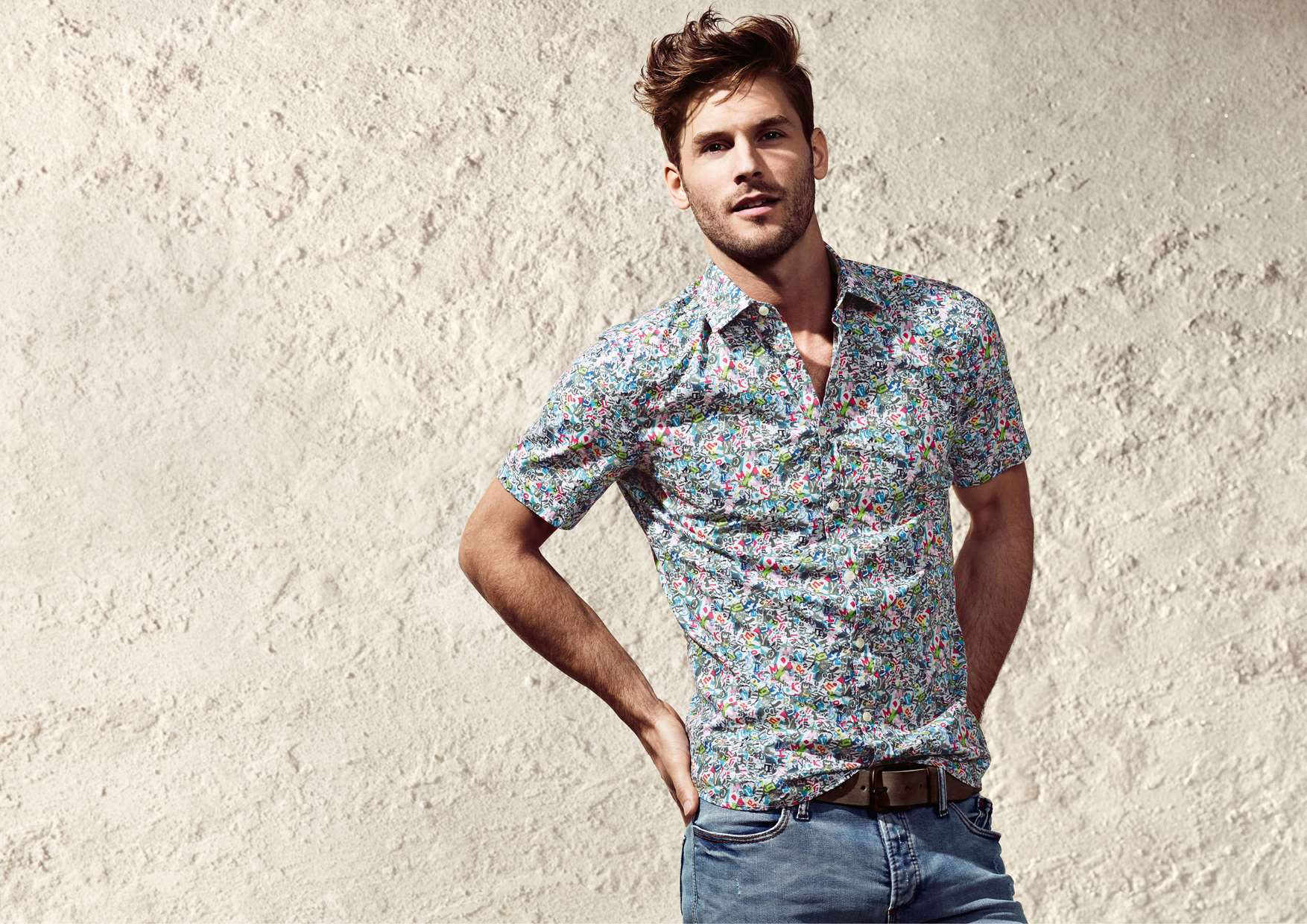 In a traditional short sleeve shirt, roll up your sleeves with style. This shirt type, like the standard button-down, features an open and pointed collar. It's a stylish choice for a day at the beach or at a cafe. You can style it anyway you want because it comes in a huge variety of colors and designs. These shirts look fantastic with or without a tie and with jeans, chinos, or shorts.
9. Denim Shirt
The denim shirt is a piece of apparel that can instantly pull together an ensemble. It creates an easygoing sense of style, whether at a casual gathering or a smart-casual function. Wear a light-colored T-shirt underneath the denim and a dark-colored pair of jeans for a simple yet fashionable look. The denim shirt is a traditional and fashionable alternative for days when you want to feel comfortable while also looking stylish.
10. Linen Shirt
On days when you feel like you're melting, linen shirts are a great choice. It is usually worn in casual and smart casual settings because it is made of very breathable fabric. Choose a light color, like blue or white, and you'll look instantly cooler. Roll up your sleeves and put on a pair of light chinos for the perfect summer look. For a slightly more formal look, put on jeans and a blazer.
11. Polo Shirt
The polo shirt is a versatile and elegant article of apparel that looks best at casual events. Unlike the T-shirt, it is constructed of woven fabric and has a pointed collar and a few buttons at the neck. You can choose from a variety of sorbet colors for a day at the beach, or darker colours if you're going out to lunch with friends or to the races.
FAQs
What are the different types of tops called?
The Oxford button-down shirt, for example, is a casual twist on conventional dress attire, whereas a dress shirt is a garment worn to formal events and with suits. The Cuban collar shirt, overshirt, flannel, chambray, linen, office shirt, denim, classic short sleeve, and polo shirt are also significant names.
What are tight shirts called?
What is a half sleeve shirt called?
What are full sleeve shirts called?