When are shirts not shirts? Today, the helpful team at Teeanime delves deep into the world of men's shirt styles, how they differ, when to wear them, and why there's so much variety in the first place. Are you ready to get your shirt-related questions answered? Let's go!
SUIT SHIRTS/OFFICE SHIRTS/CLASSIC SHIRTS
Okay, we lied. These terms are used to describe shirts worn under a suit or blazer, however there are many sub-classes.
A'suit shirt' or classic man's shirt is constructed of breathable cotton. Polyester shirts are inexpensive, uncomfortable, and unattractive.
Classic shirts have long sleeves and correct cuffs, usually a firm barrel cuff. Instead of cufflinks, these cuffs have buttons or other closures. Cufflinks signal a dress shirt. Some tailored suit shirts use cufflinks, but that's a personal preference.
These include button-up and button-down shirts. A button-up shirt is a suit shirt with front buttons. Button-down shirts have collar buttons that button down after tying a tie. They're more casual than a button-up shirt, but yet professional.
In the correct context, button-up shirts can be worn without a tie or with the sleeves rolled, but verify the collar type if you want to skip a tie; some collars are thin and floppy, making it difficult to sit neatly (this is why some guys prefer button-down collars!).
OXFORD SHIRTS
The Oxford Shirt pairs well with a suit, but it's also versatile and may be worn casually, to the office, and even to weddings. Oxford fabric is thicker and softer than cheaper cotton because of its basketweave. Oxford shirts feature button-down collars, although others don't. A yoke hanger loop is standard.
This shirt is essential for sartorial or manly elegance. Most stylish people wear an Oxford shirt every day.
DRESS SHIRTS
Dress shirts are worn for more formal occasions such as black tie or weddings. Cufflinks are used to close the cuff of a shirt that is often composed of cotton. Instead of the starched barrel cuff, they have two cuffs that you fold. They also typically feature finer collars, such as cutaway, wing, and pointed collars. They're important for white and black tie events, and having a clean white dress shirt in your collection for weddings and formal occasions is a must.
SHORT-SLEEVE SHIRT
Cotton short-sleeve shirts formerly screamed 'blue-collar worker' You don't want someone you just met to think you're their DoorDash driver. Designers recently reimagined the short-sleeve shirt. It's excellent for outdoor activities or casual days out, not daily wear. In some hot climates, it's suitable business clothing, but verify your dress code.
Button-up and collared, they differ from polo and tee shirts. Some people wear short-sleeve shirts with a tie as a professional shirt, but we don't like this from a classic, formal menswear perspective. They're great for cafes and beaches, where the top button is left undone.
Professional short-sleeve? We'll pass.
CUBAN COLLAR SHIRT
The Cuban Collar shirt is a form of short-sleeved shirt with an open collar in the Cuban style. This makes them ideal for displaying a thick necklace or other comparable jewelry. They usually have designs and brighter colors. When styled incorrectly, they can have a 'dad bringing the kids on vacation' aspect, but with a keen eye for balance, these shirts can be transformed into some sophisticated outfits. They are, however, best suited to hot regions or seasons. Wear these anytime you want to be casual.
T-SHIRT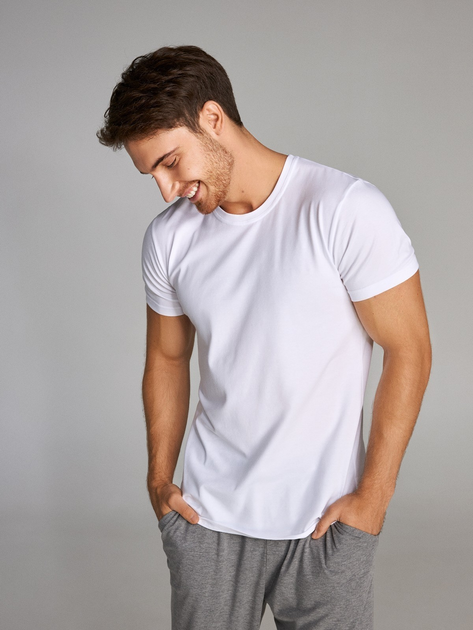 T-shirts are generally named by the neck style. So you'll hear crew-cut (has a circle neckline called crew neck), v-neck (a sharper neckline), deep v-neck (best reserved for women), polo neck (with a roll of fabric), boat-neck (a wide and shallow neckline typically used by women, but present in certain menswear), etc. Henley T-shirts have a y-neck and buttons. Cotton or cotton-blend, open front. Crew-neck tees are'standard' tees.
Long-sleeved tees are adaptable beneath knitwear in winter. Long-sleeved polo necks are great for winter and business casual. Smart-casual ensembles can use a crisp, high-quality cotton top, but not formal dress. A comfortable t-shirt may appear smart-casual with a decent overshirt. Alone, they should be worn only at home or to pick up the kids or get groceries.
A well-fitted t-shirt can make the difference between smart-casual and 'teenage skater guy'
POLO SHIRT
Polo shirts are a sort of T-shirt that is often constructed of cotton and polyester blends. They have a stand-up collar and a few buttons at the neck, but they don't need to be buttoned all the way up. They're a cross between a shirt and a T-shirt in terms of formality and informality. They also look wonderful in a sports outfit, and are called 'polo' since they are part of the classic polo uniform!
Polo shirts need a place in a fashionable gentleman's casual collection, even if they aren't as formal as what you'll discover at Oliver Wicks. They're also an excellent balance for anyone who finds regular t-shirts a little too casual.
Polo Fashion Sins:
Never button up the top button!
Never wear your polo collar up!
Both of these 'crimes' are extremely tacky, and far away from the grounds of being a respectful gentleman.
FABRIC SHIRT
Shirts that are not the traditional cotton suit shirts are frequently broken down by fabric in fashion magazines and websites. Each cloth has its own personality, but many also carry certain stereotyping, so keep that in mind when utilizing these. It's entertaining to play with stereotypes, but you don't want to seem tacky wearing them in the wrong area! They are rarely appropriate for formal situations, and the majority are extremely casual. They can, however, be worn as wonderful overshirts when matched with the appropriate jeans and accessories.
Flannel shirts are composed of flannel and have near-tartan motifs. Denim shirts, of course, are denim and may be extremely trendy or extremely sloppy, so proceed with caution. Chambray shirts are lighter, finer denim, making them more adaptable and a little more elegant. They also work well in a smart-casual setting. Linen shirts are another high-end option in this category, with great potential for smart-casual wear in hot weather.
OVERSHIRTS
In cooler weather, an overshirt is literally a shirt worn open over a tee or another shirt. Many Fabric Shirts, as well as anything with a thicker cotton that can be worn unbuttoned and still keep some structure, make excellent overshirts.
Again, this is a fairly casual appearance. One thing to keep in mind about the fabric thickness we just mentioned: an overshirt should be robust enough to be opaque in any way.
MANDARIN/BAND COLLAR SHIRTS
This modern design of men's shirt (in the West) still has structure and style, but is less restricting. It's formal, eye-catching, and has clear lines and purpose. It has a few buttons from the neck to mid-chest, resembling a Henley T-shirt. It has long sleeves and a collar, but the shape of traditional Asian and African clothing, not a Western shirt. The collar is flat instead of pointed. Front and rear hems are curved.
It's impossible to wear a tie with such a collar, thus many professional contexts rule this out.
FAQS ABOUT SHIRT STYLES
Now that you know how to recognize the style of a shirt (and where to wear it), let's look at some frequently asked questions concerning shirts.
WHAT'S THE MOST CASUAL SHIRT TYPE?
Tees win hands down in this area when worn on their own. However, with careful design and a solid fit, a nice tee may be elevated to smart-casual appearances. If you want to look decent but casual in hot weather, pick the Cuban Collared shirt or a polo. We recommend avoiding large logos or slogans because they instantly make a clothing appear incredibly casual.
WHAT'S THE ONE TYPE OF SHIRT I NEED TO OWN?
Any man should own an Oxford button-down shirt. It's practical and adaptable, and it'll get you anywhere while looking great. Begin your clothing here if you're just starting off. It will be an extremely profitable investment. Cotton is good for daily wear comfort, and linen shirts are a terrific investment to battle the heat in the hotter months.
WHAT TYPE OF SHIRT LOOKS BEST?
Nothing looks decent if worn in the incorrect area or season, making you look awkward. When dressing, consider function, formality, and weather. Choose a shirt that fits comfortably.
There's a reason we talk a lot about tailoring on the Oliver Wicks blog and say it's all about the fit.
A perfect fit offers style and suaveness that a compromise lacks. Master tailors make our suits and shirts. Oliver Wicks offers custom suits; email custom@oliverwicks.com with queries.
Shirts are more forgiving, so try several fits to see what works. Most men's clothes are traditional, slim-fit, or modern. Slim fit is tighter than classic. Most men should try a contemporary fit first. Yes, hefty men count. A modern fit looks better and leaner than superfluous cloth, so don't hide.
Men often want ultra-slim-fitting shirts, which is unnecessary. Overly slim shirts are uncomfortable and restricting, and they were a passing fashion trend. We think a modern fit that flatters your physique is more gentlemanly. It's easy for a tailor to add darts to an existing shirt, so there's always a method to slim down a shirt, but it can't be done the other way if you start with a slim shirt.
HOW DO I CHOOSE SHIRT FABRICS?
When in doubt, choose soft, durable cotton with a fantastic feel. It combines drape, breathability, adaptability, and longevity. Even to untrained eyes, it's classy. Well-cared-for inexpensive cottons and blends can look excellent, but high-end cotton is a classic.
Linen shirts are breathable and comfortable, so they're wonderful for hot summers.
On a budget or for a one-time event, it can be tempting to choose a cheaper cloth. Man-made clothes are perspiration traps, and pit stains are unattractive. You don't want to feel imprisoned in hot garments and unable to live your life.
Invest in a garment steamer if you can't iron cotton. Cheap models easily remove wrinkles. Professional laundry services are inexpensive, but be careful with your nice garments.
SHOULD I GET CUSTOM SHIRTS?
If you can afford a personalized shirt or three, do it. A custom-made or handmade shirt fits perfectly to your body and all its quirks.
A rack shirt isn't always a bad buy. Tailoring allows you to adjust the collar and shoulder fit. Next, consider length and chest fit. Don't be afraid to be fussy; it may feel fine at the store, but you don't want to be annoyed all day.
Like suits, many men struggle to locate a store-bought well-fitting shirt. Some males with larger necks must size up to wear a tie properly, leaving them with a loose belly.
Made-to-Measure shirts are the right option because we believe all guys deserve a fantastic fit.
DO SHIRTS ALWAYS NEED A TIE?
As you can see from our list, no! Formal occasions necessitate a closed-neck with a tie or bowtie, whereas smart-casual and daily attire can be relaxed and daring with open collars and rolled sleeves.
With our traditional beliefs and styling as tailors, we'll always vote in favor of wearing a tie whenever the topic arises. After all, you're undoubtedly drawn to Oliver Wicks because we believe in going above and beyond to look well, and a tie with a precisely presented dimple is a straightforward way to demonstrate your great taste in formal apparel. It's like watching your grandfather polish his boots for hours… Sure, it's not entirely required, but you admire him for it and appreciate his immaculate appearance as a result.
Remember, if you start the day/event with a tie, you can always remove it. If you don't have one with you, you might find yourself in a scenario where you wish you had.
There you have it! With this simple shirt style guide in your back pocket, you'll always be able to match your look to the function. Don't be scared to experiment with different shirt styles and develop a personal style that you can be proud of no matter where life takes you.
Looking to add some unique shirts to your wardrobe? Don't hesitate to contact the Oliver Wicks team today to find your perfect fit. If you'd like to be added to our no-obligation newsletter, you can sign up here. In addition, training films and measurement