Lapel pins are a fun way to add color to your regular clothing. Learn how to wear a lapel pin for various events. So, if you have any doubts, trust Teeanime!
What Is a Lapel Pin?
A lapel pin is an item that is worn on the left fold of a jacket or coat, directly above the heart. These statement pins are both decorative and symbolic, similar to how organizations utilize lapel pins to identify a person's accomplishments or status. Lapel pin finishes range from glossy to matte. While most lapel pins are made of copper, gold, or brass, they can also be made of wood, felt, or silk.
7 Types of Lapel Pins
Lapel pins use different construction methods and design techniques to result in unique finishes. Common lapel pin styles include:
1. Badge: The badge pin serves a political purpose. These pins display emblems of political organizations and parties to encourage people to vote or participate in another way.
2. Boutonniere: Made of actual flowers, boutonnieres are magnificent, one-time-use accessory for formal occasions such as weddings and proms. These flower pins were typically menswear accessories; nevertheless, anyone can add a floral lapel pin to their style.
3. Butterfly clutch: Military branches use butterfly clutch pins to indicate a person's position. These small pins often have unique shapes and use a needle and screw-back for fastening.
4. Die-struck: Featuring a two-tone finish, die-struck pins are often elaborate in design. These types of pins use sandblasting in the recessed areas to display the material's texture and create a polished look.
5. Enamel: Enamel lapel pins bake at high temperatures and are classified into two types: hard enamel and soft enamel. Hard enamel pins, often known as cloisonné pins, bake distinct colors sequentially, whereas soft enamel pins bake the color cuts simultaneously.
6. Photo-etched: An ideal choice for large pin designs, photo-etched pins chemically add an image to a metal pin. Custom lapel pins often use this process to create inexpensive pins that showcase a printed photo of an organization, sports team, or school.
7. Stick pins: Unlike other types of lapel pins, stick pins attach onto the fabric with a needle and cap. The stick pin is made of a long, narrow piece of metal with the pin pattern on top. These pins are simple to apply to a jacket or shirt.
How to Wear a Lapel Pin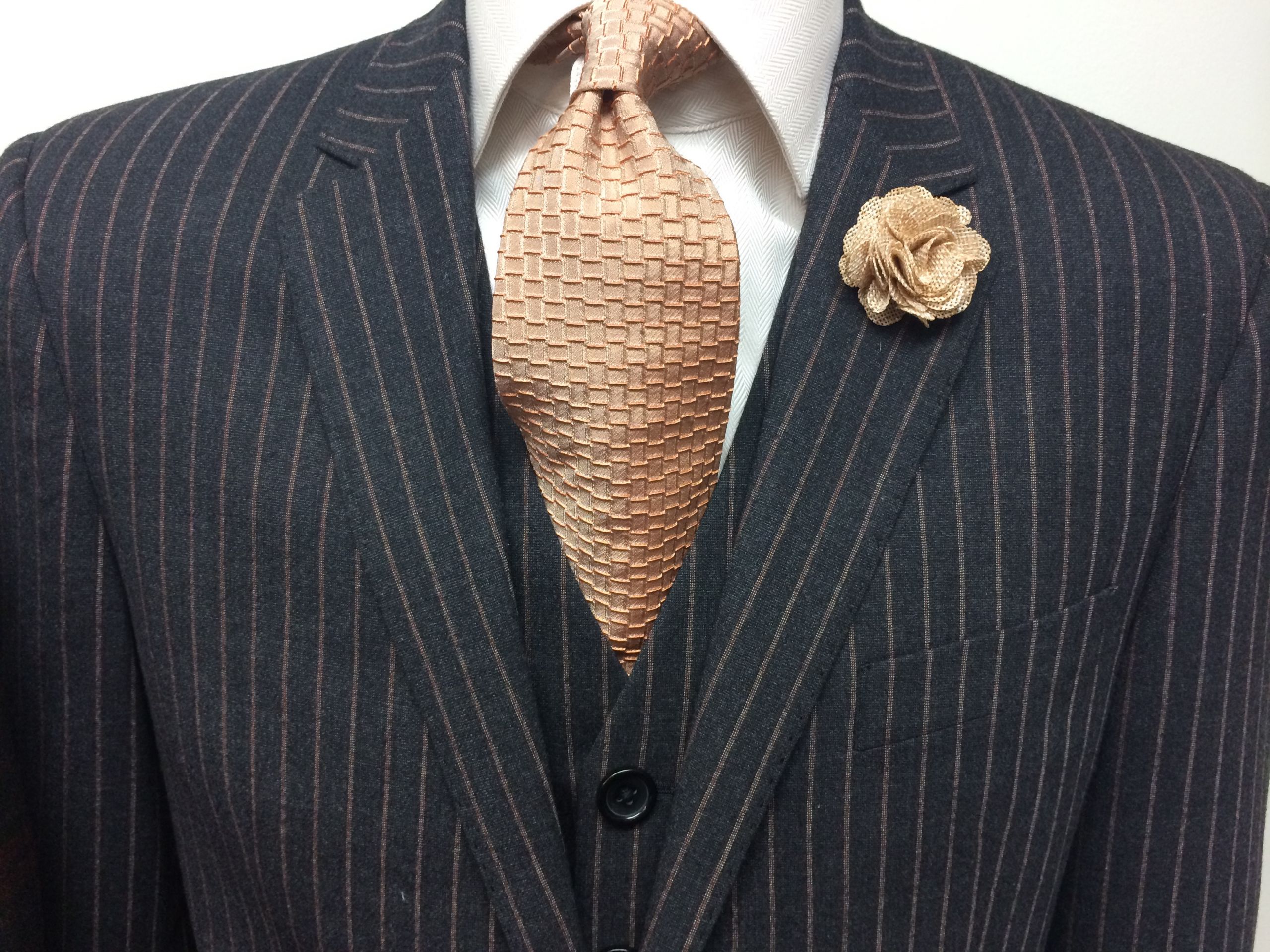 Adding a lapel pin to your attire is an easy way to make a fashion statement or display your achievements, similar to incorporating cuff links. Lapel pins are traditionally worn on the left lapel of a jacket; however, you can place your pin wherever you like. Consider the following stylistic suggestions for wearing a lapel pin:
Select a pin. Choose a pin style that complements your clothing. Consider an ornamental pin, such as a boutonniere or die-struck pin, for special occasions that require formal dress. Stick pins and butterfly clutches will provide a fashionable touch to any ensemble.
Remove your lapel pin's clasp. Clasps on many types of lapel pins differ. Unscrew or unpin the rear component of your lapel pin to remove the backing. Some lapel pins feature a needle or safety pin backing that may be easily removed.
Put the pin on your lapel. Place the top of your pin right below the collar on the left side of your jacket. Place the pin over the opening to cover the hole in suit jackets with lapel buttonholes. If you have a pocket square in your breast pocket, position the pin over the top of the pocket square to avoid the cloth from blocking the pin.
Put the pin in place. With one hand, hold the top piece of the pin in place. Guide the needle of the pin through the buttonhole with your other hand, lining up the back of the lapel piece with the inner fold of your jacket or blazer. Reattach the backing to the front piece of the pin to secure it to your garment. If you don't have a lapel buttonhole, use the needle of the pin to pierce the fabric of your jacket or blazer.
Experiment with pin placement. Consider repositioning your lapel pin to create a distinct look. During the summer, wear your lapel pin with a dress shirt or tie instead of a warm jacket. To prevent combining patterns when wearing a lapel pin with a tie, choose a tie in a solid color.
Want to Learn More About Unleashing Your Inner Fashionista?
Get a MasterClass Annual Membership and Tan France will be your personal style guru. The fashion expert from Queer Eye reveals everything he knows about creating a capsule collection, defining a distinctive look, understanding dimensions, and more (including why it's crucial to wear underwear to bed)—all in a soothing British accent, no less.