A polo shirt is one of the most versatile pieces of clothing a man can own. It's a great summer staple, but how should it fit, what material should it be made of, and where should you buy polo shirts? Every gentleman's wardrobe should include at least a few polo shirts. Polo shirts can be worn with a variety of different outfits, including chinos, shorts, seersucker, and Madras. It is a typical sight on golf courses, tennis fields, beaches, and around town for leisurely strolls around the shops and an al fresco supper at a charming café.
Despite the fact that a polo shirt is a wardrobe essential, it can be tough to locate the correct cut, fabric, and mix to take advantage of all the stylistic possibilities that this distinctive shirt offers. In our guide, Teeanime examine every aspect of the polo shirt, beginning with its long and venerable history, to ensure you look your best in the heat.
The History of the Polo Shirt
Source : The Mike Wise Show
Polo Shirt Origins: Lacoste & India
While the exact history of the polo shirt is uncertain, most believe it was originally developed in the 1920s by tennis star Rene Lacoste. However, historians have also charted it as far back as the mid-1800s in Manipur, India.
British Army soldiers allegedly saw a local polo play and opened the world's first polo club, where the sport evolved in India. Due to the heat and discomfort, they began fastening buttons to the shirt collar to keep it from flapping in their face while the horses ran. In 1862, they brought polo to Britain.
Brooks Brothers Import the Polo Shirt to the U.S.
John E. Brooks, heir of Brooks Brothers, saw button-down collars on polo players in England in 1896. Thinking it was a fantastic concept, he told his grandfather, and they began to create a new dress shirt with a button-down collar, which we know today as the button-down dress shirt. Brooks Brothers still markets some of their OCBD shirts as the "Original Polo" shirt, even though the term has changed.
The First Polo Horse Logo Appears
As the Roaring Twenties began, a designer and polo player named Lewis Lacey started selling in his store in Buenos Aires a new, lighter polo shirt with an embroidered picture of a polo player on the chest.
Rene Lacoste Designs the Polo Shirt as We Know It Today
Rene Lacoste invented the contemporary polo shirt because of its wind-resistant collar. Rolling up the sleeves of his white long-sleeved tennis shirt gave him the notion to remove the sleeves.
He wanted a shirt without buttons, like 1920s tennis shirts, so he removed them, leaving a short-sleeved shirt that could be worn over the head. To make the shirt simpler to wear, he designed the tennis tail, which made the back of the shirt somewhat longer than the front and hence easier to tuck in and hold in place during a heated match. He also used pique cotton to make the shirt more durable and lightweight.
Despite not originating this technology, it made Lacoste polo shirts renowned. He used his nickname "The Crocodile" from his large nose to create a logo for his brand. He pressed a little crocodile logo onto each shirt.
Wearing his shirt triumphantly to the 1926 US Open, he won, and the shirt became a fixture in tennis wear and sportswear around the world. Polo adopted the same shirts immediately. Lacoste named them polo shirts to honor where he received the idea. Polo players favored woven shirts because the comfortable, robust collar could be popped up, protecting them from sunburns.
Lacoste founded his company in 1933, and the polo shirt soon sold to players and fans worldwide. Lacoste recognized he could sell more shirts with varied designs, leading to the contemporary trend of bold polo shirts. The polo shirt, sold only in upscale menswear and department stores, became a wardrobe essential.
Eisenhower Starts a Fashion Trend on the Golf Course
In 1952, the polo shirt took off when a shirt depicting President Dwight Eisenhower wearing a Lacoste polo was issued. Golfers from over the world and the U.S. began wearing the polo shirt as part of their golf gear, and country clubs included it to their dress codes.
Fred Perry & The Embroidered Logo
A couple of years later, tennis legend Fred Perry made his own version of the polo shirt using much of the same pattern but stitching his emblem into the shirt rather than ironing it on. Perry's shirt grew popular with teenage males in the mid-1950s, and the polo shirt became fashionable outside of athletics.
Ralph Lauren Enters The Polo Market
Years passed, and the polo shirt remained a men's mainstay. Ralph Lauren sat at his desk in New York seeking to name his new line of casual apparel.
Years passed, and the polo shirt's popularity grew and it remained a must-have piece of men's clothing. In New York, a guy calling himself Ralph Lauren sat at his desk, trying to come up with a name for his new line of casual apparel while preserving a sophisticated aspect.
Lauren and Lacoste fought throughout the 1980s and 1990s. Ralph Lauren's name, budget, and reputation in Ivy League institutions helped him surpass Lacoste and become an iconic shirt. Teenagers from the 1950s wore polo shirts as they grew older.
As the software industry grew and offices became less formal, polo shirts became typical workwear. Soon, the polo shirt was featured in many trade and retail uniforms. Companies realized they could easily brand the shirts and began using them as staff uniforms with logos on the sleeves, breast, collar, and back.
The Polo Shirt Today
Today, the polo shirt can be worn in practically any situation where an open collar replaces a dress shirt and tie. Many sectors have adopted polo shirts as a favored shirt for uniforms, from classic polo grounds and tennis courts to the country club and businesses. Polo shirts tend to be everywhere we look, from blue collar professionals like plumbers and exterminators to retail establishments like Best Buy and Target, and they don't appear to be going away anytime soon.
Polo Shirt Etiquette – DO's & DON'Ts
Men wear polo shirts almost everywhere, from football games to the office, and with anything, from a fitted jacket to tattered denim jeans. Even the frequently tuxedoed James Bond is known to wear Sunspel polo shirts that go wonderfully with his Rolex Submariner or Omega Seamaster.
Despite this broad application of the shirt, there are a few guidelines to follow to keep you looking smart rather than messy.
1. DON'T Layer Polo Shirts
A well fitted polo shirt should skim but not cling your body, leaving no room for another shirt. Wearing an undershirt nearly always results in it slipping from under your sleeve or crumpling at the collar. Polo shirts are not designed to be layered, and undershirts (long or short sleeved) should never be worn with a polo shirt. Furthermore, don't layer more than one polo shirt at a time; this perplexing trend is more of a cry for attention than a genuine fashion statement.
2. DO Wear Them Fitted But Not Tight
Get a bigger size if you can't fit a finger between your bicep and your sleeve. Get a smaller size if there's a lot of slack. Good polo shirts are made of lightweight fabrics like cotton. So, they should fall nicely over your body without revealing too much of it.
3. DO Size Them to Your Height
Make sure the tail of an untucked polo shirt doesn't go lower than the middle of your bum, unless you like to wear dresses. If you tuck it in, it will wrinkle and show. If you don't tuck it in, it will change the way you look. Also, if you want to wear your polo shirt untucked, don't get one with a tennis tail, which is a longer back hem.
4. DON'T Pop Your Collar
The collar-popping craze is dead, and it's not coming back. If you use sunscreen for neck protection, you won't need to apply it in the first place. Wearing your collar up at night is similar to wearing sunglasses. Leave it to the bar crowd and youngsters attempting to be cool.
5. DON'T Wear Large Logos
Large huge logos on polo shirts have recently become popular. It began with Ralph Lauren and has spread to other companies. Normally, we recommend avoiding visible logos totally, but with polo shirts, a little logo on the breast is often necessary because it has become the standard. Some companies provide logos that match the knit, which is preferable to contrasting logos. In any case, obnoxious huge logos are a travesty. Leave the logos to the youngsters unless they are part of your professional attire.
6. DON'T Wear Polo Shirts with a Blazer
Some guys believe they look sophisticated wearing a polo shirt with a jacket, despite the fact that the soft collar does not lay flat. Whatever the occasion, a blazer will always look great with a dress shirt. As a result, forego the polo in favor of a dress shirt.
7. DO Tuck Your Polo in When the Situation Calls For It
It would be incorrect to make it a rule that you must never tuck or untuck your polo shirt. It is more dependent on the dress and the event. Tucking in a pair of madras shorts is not recommended, but it will look better with a pair of seersucker slacks or chinos.
Polo Shirts for Golf and Tennis
Performance distinguishes a golf or tennis polo from a standard one. These shirts are designed to give the wearer a better range of motion and wick away sweat in the hot sun. In most cases, these shirts are made of a synthetic blend for active living.
Many amateur golfers and tennis players wear Ralph Lauren, Brooks Brothers, or another brand, but most pros choose ones made for their sport. Hard to say if that's due to brand sponsorship or improved performance.
How a Polo Shirt Should Fit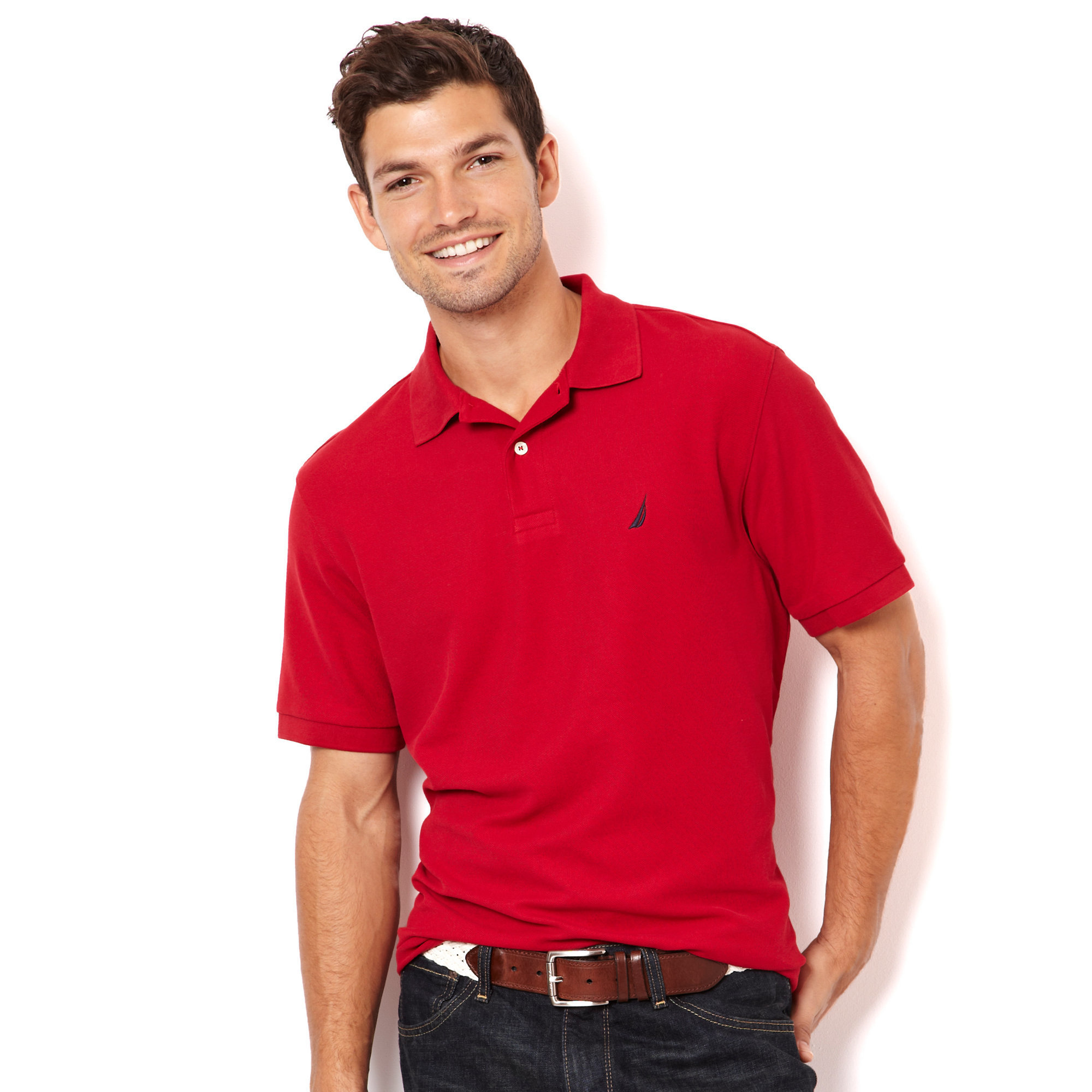 Slim But Not Tight
The sleeves of a polo shirt should fit snugly and reach about halfway between the shoulder and the elbow.
It needs to fit, but it shouldn't be too tight. As was said, you're on the right track if you can easily slide a finger between the sleeve and your skin. If there's less room, it's too tight, and if there's more room, it's too loose. Even when the buttons are undone, the neckline should reach just to the chest area.
Shoulder Width & Sleeves
The shoulder seam, like that of a dress shirt, should rest on the shoulder bone. The sleeves should be around halfway to two-thirds of the way down your biceps. Anything shorter appears old; anything longer appears overly current. You want a very narrow fit in the sleeve.
Proper Length
Polo shirts are traditionally longer in the back than in the front and look nicer when tucked in. Tucked-in shirts should not extend past your buttocks in the back or your fly in the front. The polo shirt should sit just below the waistband / belt line when untucked.
Classic Fit
Many manufacturers now give many fit options, and while they are not absolute indicators, they will tell you how they fit in comparison to other polo shirts of the same brand. The traditional fit is ideal for men who don't have washboard abs and chiseled pecs, with lower armholes and sleeves that go closer to the elbow. They have a very relaxed drape over the body and a longer rear hem that allows them to be tucked into pants or shorts. This is ideal if you want to conceal some love handles or simply prefer to tuck your shirts in.
Slim Fit
The torso and sleeves of these polo shirts have the slimmest fit, and the back and front hems are shorter so the shirt can be worn untucked. They are great for guys who are in great shape and for sports.
Custom Fit
The bespoke fit falls somewhere between traditional and slim fit polo shirts. It has larger armholes than the traditional cut and shorter sleeves than the classic fit. It also has a slimmer fit against the torso, with a front and back hem that is somewhat shorter than the classic but longer than the slim fit.
Polo Shirt Materials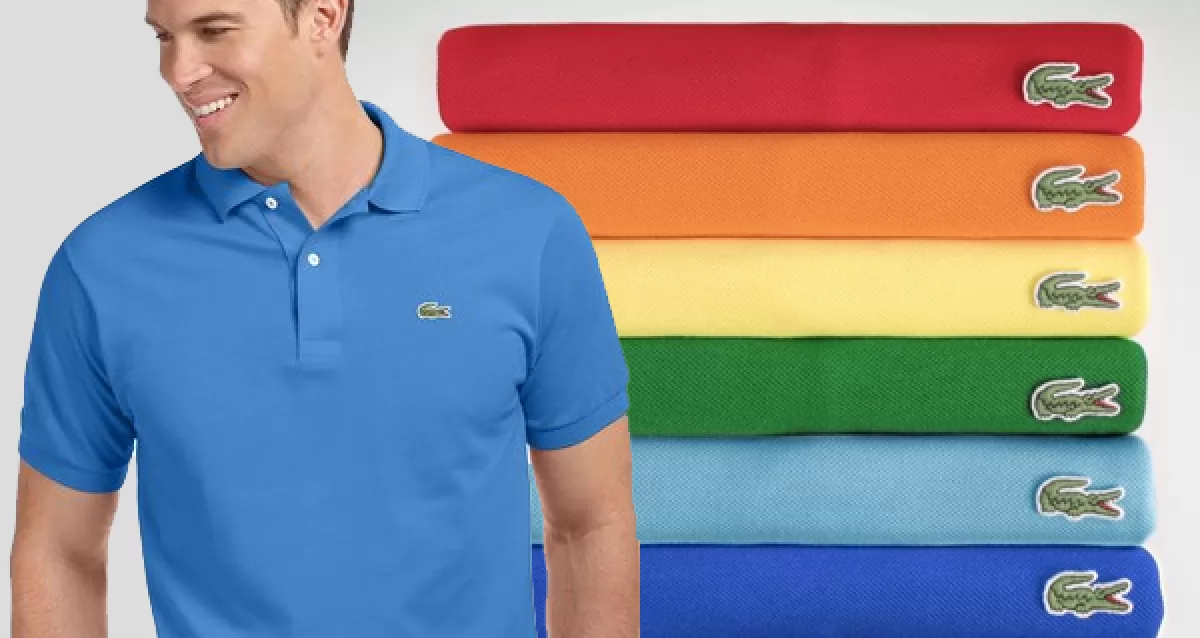 Polo shirts are classified into six categories, not including the more casual rugby-style shirts. Of course, the quality of the shirt is determined by the fabric or knit.
1. Blended
Blended fabrics are often used for corporate polo shirts or grocery store uniforms because the blended synthetics make the fabric more durable and resistant to stains while keeping the price low. At the same time, they aren't as comfortable as all-cotton clothes and can sometimes make you sweat more. These are the most common types of polo shirts on the market, and if you are on a budget, this is probably what you will end up with. If you can afford better quality, you should get it because this type doesn't feel good and isn't comfortable.
2. Performance
Performance polo shirts are designed with athletes in mind. They can reduce odors by incorporating silver into the material, or they can provide UV protection. They are often made of lightweight synthetics or polyester mixes. The price will vary depending on the company's marketing budget and brand repute. These shirts should only be worn on the golf course or when exercising — not somewhere else.
3. Polyester
While they do not wrinkle or shrink and are stain resistant, they have extremely limited permeability, which means you will sweat a lot, and they look rather cheap. Definitely not advised.
4. Silk
Silk appears to be a terrific fiber for polo shirts at first glance, but pure silk is not a good fabric for polo shirts since it loses color when it becomes hot and wet. Cotton-silk or linen-silk blends are sometimes available for polo shirts, but pure silk is not advised.
5. Linen
In recent years, linen has grown in popularity for various types of knitwear, including linen polo shirts. It undoubtedly provides dimension with its sharp appearance and subtle wrinkles, but it is also much rougher than cotton. As a result, if you want the crinkly linen look, it is only advised in blends.
6. Pure Cotton
Cotton shirts are the most often found polo shirts nowadays, thanks to its moisture wicking properties, breathability, and decent durability. Now, not all cotton is created equal, and less expensive cotton polos employ short-staple cotton, which causes pilling and faded hues after a few washes. Longer staple cotton will, of course, stay longer and feel nicer on your skin; nevertheless, it will eventually fade in color, especially with deeper colors. Aside from that, the quality of a polo shirt is determined not only by the materials but also by the knit.
Conclusion
There are polo shirts for everyone, whether you're a country club prep from Manhattan or a blue-collar worker from the south. You can shop online or in stores near you. No matter where you live, you'll be able to find something that fits your style. Who makes the polo shirt you like best? With what do you wear it?