Following WWII, the world underwent fast changes in many aspects of life, including menswear! Today, as part of our What Men Really Wore series, we'll travel back in time to analyze 1950s trends and assess the good, the bad, and the bizarre. So, if you have any doubts, trust Teeanime!
You probably associate the 1950s with wonderful times – music and roll, and, of course, Elvis. Perhaps you recall the invention of TV dinners or the polio vaccine. Even with all of that great energy, it wasn't enough to keep polyester from becoming popular! Despite being introduced in the 1940s, synthetic fibers in menswear spread like wildfire in the 1950s.
Having said that, the 1950s were unquestionably happier than the 1940s. It was an era of growing comfort and convenience. The 1950s also saw the rise of the teenager and the rebellious youth, as well as the various fashions and styles that accompanied it.
After all, World War II had ended, rations had been reduced or eliminated entirely, and it was time to focus on the finer things in life, such as travel, food, and, of course, fashion. With fabric prices rapidly falling, males had the chance to have more garments, which also meant they had more casual outfits.
The 1950s saw an explosion of casual clothing, spurred by celebrities such as James Dean, Dean Martin, Frank Sinatra, and Marlon Brando. Since the 1920s, Hollywood has defined fashion, and their influence over the public imagination grew stronger and stronger in the 1950s.
What Men Really Wore in the 1950s – 1. Hats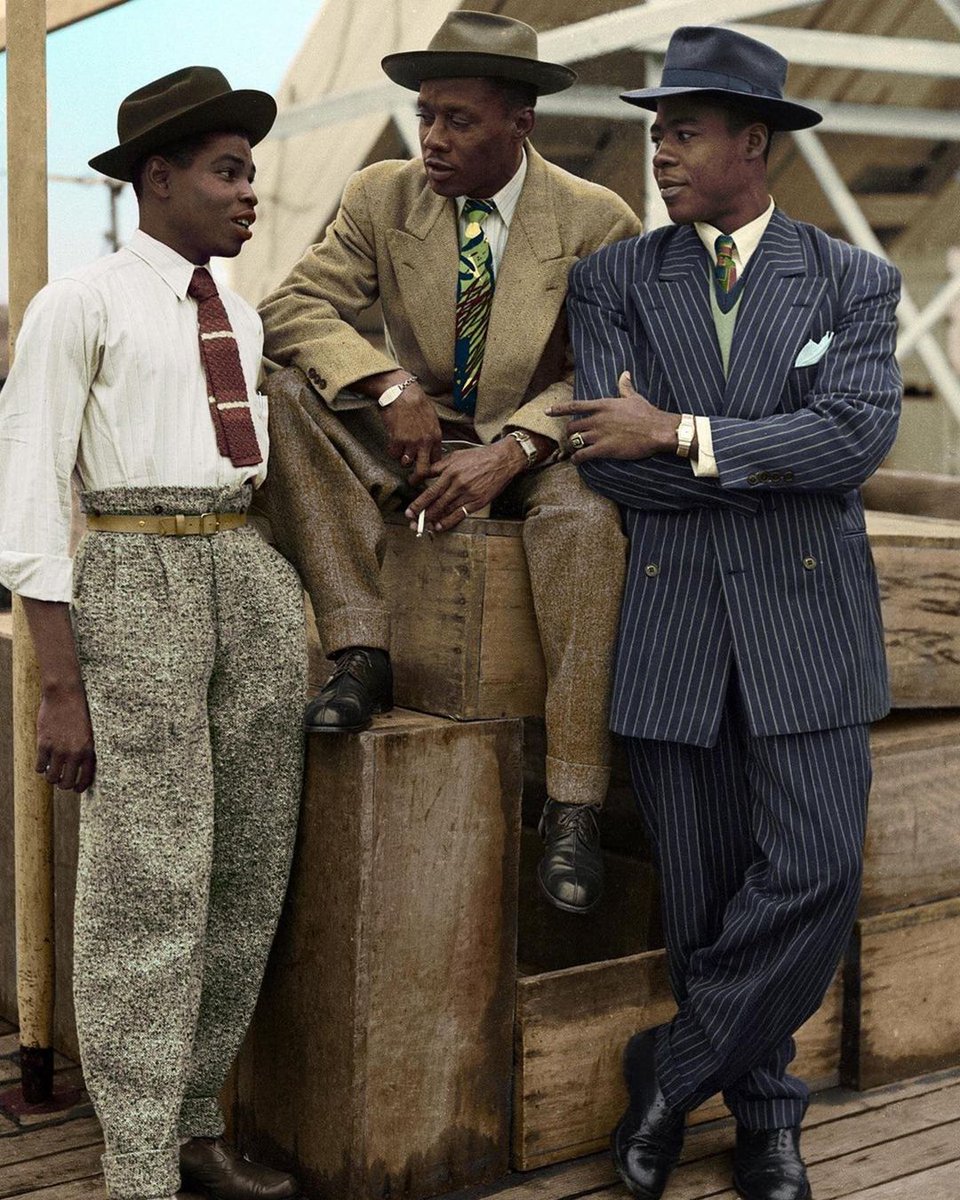 If other decades are any indication of what would happen to hats, you might guess that they would become less popular. Wrong! In fact, hats came back into style in the 1950s. The reason for this renaissance was that men no longer had to wear uniforms and could dress up and wear what they wanted.
Some people would still wear the fedora, but they had a lot of other styles to choose from now. Some people wear boaters, Panamas, or straw hats in the summer.
People used to wear flat caps for sports or for a more laid-back look. But they were a lot sleeker and less bulky than the ones that came before.
I think that color was the most important thing to happen in the 1950s. Men's clothes had a lot more color, which I thought was a good thing. In years past, hats were black, gray, or sometimes navy. Now, men liked wearing hats of all colors.
They also changed the hatbands, sometimes adding bird feathers to give them more color or different pleats and to make them more unique. Basically, hatbands were a way for people to show their creativity.
2. Hair and Facial Hair
In the 1950s, hair was very important, just like it was in the 1940s. Yes, I just told you that some men didn't wear hats, and that was fine. They paid more attention to their hair and clothes. Men's hairstyles were bigger and more complicated than they had been in the past.
You use something called pomade to get those beautiful, waxy hairstyles. Murray's or Sweet Georgia Brown might come to mind.
Even now, you can get that stuff on your head from your hatband, pillowcase, or anything else that touches your head. When I used it, I actually got a lot of pomade acne, which is awful. So I quit doing it.
Back then, men usually carried a comb with them so they could style their hair and touch it up wherever they were.
The pompadour, the jelly roll (also called the duck's arse), and the slick-back were all popular hairstyles in the 1950s. The pompadour was brushed back and stood high above the forehead. If you've seen pictures of Elvis, you've probably seen that style before. At the time, it was pretty popular in the rock-and-roll scene.
For the jelly roll, the hair was curled along the side and brought together in the middle of the front. The Teddy Boys in Britain took this style to an extreme, and because of that, it is probably forever linked to that group and heavily associated with them.
Style-wise, the slick-back look says it all. It would look good on men like Cary Grant. It often had a part on the side. The side of the head was a little bit longer than in, say, Peaky Blinders or older styles.
In the 1950s, most men didn't have facial hair. It was important to look young, athletic, and manly. So, a clean-shaven look became a sign of youth. Older men still had beards and moustaches on their faces.
James Dean, on the other hand, made the look of not shaving and having a bit of stubble popular. This was a new look at the time.
3. Eyewear (Eyeglasses & Sunglasses)
Sunglasses really became a sign of wealth and style because of the movie stars. Really, they were useful, but they were more about looking good and showing that you were successful. The sunny weather in California made it easy for movies to be shot outside, so sunglasses were useful. Because of this, a lot more people bought sunglasses in the 1950s.
The most popular style for women was the cat-eye look, which was made popular by Audrey Hepburn. Men's glasses had a thick-rimmed plastic frame, like those worn by Hollywood stars like Buddy Holly and Phil Silvers at the time.
At the time, browline glasses were still popular, and what's more, they came in different colors. In the 1950s, men wore glasses with frames that were black, blue, orange, or even clear.
4. Waistcoats (Vests)
So, what did the waistcoat become in the 1950s? Well, it wasn't as important for the business suit as it had been in the past. And so, some men skipped it.
The vest was worn by young men, especially young men with goals. But they often wore a vest that didn't match, and it could be made of a different material. For instance, a knit vest in a different color or a wool vest made from a doeskin skin.
Some waistcoats had lapels, while others didn't. Some had two pockets, while others had four. Overall, wearing a waistcoat was more of a fashion choice than a way to stay warm. A very small number of men would still wear the three-piece suit with a vest that went with it. But it didn't get as much attention in the 1950s.
5. Shirts & Collars
By the 1940s, the shirt collar was fixed to the shirt, which was not the case in the 1920s or 1910s. Detachable collars were almost never worn anymore, and really only for special evening events. Think about Black Tie, White Tie, and morning wear. And even back then, it was perfectly fine to wear a soft turned-on collar with your Black Tie tuxedo.
From the 1940s on, most men who wore collars that could be taken off wore plastic or trubenized ones.
In the 1950s, there was a style that brought back the round-cornered club collar. Other than that, the spearpoint collar and a collar with shorter points were still around. Even though the collars were softer than they used to be, most of them still had buttons, tabs, or you could wear them with a collar clip or pin.
At first, shirt colors in the 1950s were bright. But as the decade went on, both the colors and patterns became less bright and more subtle. But by the end of the 1950s, business clothes were made to look less flashy and more professional. Some people might say that the shirt got quieter. So the bright colors of the ties could stand out more.
Some men still wear cufflinks, but at the time, the barrel cuff was very popular. And because most people didn't wear waistcoats anymore, shirts had at least one chest pocket on the left side.
There were a lot of bright, bold ties in the 1950s. But in the same decade, men could wear suits without ties or bow ties. That meant you had to leave your shirt unbuttoned or wear one with a camp collar that wasn't made to be buttoned.
Usually, the top button or two were undone. If you were James Dean, though, you could button your shirt a lot lower. And, as we talked about in our other guide, James Dean was a fashion icon in the 1950s, and people still try to copy his style today.
6. Neckties & Bow Ties
Ties were still worn by many people, even at work. But some chose not to take them, and that was fine. In terms of sizes, there was usually one that was about three and a half inches wide for wider collars and one that was about two inches wide for narrower collars. Now, most ties had tips, which wasn't the case in the 1930s. But you could still find ties that were not tipped.
The ties of the 1950s came in a huge range of colors and patterns, including center medallions or center patterns, which were much harder to make because anything printed on a tie has to be in the middle at the top and bottom. Nothing can change so that production can happen. So, they are much harder to make than polka dots or geometric patterns that are the same all over the tie.
Still, abstract patterns, fantastical patterns, and geometric patterns in bold colors and multiple colors were popular.
Material options included rayon, polyester, silk, wool, and even cotton. Men did wear knit ties in the 1950s as well. At the end of the 1950s, ties, like shirts, became a little less flashy. Both the patterns and the colors got less bold over time.
7. Suits, Sport Coats, & Leisure Jackets
At the beginning of the decade, you could still find a typical American sack suit, which had no front darts, a straight cut, and a center vent. Lapels were a little bit less wide. There was also less padding on the shoulders. The point where the buttons went on was a lot lower, and the bottom button on a single-breasted jacket usually lined up with the pockets.
In general, suits were pretty simple. Most suits were probably gray, but you could also find them in black, brown, or navy. From the middle to the end of the 1950s, people wore gray suits with white shirts most of the time.
I have a lot of tailoring magazines from Germany from the 1950s. And if you look at those suits, they all look like they were carved out of stone. There is not a single wrinkle on it. So, they used fabrics with more weight. Horsehair interlinings and floating canvas were still used, but they were much stiffer than what you might be used to from Naples, for example.
People liked wool, flannels, and mohair, which was a type of hair. If you don't know what it is, it's a pricey fiber. Because it sparkles, it is often mixed with wool to make evening clothes. It's true that it's much rougher than wool. It's not at all soft. But it stays smooth and is made of a cool material. I like it!
In the 1950s, there were double-breasted jackets, but single-breasted jackets were more popular. The double-breasted jacket had a low buttoning point, like a single-breasted jacket. The shoulders were a little bit wider, but not too much. Most of the time, the tips were rounded or rounded more than you might see today.
Brioni made the first "continental style" or Roman-style suit, which became popular in the late 1950s. Brioni is still around, even though it is now owned by a different company. But Gaetano Savini and Nazareno Fonticoli started it back then in Rome.
They had a style all their own. Unlike the American sack-style suit, it was less wide. It had darts, was a little shorter, and had all the other features of a traditional tailored suit. Elegant men loved it.
Also, the American sack suit had a vent in the middle, while the Roman jacket had vents on the sides. Most jackets still have side vents if you look at them now. That goes back to the time when suits were made in the style of the Romans. At that time, this style was just getting more and more popular.
Also, the original Roman jacket often had jetted pockets instead of flat pockets, which were more stylish. Often, they were slightly tilted to make them look more interesting.
8. Trousers & Shorts
Since the 1940s, pants haven't changed much. Even today, they were still cut wider than pants, with an average hem opening of about nine and a half inches.
Many pants still had two pleats, but you could also get pants with a flat front. Some pants didn't have cuffs, but there were a lot more of them in the 1950s. They were usually about six to six and a half centimeters, or two and a half inches, tall.
Some sports pants even brought back the cinch belt in the back, but it didn't last long.
Men in the 1950s didn't just wear pants; they also wore shorts. Often, they had pleats and were cut like dress pants, but the plaids, tartans, and checks on them were bigger and the colors were brighter.
In true Bermuda style, you would wear them with socks that go over the calf. Yes, they are knee-high. The same as in Bermuda!
9. Shoes (Formal & Casual)
There were still the usual black and brown Oxfords and brogues. People sometimes wore white or off-white shoes, and saddle shoes were also popular.
The "winklepicker," which is a very pointed shoe with an odd look, may have been the strangest shoe style of the 1950s. It might be great for digging holes in the garden, but this trend didn't last long for a reason.
The chukka boot is a style that was popular in the 1950s and is still popular today. We have a guide to the chukka boot. We also looked at the Clarks chukka boot, which has become a synonym for chukka boots in general.
Again, color was big in the 1950s, and shoes had a lot of it. Elvis, for example, made blue suede shoes more well-known. Today, it's not as popular as it used to be, but back then, it was a great thing to wear.
Let's also not forget that leather slippers became very popular in your home. They had a bit more padding and were comfortable.
10. Overcoats
In the 1950s, people wore interesting coats. Often, they only had one breast, but sometimes they had two. But they were cut much wider and baggier all around. Also, they were made from thicker fabric so that they would hang well.
The colors were brown, gray, or black, but the fabrics had much more depth of color, often because they were woven with more than one color. This meant that you could wear it with all kinds of colors in your hat, pants, or shoes.
Photos and videos show that double-breasted overcoats are popular, but you can also see single-breasted ones. If they had two front buttons, they often had big patch pockets. I like double-breasted coats a lot because when it's cold outside, you want that double layer of fabric that overlaps and keeps you warm.
11. Accessories (Belts, Scarves, & More)
Lastly, let's look at the accessories of the 1950s. People wore belts a lot more than they wore suspenders. Men also wore woven leather belts, which had interesting colors and patterns and were popular at the time. When worn with different-looking belt buckles, it was a way for a man to show who he was.
In the 1950s, most men wore scarves, which were also called "mufflers." Men also wore gloves in the winter. These gloves were made of leather and came in brighter colors.
In our shop at Fort Belvedere, you can find gloves with more interesting colors than usual and scarves that can be worn on both sides. Very much in line with what the 1950s were all about, which was more color and being yourself.
Conclusion
The '50s were a great time for men's fashion because a lot of color came back and a lot of casual clothes became popular, which was very different from the '40s and '30s. People were also willing to spend money and wanted to enjoy themselves again, which also helped.
Really, there are so many different kinds of clothes from the 1950s. It was hard to fit everything into this guide, but I hope you have a good idea of what's going on.