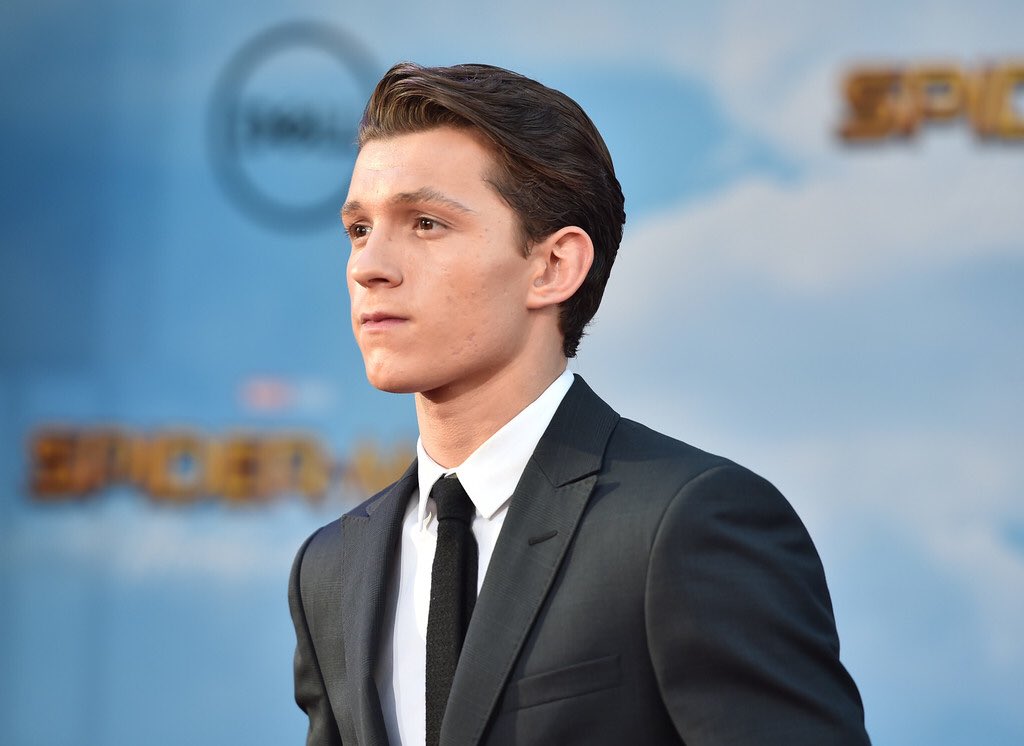 It should have needed a huge hero to stand up and outshine the Avengers, but Tom Holland did it with nothing more than superheroic likability. That, and a Spider-Man outfit. The British actor is still a relative novice in Hollywood, but he has the composure and profile of someone who has been there for a long time.
Of course, it helps that he looks like a matinée movie star and has a wardrobe to match. Holland's style combines modern pieces with a classic leading man vibe. Consider a modernized take on the old-school Hollywood hero, combining impeccable tailoring with everyday menswear elements.
If you've ever sought confirmation that a white T-shirt looks just as well under a formal jacket as it does under a hoodie, look no further than Holland. His off-duty style has a macho edge, with masculine classics and tonal outfits that lay between 1950s slickly dressed machismo and 21st-century streetwear.
Get some clothing inspiration from his best ensembles below if your style sense is tingling.
NO SHIRT REQUIRED
This is Tom Holland playing to his strengths, proving that he is the indisputable hero of swapping a formal shirt with a plain tee. He has an almost infinite rack of superb tailoring – all slender through the body and wonderfully fitted – perhaps cropped at the ankle.
This outfit also has a 1950s rock 'n' roll vibe about it; the cut and lapels harken back to the days of hip-swiveling sex idols, and his hair is brushed back nearly into a pompadour.
THE SUPER SUIT
Holland is adept at updating the formal style with youthful pizazz, but he also nails the classics. And classic is unquestionably the word here, as Holland puts a 21st-century spin on the matinée-era star with this broad double-breasted jacket evoking 1930s Hollywood.
It's narrow cut through the body to give a sophisticated, elegant style, which is another example of Holland's good eye (not to mention body size) for swish tailoring. However, once again, there is no shirt or tie to be seen. Take note, Clark Kent.
SUEDE & STRIPES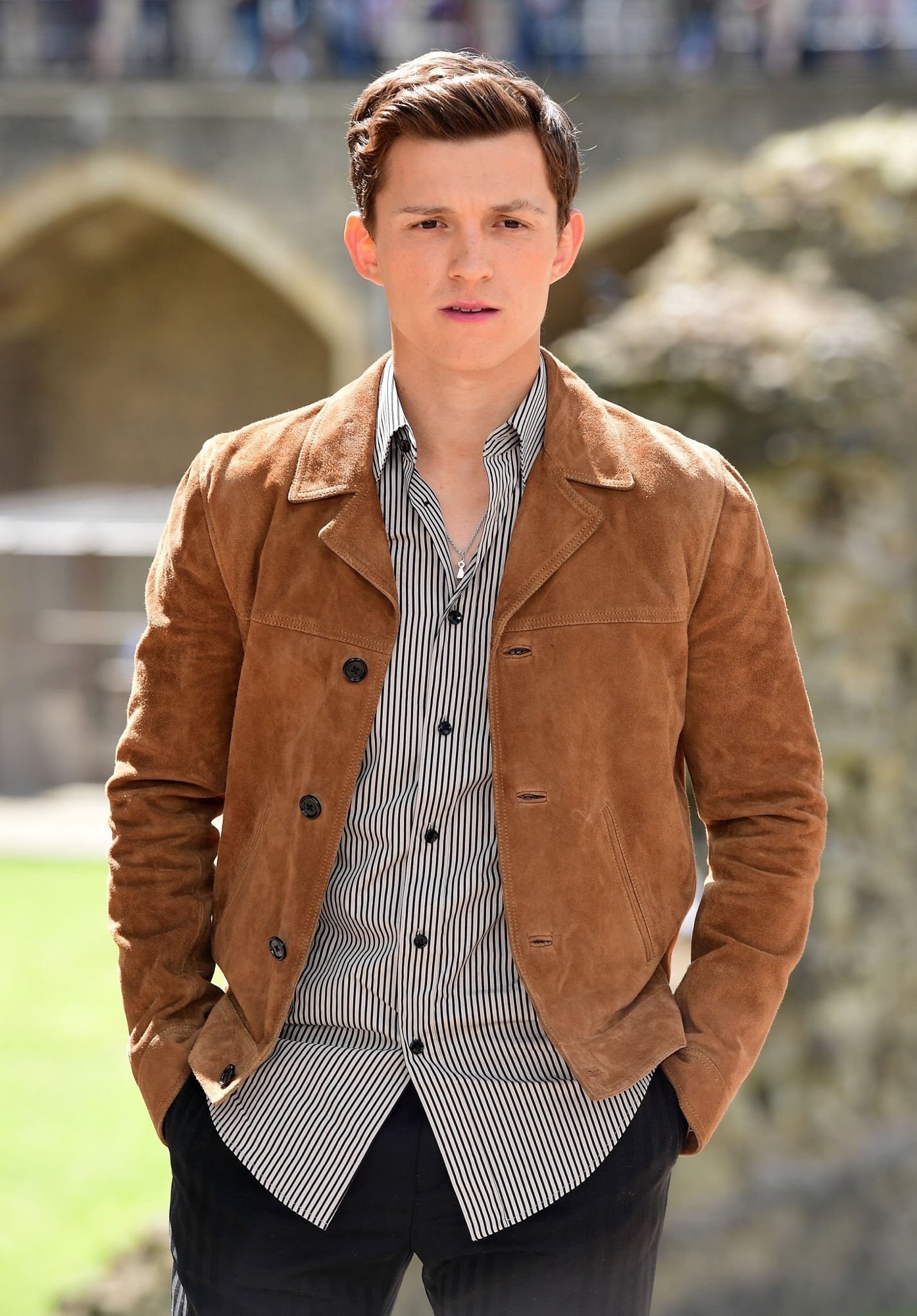 Continuing his talent for extracting every last drop of modern flair from retro-inspired things, here's a vintage-inspired ensemble.
The striped shirt (with open collar for more street cred), a '60s Easy Rider-style suede jacket with a contemporary shape, and Holland's pushed back side-parting all have a '70s vibe to them. The clothing dates back at least three decades, yet the overall look is ageless.
PUSHING BACK THE YEARS
Another of Holland's most macho looks, this evokes the spirit of cinema stars from bygone ages, particularly sophisticated alphas like Cary Grant and Robert De Niro, owing to a tonal ensemble that dates back decades.
The striped, open-collar shirt has a retro vibe to it, and the combination of dark green and burgundy (seen for the second time on this list) indicates that he can compete with boss-level color combinations and win.
HOLLYWOOD FALL GUY
This dapper ensemble exemplifies Tom Holland's love of autumnal colors, and it's almost his sense of style all rolled into one – slick tailoring with plaid trousers, a plain T-shirt to dial down the formality, and an air of classic Hollywood leading man brought into the modern day with the interesting color palette.
Brogues without socks are a risk, but they work because of the cut of the trousers and the well-matched colors.
WHO NEEDS SPANDEX?
Holland is dressed in his favorite burgundy for this outfit, which is another take on the traditional Hollywood star (like an all-in-one superhero suit but, well, incredibly tailored).
Holland softens the formality with his go-to basic shirt beneath the jacket, but the real star here is the unorthodox jacket's impeccable tailoring. It's a terrific example of someone wearing for their height, with its noticeable lapels and almost sports-like fit – the narrow, monochromatic style making him look taller.
GOING LONG
Bringing anything fresh or unusual to the red carpet is a risk: in terms of fashion, it's either death or glory. Tom Holland nails it in this instance. Instead of going all out in terms of color, he plays with formality with the very long jacket.
It's still a great illustration of Holland's ability to wear fine tailoring and functions as an elongated upgrade on the regular suit jacket, fitting like a tailored raincoat. Holland demonstrates one of the basic laws of easy men's style beneath the jacket: when in doubt, stick to neutral colors and simple combinations.
DARK AVENGER
Every superhero needs a secret identity, and Holland swaps in the tailoring for a more relaxed look – darker and more rough without going completely casual.
As previously stated, he has a '50s vibe to him, channeling the super-cool phantom of James Dean with Converse, black trousers, and a trucker-style jacket. It's an aesthetic that, like classic tailoring, hasn't gone out of style in 70 years.
A HOLLYWOOD CLASSIC
Holland, a fan of traditional menswear, must enjoy a black-tie invitation because it allows him to wear show-stopping dinner jackets like this one.
He chooses a broad double-breasted choice cut narrow through the torso, with those eye-catching, enormous buttons making him stand out, and keeps it professional by swapping his normal tee for a clean white shirt. Even wealthy playboy Bruce Wayne would covet this suit.
THE NAME'S HOLLAND, TOM HOLLAND
Taking a cue from everyone's other favorite style icon, James Bond, this outfit would look great on Daniel Craig. Holland is the first to confess that he lacks that kind of beef, so he depends on a cutaway collar and windowpane check to expand the torso.
He keeps it simple with a two-tone blue combo – a tonal match that never fails with formalwear – and shakes and stirs the formality with a three-color striped tie.