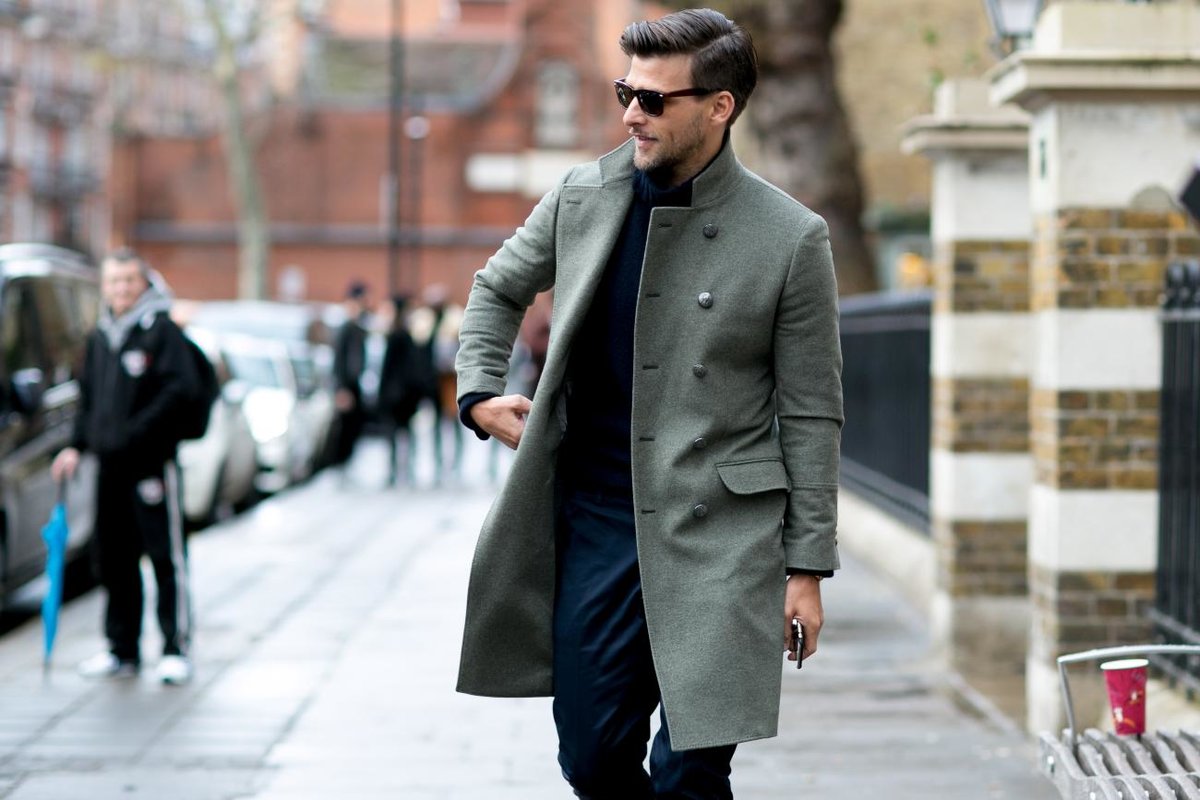 Wearing an overcoat throughout the cooler months of the year does not have to be tedious. If you follow these basic do's and don'ts of wearing an overcoat, you can still look exquisite in your winter attire. So, if you have any doubts, trust Teeanime!
1. Avoid Black Boring Overcoats
Don't buy the identical black, drab overcoat that every other man has. In my opinion, black is overdone, especially for overcoats, because it displays every hair and dust speck and makes you blend in.
At the same time, an overcoat allows you to stand out from the crowd, therefore I recommend that you investigate alternative hues such as brown, tan, or different color combinations.
2. Opt For Knee Length Overcoats
It's a pretty traditional aesthetic that will not go out of style anytime soon. If you go to a department shop these days, you will see a lot of shorter overcoats because that is the current vogue; however, it will not last and will make you colder.
The right overcoat length can enhance your appearance and should be proportional to your height. If you're a shorter man, choose anything knee-length or somewhat shorter. Choose something knee length or somewhat longer if you're a taller man. If you're of average height, stick to anything around knee length. When you watch old movies, you might notice men wearing overcoats that stretch all the way down to their ankles. While this keeps you warm, it has a very stodgy old world aspect to it, and in my opinion, it makes you look less handsome.
3. Go For 100% Natural Overcoat Materials
Unfortunately, even premium overcoats are frequently mixed these days since it makes the fabric less expensive and hence more cheap, or it boosts the manufacturer's profit margins. While polyester nylon fibers can make a garment more durable, they aren't as insulating as natural fibers like cashmere, wool, or alpaca, so I'd avoid them. They also do not age well, therefore 100% natural materials are always the best bet.
Personally, I prefer 100% wool overcoats since they are hefty, inexpensive, do not absorb water, and keep me warm. Cashmere is nice and delicate to the touch, but it's too lightweight for overcoats, and I don't find it warm enough for the winter months.
4. Avoid Zippers At All Costs
Yes, you can see them in ski coats and utilitarian jackets, but an overcoat is a classic, fashionable item, so you'd go with buttons. If you choose a duffel coat, you can also have wooden toggles.
5. Stand Out In Double-Breasted Overcoats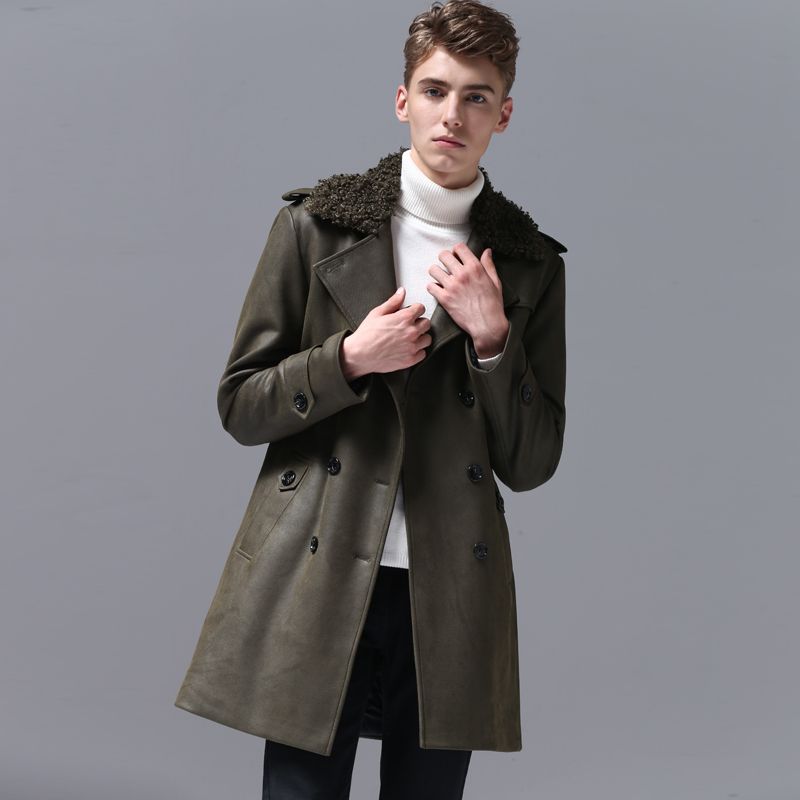 Yes, single-breasted jackets are the norm, but double-breasted ones stand distinctive and keep you warmer because they contain two layers of cloth instead of one and are buttoned in the middle.
Peak lapels or Ulster collars are classic for double-breasted overcoats. Avoid notch lapels on double-breasted overcoats—they look 80s and are historically inaccurate.
6. Don't Forget The Hat
A hat goes nicely with an overcoat since it keeps you warm and is elegant. Fedoras work well with darker, more formal overcoats. A Homburg hat works too. I recommend a flat cap or newsboy cap for a more casual look, and a sheepskin hat for extra warmth.
I reside in Minnesota, where winters are chilly, but I haven't needed the caps yet.
7. Boutonnieres & Pocket Squares Are Your Friends
If your overcoat has a buttonhole on one of the lapels, you should wear a boutonniere because it is quite fashionable. If your lapels have buttonholes on both sides, wear it on the left. You can wear a pocket square if your overcoat has a chest pocket. Ideally, only if the breast pocket is traditional and not flapped.
8. Baggy Overcoats Make You Look Unattractive
First and foremost, decide how you want to wear your overcoat. If you wish to put a jacket underneath, make sure your overcoat has adequate room. Bring a jacket with you when you try them on to ensure you have enough space in the shoulder area and upper arm in your sleeve.
Otherwise, you risk having a huge coat in the torso that is too snug in the arms, limiting your range of motion. Otherwise, the same rules apply to fit as they do with jackets, so I recommend you read our tutorial on how a suit should fit.
9. Look For Striking Yet Classic Details
No reflective orange overcoats, please. However, an intriguing weaving in the fabric is adaptable and may be worn with many suits. You may also go with a striking pattern like herringbone, but it should be big. You can wear it for a suit but not an overcoat. Epaulets, angle pockets, cuffs, and more are options. It's fun to tinker with classic overcoat details.
10. Avoid Overcoat Trends
Buy overcoats that combine the styles of different overcoats since they will rapidly become antiquated. Designers frequently try to give a unique touch to their overcoats, so they begin to mix patterns and elements from traditional overcoats. Most of the time, they just appear odd.
If you have a trench coat, for example, it should be constructed of cotton gabardine. When you start manufacturing it out of wool fabric or leather, the style is simply unappealing, and it makes you look like you're from the 1980s or 1990s.
11. Do Invest in a Good-Quality Overcoat
Don't be afraid to invest a little money in a good-quality overcoat because it will usually last you longer than a suit and you will have to buy fewer of them. It will be a long-term investment, and you should look for something that drapes nicely and flatters you so that you can wear it with your complete wardrobe.
12. Don't Be Afraid To Go Vintage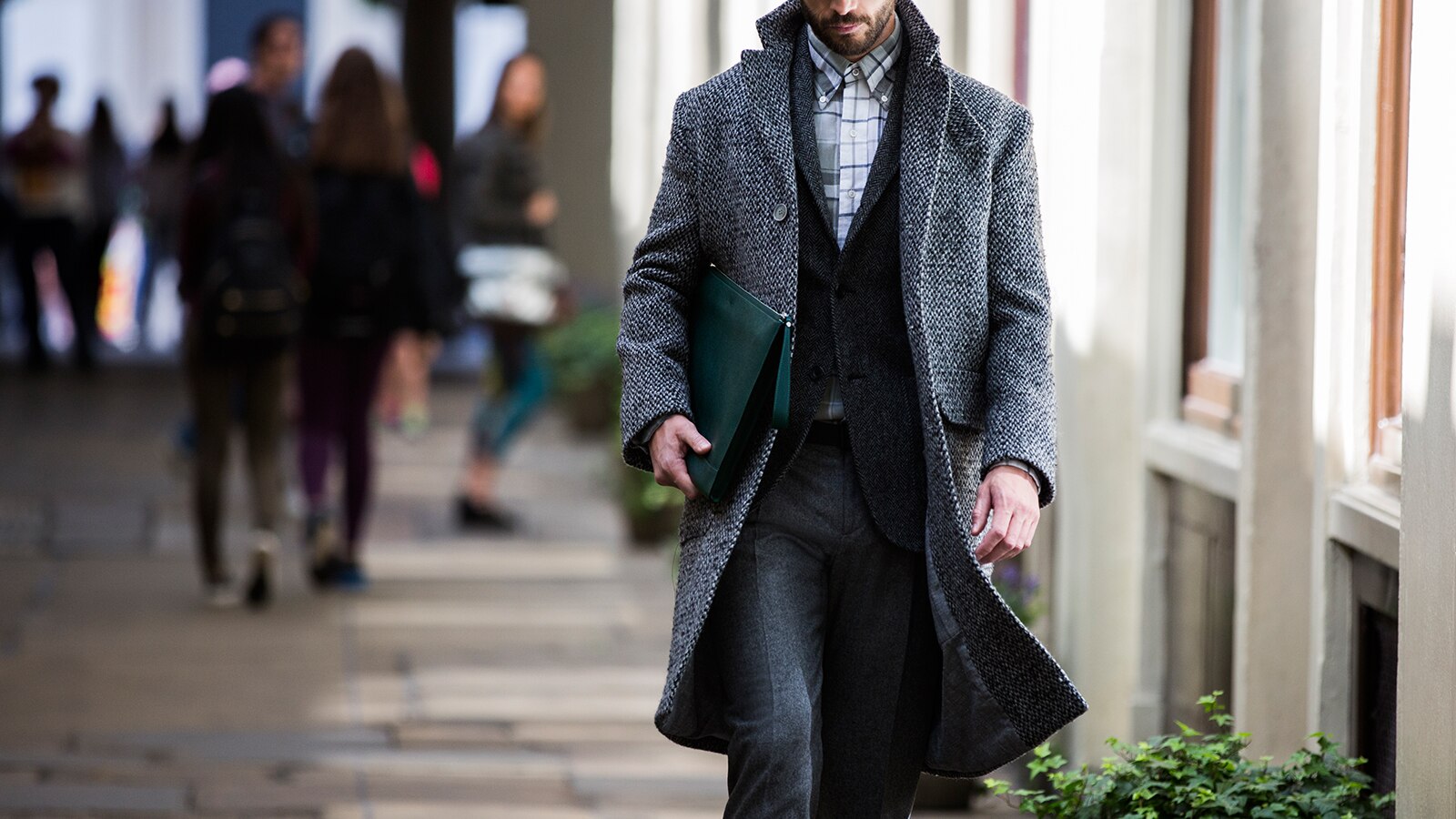 I like antique overcoats because they feature fascinating color combinations and heavier fabrics that drape wonderfully. Keep your eyes open—most of my overcoats are vintage and often get praises.
13. Overcoats & Casual Attire Don't Mix
Leave the overcoat at home and wear sweatpants with a quilted jacket or hoodie. Mixing the two aspects merely says "Oh I want to dress up, but I don't," making you look strange. Baseball hats don't go with overcoats either.
14. The Heavier The Overcoat, The Better
Heavy overcoats are warmer, forgiving, and wrinkle-free. Today, hefty fabric weighs 14–19 ounces (420–570 grams). That was almost a lightweight cloak, usually 28–30 ounces or 850–900 grams.
Today's fabric finishing is better, making materials softer, but it doesn't help if you don't stay warm in the wind and cold. If an overcoat doesn't feel heavy, leave it.
For the same reason, I'm not a big fan of cashmere overcoats because, 98% of the time, they're just too light. I know there's a substantial version out there, I believe from Loro Piana, and if you can locate that, it might work out, but it also depends on what sort of climate you live in.
15. Don't Show Cuffs On An Overcoat
Most men prefer to reveal a little of their shirt cuff when wearing a typical suit jacket or sport coat. That is not the case with an overcoat; you want it to reach all the way down to the beginning of your thumb so that it covers your full jacket and allows for some movement without allowing in chilly air.
At the same time, the overcoat sleeve should not cover your thumb. Otherwise, it appears overly long and as if you took it from your older brother.
16. Do Look For The Little Button In The Vent Area
When it's terribly windy, simply close it and stay warm that way. If you have a lengthy vent but no button, an alterations tailor may be able to install a hidden buttonhole as well as a button for you to use.
17. BONUS TIP: Stand Out Even More With Classic Accessories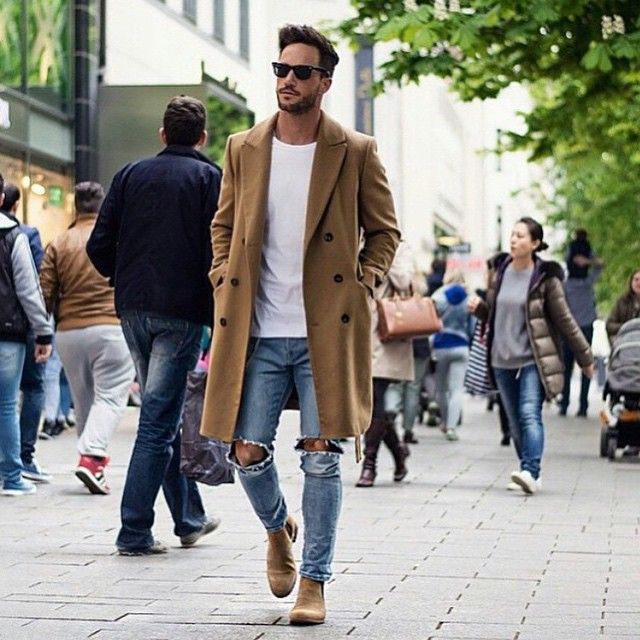 If you're wearing an overcoat, try adding classic accessories like a scarf or gloves. That is not always necessary if you live in a particularly moderate environment, but it is most of the time. Dress leather gloves, not ski gloves, and wonderful cashmere, wool, or alpaca scarves to keep you warm and attractive.