Oversized Hoodies are in the mainstream now. The average joe has multiple of them from major brands such as Nike, Adidas, and Champion. Thus, if you want to stand out, it's time to embrace a subset of hoodies that has seen rapid growth in the past few years.
"Oversized hoodies" are hoodies that are meant to look loose or big on people. It started to become popular in streetwear and is now making its way into casual clothes that people wear every day.
In this article, Teeanime will show you how to wear an oversized hoodie in a few different ways and give you some tips and tricks that will help you feel confident in this piece.
How To Wear An Oversized Hoodie As A Guy?
You can wear an oversized hoodie with jeans, carpenter pants, or joggers.
1. Oversized Hoodie with Jeans
An oversized or baggy hoodie can be easily styled by wearing it with a pair of pants that are well-fitting.
In this combination, you have two options: a slim-fitting pair of jeans or a relaxed and loose-fitting pair of jeans. Both of these solutions are attractive, and the decision boils down to personal preference.
If you pair your hoodie with some excellent fitted jeans, let the hoodie speak for itself. The jeans should not be the focal point of your ensemble. A basic pair of black pants would suffice.
If you're looking for casual denim instead, you'll need to go all out on the accessories to keep the outfit's feel. Wear a beanie or a bucket hat with a lot of rings. This will help to make the look more "planned" rather than sloppy.
2. Hoodie with Carpenter Pants or Dickies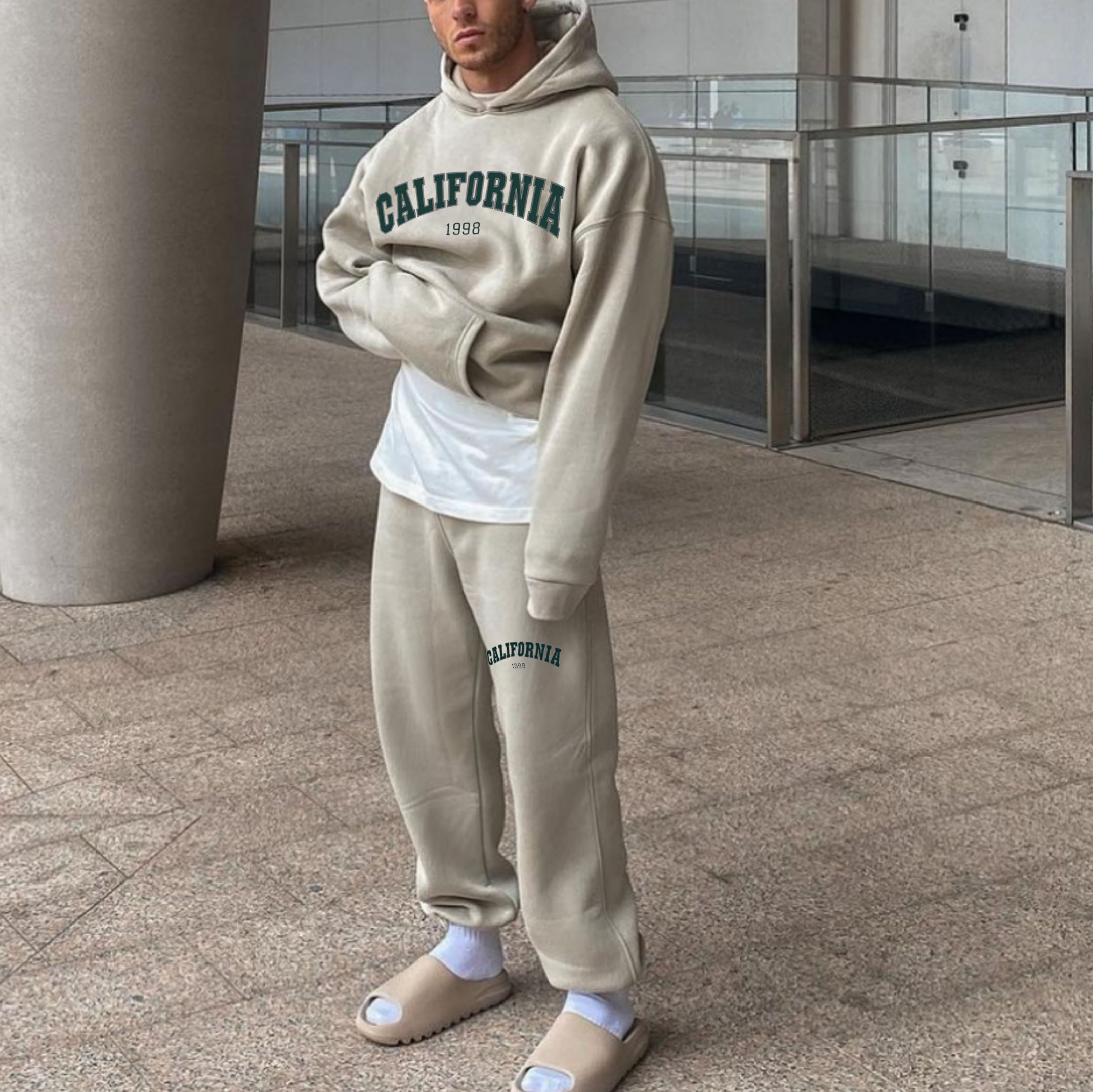 Is this a marriage made in heaven between one of the most underappreciated sorts of men's pants and one of the most misused forms of the sweatshirt?
Carpenter pants have recently witnessed a rebirth, led by the industry's dominant player, Dickies. And, with the emergence of "softboy" fashion or aesthetic fashion for guys, they are being incorporated into a wide range of outfits.
It's simple to mix a roomy hoodie with a pair of carpenter jeans. Simply get a pair of Dickies (the greatest carpenter pants, after all) in a versatile color like navy or chocolate brown and make sure they fit well.
To add a pop of color to your wardrobe, wear an oversized hoodie in a pastel color. Choose something classic for your footwear. Vans Old Skools and Nike Air Force 1s are two excellent choices.
If you're feeling brave, you can accessorize with a baseball cap and a pearl necklace.
3. Oversized Hoodies with Joggers
Joggers grabbed the fashion world by storm in 2014, and they've since become a wardrobe essential for men. This is especially true in the fall and winter, when they replace shorts as the preferred loungewear bottom.
Given the laid-back meaning and loungewear heritage of the oversized hoodie, it should come as no surprise that these two pieces go well together. If you like sportswear and athleisure, or if you go to the gym frequently, these two pieces are a must-have.
Make sure the oversized hoodie isn't too long, as this can ruin the look. Also, the joggers should not be skinny-fit because they clash with the oversized vibe of the complete outfit.
You can go crazy with the colors on this one, and I recommend stocking up on navy, burgundy, and olive green joggers. These hues are both adaptable and fascinating, and they make for wonderful outfits when paired with the appropriate hoodie.
Are Oversized Hoodies In Style?
Oversized hoodies are really fashionable right now. They have been popular since roughly 2018 and will continue to be popular till 2022.
Why? The main causes are celebrities and the lockdown.
Billie Eilish, Justin Bieber, and Drake are among the celebs that continue to wear the oversized sweatshirt. They wear these hoodies to fashion shows, award ceremonies, red carpets, and other events where they are photographed by paparazzi.
People see photographs of celebrities wearing oversized hoodies and want to join in on the fun, which gave rise to the craze.
Second, due to the succession of lockdowns that began in 2020, loungewear attracted a lot of attention from the general public. The oversized hoodie style, which may have faded after the initial push, was a big winner.
This is the main reason that oversized hoodies are still popular (apart from the fact that they look great on guys).
Tips and Tricks
There are two main tips that are important for making sure that your hoodie looks on point. Here they are:
Avoid Shorts – I know some people like to pair their huge hoodies with basketball shirts, but that's simply not my style. There's just too much difference in the two pieces' silohettes, and they don't work together.
Avoid Layering –While you can probably wear a t-shirt underneath your hoodie, I would avoid wearing anything over it. That is, you should avoid wearing jackets. Layering is nearly impossible with big hoodies due to their bulk.
Oversized Hoodie Outfit Ideas
The Bottom Line
It's not difficult to style large hoodies. All you need to know are certain fashion fundamentals and what color to wear, and you're ready to go.