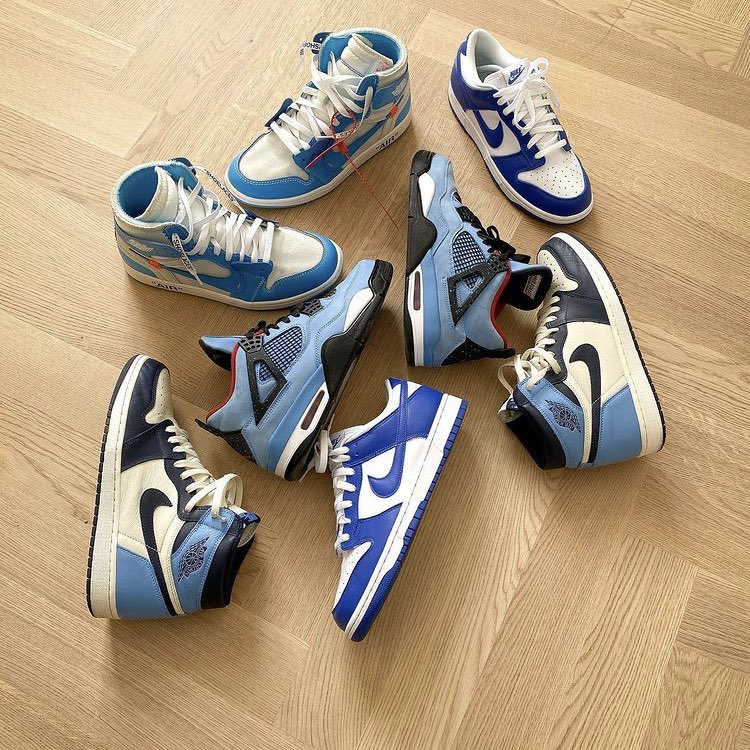 This is the article for you if you want to enter the sneaker resale market or buy a cool pair of kicks without getting cheated. Nike and Adidas, two sneaker giants, have released limited-edition sneakers during the last decade. Maintaining a buzz around the sneaker is the major goal of the 'drop' or release. Brands are aware that if they produce an excess of sneakers, the resale market would become extinct and they will no longer be uncommon or sought-after.
As these brands continue to be cognizant of the hypebeast culture, it is critical that sneaker aficionados and buyers alike are informed of the numerous problems in the sneaker resale market.
The only black sneaker market exists and may be found online. This is where a large number of fraudulent transactions take place. This happens for a variety of reasons, the most important of which is a lack of industry understanding. Seeing this as a problem, I decided to dive right into studying ways to properly join sneakerheads in collecting the hottest sneakers in the game.
This is a beginner's guide to how to spot fake sneakers, complete with tips, methods, and insight into the world of sneaker authenticity.So, go with Teeanime for all your doubts!
1. Only purchase sneakers off of trustworthy websites that have detailed columns highlighting their 'Sneaker Authenticity' process.
Now, before you get too excited because you've finally discovered that one pair of kicks you've been looking for for months, take a time to consider what you might have just landed yourself on. Although it appears to be a respectable website where buyers frequently go, take precautions because it is exactly how the black sneaker market pulls you in. They design websites that make you feel something is too good to be true, and then you enter your credit card information, and the game is done. You may believe that a new pair of sneakers is on its way to your door, and there is a good probability that this is the case.
To avoid this, you should only visit reputable websites. To date, StockX and GOAT are two of the most popular resale websites run by sneakerheads, as they take care in sneaker authenticity. GOAT, for example, hires 'Sneaker Authenticators' to ensure authenticity and quality control criteria are met.
2. Investigate the original asking price of the sneaker; there is no need for it to be oversold, and if you believe you have hit the jackpot, you are mistaken.
Due to the strong demand and limited supply of the sneakers, sneakerheads and beginners alike may experience high levels of stress throughout the release period.
The latest colorway of the Sacai VaporWaffle sneakers was released by Nike just lately. They were sold out in minutes and resold for twice the initial price of the kicks. These limited edition sneakers were initially offered for $180, but now they start at $289.
Considering the anticipation, be cautious of the original asking price of the sneakers because there is no need to overpay. When you reach to that stage, certain websites, such as StockX, will show you the retail price, resale low and high, and even the trade range.
3. If you are purchasing used sneakers – make sure to use GOAT.
You may buy used sneakers from GOAT on their website. This does not imply that the sneaker will be cheaper, but it will verify authenticity. All of GOAT's sneakers, both new and worn, are authenticated using the same process.
"All resale products are vetted by a combination of machine learning technology and in-person verification to verify the product is both real and as described," according to the website. Because of the company's long history, they have logged hundreds of data points on each product to help define what authenticity entails. From the stitching, texture, color, and so much more, the sneaker reseller has it down to a science.
4. If you are purchasing brand-new sneakers, use GOAT or StockX.
The two sorts of sneaker buyers—used and new—are drawn to GOAT and StockX by a few subtle differences that are not widely known. StockX exclusively sells brand new sneakers. They release a batch of sneakers at the time of the drop, and once they are sold out, the resale market takes over.
5. StockX is one of the only sneaker resellers that use a multi-step verification system.
StockX is one of the most popular websites for reselling sneakers, and the pieces of the puzzle are finally starting to fit together. This platform has a six-step process that makes sure the information is real. How it works is that the item is sent through each checkpoint: condition, construction, packaging, accessories, advanced technology, and quality assurance. If the product meets all the requirements, it is ready to be sold.
6. Look to see the payment methods available for use on the websites.
If PayPal is one of the ways you can buy something from a website or seller, this is a huge sign that the site or seller is legit. PayPal protects all buyers very well—so well, in fact, that if a buyer gets ripped off, the company pays the bill.
7. The condition of the box will be advised prior to purchase – so keep an eye out.
When you buy sneakers from prominent websites, they will let you know if the box is new, moderately damaged, or if there is no box offered. Regardless of the decision, this has no bearing on the validity of the sneakers, but it is something to consider, especially if you intend to resell them. If you're in the big league market, the box does take a toll on the selling point of sneakers.
8. Examine the SKU number and labels inside of the sneakers.
There is an SKU number on all genuine sneakers. The number can be found on the labels inside the shoes. This number should correspond to the one on the package. There is a good probability you are looking at a fake pair of kicks if these numbers do not match. Having said that, please check the SKU number as soon as you receive the item – major sneaker brands do not tolerate faults in their packaging.
9. Banking on the legitimacy of the Authenticity Card is not a great idea.
Sneakers come with authenticity cards, which are useful for reselling shoes. This is authentication proof. There are currently few techniques to demonstrate that the sheet of paper provided to you is correct. It is crucial that you do not rely just on the authenticity card that comes with your sneakers.
10. Don't rely too heavily on authentication apps.
Once again, technology proves itself reliable. Sneakers may be authenticated using the CheckCheck and LEGIT APP apps. Experience in the field has led to the configuration of the app as a two-stage procedure. Initial procedure is an artificial intelligence scan. Any "possible inconsistencies" are flagged by the database. The second step is Co-Authentication, in which two specialists evaluate the sneakers and either approve or reject them.
The app's only premium feature is a one dollar (USD) monthly subscription cost. Since it can take up to 30 minutes for the answer grade to be sent in, you might be best off choosing a reputable sneaker source.
11. Upon arrival, use your senses to analyze the sneakers.
What do you see at first glance? Is the colorway correct? Smell those newborns; do they have a poisonous odor? Is the sneaker material appropriate or a little flimsy?
These are the only questions you need to ask yourself in order to confirm the authenticity of your brand-new copped sneakers.
At first look – what do you see? Are they the proper colorway?
Every pair of sneakers have to be identical. Having said that, the colorway of the sneakers will be the same as the initial photograph on the brand's website. If they appear to be off or if a color patch does not appear to be accurate, that is an automatic red flag.
Smell those babies, do they give off a toxic smell? 
Funny enough, if the sneakers aren't real, they'll have a nice smell because they were made with cheaper materials. This is a big freebie on the list of ways to prove that shoes are real.
How does the material of the sneaker feel? Does the shoe look like it was pieced together last minute? 
It's easy to copy a sneaker. The Yeezy Adidas sneaker is the most counterfeited shoe. These popular shoes are knit with boost soles. These items make sneaker creation easy. Check the Yeezys' sole for excess glue. If adhesive is everywhere, these are probably fake sneakers.