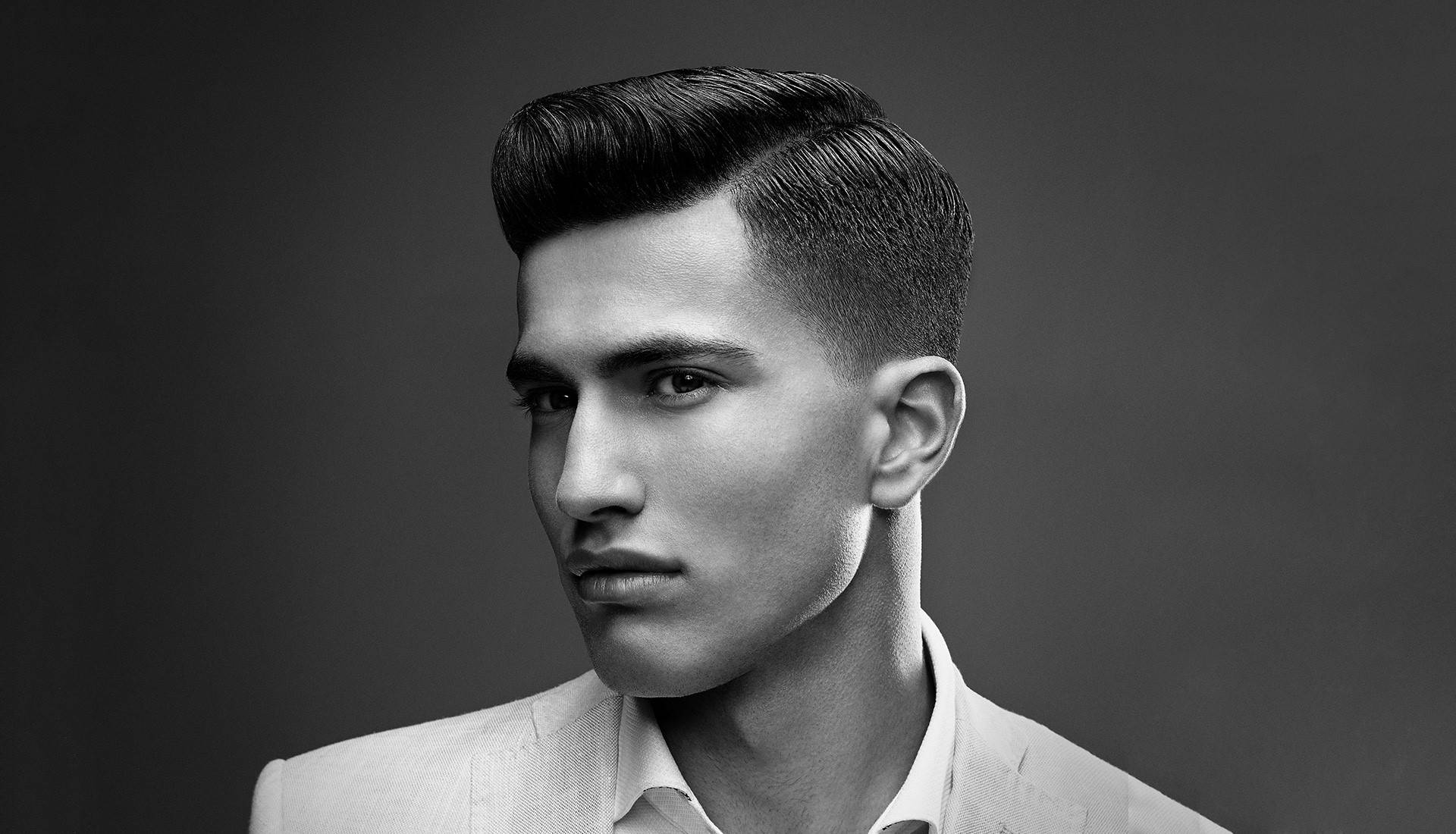 Side parts are frequently used in men's short hairstyles. The Side Part is a clean and neat technique to style your hair. However, how you part your hair can have a significant impact on the image you create.
In this men's guide, you will learn about Side Parts, what they are, and how to part your hair:
Before Teeanime gets into how men can part their hair with ease, let's take a look at the history of the side part!
What Is A Side Part?
A side part is not necessary a hairstyle in and of itself, although it is often a component of one. Although a side part is commonly linked with short hairstyles such as a crew cut, it can also be seen on medium-length hairstyles.
A Side Part is simply a side splitting in your hair, as the name implies. It often follows the natural growth of your hair from the cowlick to somewhere near the temple.
Before we get into how men can part their hair with ease, let's have a look at the history of the side part!
Side Part Hairstyle History
In the last seven years, the Side Part has had something of a renaissance. Between the late 1990s and the turn of the century, the Side Part was a fashion faux pas for men, and only nerds and geeks combed their hair to the left or right.
Not only are old things coming back in style, but geeks are also cool again. This newfound freedom of follicle expression has led to a lot of different ways to wear the Side Part. This has made the classic style more modern and made it easier to pair with other hairstyles.
The Side Part makes me think of the time after the first World War in the 20th century. From the Roaring Twenties until the rise of the Beatles, almost all men had partings that were clear and sharp.
This was often done with a lot of pomade or Brylcreem to make the hair shine and stay in place. Different Side Parts show what life was like in the 1930s, 1940s, and 1950s through their own unique traits.
Side parts were very common in rock and roll, jazz, and other types of music. African-American artists felt like they had to change their work to fit white expectations.
In response, many people did something called "conking" to get the look, which was popular for almost 50 years.
This was a way to straighten hair chemically by using corrosive sodium hydroxide, which burned the scalp badly and caused hair loss.
During the civil rights movement of the 1960s, Malcolm X spoke out against this painful practice. This was the last time it was popular. But recently, it's been making a comeback in women's fashion.
Types Of Side Part Hairstyles
For a classic side part, you comb your hair and then blow dry, wax, or gel it into place. It can look natural and have a soft part, or it can be heavily styled and have a hard part.
When a barber does a hard part, he or she runs razor blades down the parting. This makes your hair stand out by giving it contrast, and it also makes it easier to style.
Hard Parts are commonly coupled with faded or undercut sides. The top can be slicked back or Pompadour-styled.
Side Part's many variations make it a versatile style. Combed and product-held classic side parts can look conservative. This formal look can be professional and chic with short, faded hair.
Modern Side Parts focus less on the parting and more on top volume. Comb Overs are complete, wild repetitions.
How To Part Your Hair
Ever wondered how to get that perfectly defined Side Part like Don Draper? It's easy once you've learned how!
Where To Part Your Hair
First of all, you may be surprised to learn that your scalp has a natural part that is set by the way your hair grows. Feel for the cowlick at the back of your head and take note of which way your hair grows. If the growth goes clockwise, your part is on the left. If it goes in the opposite direction of the clock, then your part is on the right.
The height of your part depends on how tall you are and how your face is shaped, which we'll talk about below. But choose a part that ends in the corner where the top and sides of your head meet at the temple. If you part your hair too straight, it may look like a wig. Try for a slight diagonal instead.
How To Style A Don Draper Classic Side Part
To part your hair, just follow these steps:
Start with hair that is clean, damp from a shower, and easy to work with.
Massage your favorite hairstyling product into your hair and make sure it's spread evenly.
Comb the hair neatly forward in the area where you want your side part, until you can see the scalp through the lines.
Aim for a line that is slightly diagonal, starting just under the Cowlick in the back and ending near the temple in the front.
To make the part, use the comb to separate the hair along one of the lines.
Come and shape the top and sides as you like.
What Styling Agent To Use
In short, you can part your hair with four different kinds of products. There is cream, pomade, gel, and wax in this group. Each one has a very different effect on how the style turns out in the end.
First of all, gels will give you a shiny, hard finish. Because gels harden into rock, you can't change the way your hair looks later in the day. Also, when it rains, hair gel can either flake off or run. Still, it looks great if you want to look defined and tough. Today, one of the best hair gels for this style is made by American Crew.
On the other hand, wax is the exact opposite. In fact, wax doesn't shine very often. Instead, it gives things a natural, matte look. Also, it doesn't dry out and can be styled again and again during the day. TIGI Bed Head makes a great wax for side-part hairstyles that look more natural.
Aside from that, creams like Brylcreem aren't used very often anymore, but they are still worth mentioning. They don't hold as well as gel or wax, though. But they give a very glossy and healthy shine, which is great for an old-fashioned look. But they need to be restyled often because the cream doesn't hold very well.
So, if you want a vintage-style side part, we suggest brands like Sweet Georgia Brown, which holds well, and Royal Crown, which smells like jasmine and has a lovely scent.
Will A Side Part Suit My Face Shape?
The Side Part is a versatile hairstyle that can be done on most hair lengths. A side part gives your hair structure that flows with how it grows.
It can match the features of a face shape or even add texture to make the face more angular if needed. This one is especially good for men whose faces are round. A hard Side Part with a Fade or an Undercut will give the face structure. Also, parting the hair along the parietal ridge closer to the temples and away from the top will make the face more square.
We've found 7 different face shapes, which are very important in figuring out how well different styles may suit different men. If you don't know what your face shape is yet, you should follow our quick guide here to figure it out before you read the rest of this section.
You'll see that we've listed 7 different face shapes, which can help you figure out which hairstyles look best on different men. We strongly suggest that you figure out your face shape before going on.
Ideal Matches
These face shapes will have no trouble styling a side-part.
Oval Face Shapes
People with oval faces don't have much trouble styling a side part. The only thing you need to watch out for is that the top isn't too tight. If it is, the finish will be rounded.
Square Face Shapes
Square facial forms look very masculine with Side Parts. These can be fashioned with various sides and tops without jeopardizing the proportions.
Triangle Face Shapes
Triangle faces can try side parts, but they should avoid high fades because that will show off their jawline. Keeping the side low and tight and giving the top a little bounce will make sure that everything fits together well.
Diamond Face Shapes
Diamond should be careful, because if the sides are too tight, it will show their ears. Keeping the volume along the crown will make sure that the forehead and cheekbones look good together. sure to be a well-balanced harmony.
Heart Face Shapes
Heart-shaped faces should be careful about how they style their sides because aggressive fades will take away the volume that their wide forehead needs to balance it out. Keeping the part along the ridge will keep the face from getting wider.
Round Face Shapes
Round face shapes should do well with a hard part that starts low on the temple and goes up to the crown. But you should make sure that the edges are sharp and that the top has enough height. It's best to touch up the texture often so that it doesn't get soft and lose its shape.