Kingsman: The Secret Service piqued the curiosity of many guys in fashion for the first time in 2015. The Kingsmen are returning with The Golden Circle, which will be released on September 22nd. If the first film made you want to put on a British accent and wear a charcoal-gray double-breasted suit, this one will make you want to put on a Stetson and cowboy boots.
And the suit and the British accent. Again. You probably can't pull them off at the same time unless you're Colin Firth.
Continue reading to learn the Kingsmen's stylistic secrets – and those of their rougher, harder, 500% more American rivals, the Statesmen. Which one are you? So, if you have any doubts, trust Teeanime!
About The Movies
"A suit is the armor of the modern gentleman. And the people who work for Kingsman are the new knights.'
In the first Kingsman movie, there is a spy network whose "front" is a fancy tailor shop in London. Eggsy, the newest recruit, is a working-class guy who doesn't fit in. He learns how to be a spy and look good from the very dapper Harry Hart (Colin Firth).
In the new movie "The Golden Circle," the Kingsman network has been destroyed, and Eggsy and Harry join forces with their American counterparts, the Statesmen, who dress in classic Western cowboy style.
Kingsman is a great way to learn how to dress in a stylish way quickly. The clothes have their own personality.
The idea came to director Matthew Vaughan while he was getting measured for a suit at a shop in London called Huntsman on Savile Row. In the movie, the shop was used as the Kingsman shop.
He hired Ariane Phillips, a costume designer, to make clothes that could be worn in the movie and sold as a fashion line. Classic British brands like Turnbull & Asser and Cutler & Gross worked together to make some of the clothes, like shirts and glasses.
Vaughn says, "To be honest, there aren't a lot of clothes for men in their 40s like me. Suits are either made to be very slim and tight, or they are made in a traditional way. I saw that there wasn't a line for men right in the middle."
Mr. Porter, Net-a-menswear Porter's store, sold the Kingsman collection. It's not a passing fad; it's still going strong, and every year they add new things to it.
The cowboy-style denim and leather pieces from the second movie have now been added.
The clothes from the official Kingsman collection won't be in everyone's price range, so here are the basics of Kingsman style and Statesman style, as seen in the trailers.
Kingsman Style
The Suits
Kingsman style isn't just about suits, but suits are a big part of it. What makes the suits worn by Kingsman so famous?
Single-breasted suit jackets are more common than double-breasted ones, but double-breasted ones are very English. They were picked so that the collection would have something to sell.
"If you were making a movie about Italian spies, you probably wouldn't dress them in double-breasted suits." – Toby Bateman, who is in charge of buying at Mr. Porter,
The buttons are in a classic 6 x 2 pattern, with 6 buttons in 2 rows. However, as you can see on Harry and Eggsy, the bottom button should always be left undone.
Slim fit – The jacket has high armholes and soft shoulders for a modern look, and the waist is just narrow enough to give it shape. The pants are not skinny, but they are slim.
Wide peak lapels – for a muscular broad-shouldered style. Peak lapels are standard for a double-breasted suit.
Details on point –The jacket has flapped pockets, twin vents for optimal mobility when umbrella-ing enemies, and a beautiful half inch of shirt cuff showing. It's paired with pants with a light break and no cuffs for a more polished look.
High-class fabrics –  including wool, mohair, and silk blends for a subtle sheen. Colin Firth's suit patterns include pinstripes, Glen plaid and Prince of Wales check, while Michael Caine wears a windowpane check.
Neutral palette – the Kingsmen are utterly traditional and restrained until a fight starts. The dark, understated color palette they wear – mostly gray suits, white shirts and pocket squares, and navy or dark red ties – conveys that they mean serious business.
With the latest film, Eggsy dresses to the extreme in an ORANGE velvet tuxedo jacket. Velvet jackets are a suitable, slightly less formal alternative to tuxedo jackets; nonetheless, deeper colours like blue, red, and green are more common than orange.
The notion here is that Eggsy has understood the concepts of style and the use of color in a man's wardrobe and is self-assured enough to establish his own style. It's reminiscent of the black and yellow jacket he wore early in the first film, when he was still dressed casually.
The Shoes
I love most things about this movie, but…
They got their shoe terminology all wrong!
"An Oxford is any formal shoe with open laces," Harry says to explain the password "Oxfords not Brogues." Well…
#1 An Oxford can sound like a brogue! Harry is right when he says that broguing is the name for the pattern of holes on some dress shoes. But broguing can be done on any kind of shoe, even an oxford. Which is exactly the kind of shoe Harry shows Eggsy when he tells him this.
#2: An Oxford is a formal shoe that is laced all the way up.This means that the front part, called the vamp, is sewn on top of the back part, called the quarters, which has the lacing flaps. This gives Oxfords a sleek, smooth look that makes them the most formal shoe. OPEN lacing, on the other hand, has the quarters on top of the vamp. This makes shoes like Derbys and Bluchers a little more casual.
But Harry is right that brogues, even brogued Oxfords, wouldn't go with a suit as formal as the one he's wearing. He has on black cap-toe oxfords, which are one of the most stylish shoe styles. You're not likely to find any that have a poisoned knife in the heel.
There are also Chelsea boots and suede penny loafers in the movie.
And Also…
Under these suits, people usually wear white Oxford twill shirts with double cuffs and small cutaway collars. White is the most formal and traditional color for a dress shirt, and the collars and cuffs allow for a wider tie and Kingsman logo cufflinks.
Merlin, the "Q" in the movies, wore a famous military-style sweater with suede shoulder patches and a shirt, tie, and shaved head. This look says "military" and "officer and gentleman" at the same time.
Accessories include two-toned acetate glasses, silk ties, and silk pocket squares with a straight fold, which is the most formal and traditional way to fold a pocket square.
Statesman Style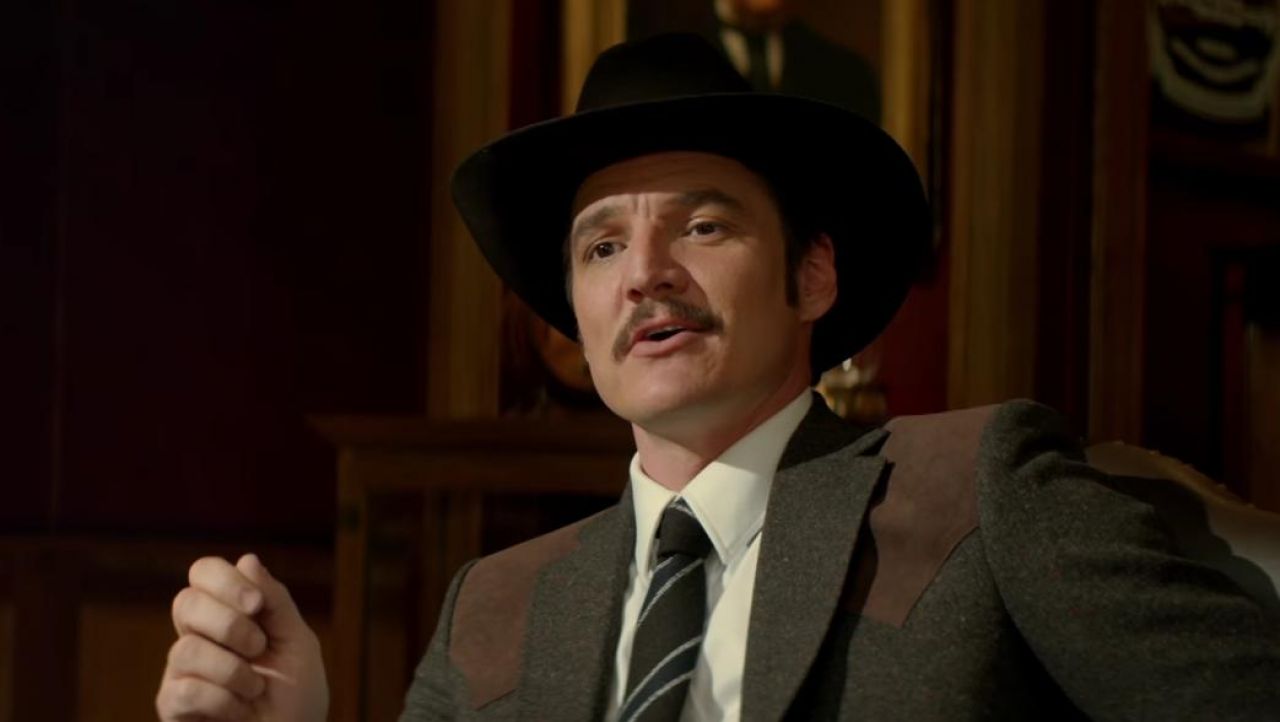 This is NOT at all how Kingsman looks! Layers that look like they came from the west are the norm here.
Even though the styles are very different, they were all made by the same costume designer, Arianne Phillips. She used classic American brands like Rocky Mountain Featherbed, Golden Bear, Stetson, Hunter, and Mr. Freedom. Some British heritage brands have joined the fun by making clothes that look like they came from the United States. For example, Turnbull & Asser makes Western snap-button shirts.
Agent Tequila, played by Channing Tatum, wears one of these shirts with a denim jacket with a blanket inside, jeans, and a Stetson hat. The "Canadian tuxedo," or wearing denim on top and bottom, is usually a fashion no-no, but he pulls it off.
Jeff Bridges plays the leader, Agent Champagne, who wears a western-style yoked jacket with a "S" lapel pin, a vest, and a patterned scarf tied under a white shirt. He looks like a modern-day sheriff. It's smart, cowboy, and up-to-date.
Even though you can't see them in these pictures, many of the characters wear Luchesse western boots.
Harry Hart makes SOME changes when he's in America. Instead of his usual suit, he wears a Stetson hat and a shearling coat. Sheepskin is used to make a shearling coat, and the wool is used to line it.
For a more subdued coat, you could go for something like Pedro Pascal's Agent Whiskey's down jacket with leather shoulder patches.
So… Which Are You?
Are you more of a Statesman or a Kingsman? You probably don't want to dress exactly like these characters because they are meant to be extreme. Instead, think about what about their style you like and could use in your own life.
If you like how Eggsy uses color, for example, you don't have to get an orange tuxedo jacket. Look at what he's done in real life. He chose one really bright piece to stand out and kept the rest of the outfit neutral. You might be able to get the same effect with a bright shirt.
Or, if you like the way Agent Tequila dresses, you could wear a denim jacket with jeans and cowboy boots, but don't wear a Stetson on top.
Don't just think about the clothes. What can you learn about men from the clothes they wear? We'll have to wait for the sequel to find out what the Statesmen's high-octane modern cowboy code is, but we know who the Kingsmen are as the new knights.
The Kingsmen, especially Harry (who is, after all, Galahad), show what it means to be a modern knight. They treat their female recruits and their female enemy, Gazelle, without fear as fellow warriors. They also show courage, honor, loyalty, and courtesy, which are all knightly traits. Their biggest problem is that they are too stuck up, but Galahad, the visionary knight, has a very different idea of what it means to be a gentleman:
"Where you were born has nothing to do with whether or not you are a gentleman. One must learn how to be a gentleman. As someone who grew up in a trailer park, I completely agree with that statement.I run this site because I want to help other men become the men they know they can be.This quote pretty much says it all:
"Being a gentleman has nothing to do with your accent; it has to do with how comfortable you are in your own skin." Hemingway once said, "There is nothing noble about being better than other people. "Real nobility is being better than you used to be." Now, a good suit is the first thing every man needs.