For decades, Dragon Ball has been a dominant influence in the anime industry. How much has buying the series on home media cost fans over time?
Dragon Ball Z is without a doubt one of the most popular anime series of all time. As a result, it is a must-have for any serious anime collector who purchases their pastime on home media. If you are an anime lover who has purchased anime on one of the numerous video formats throughout the years, chances are you have at least one Dragon Ball Z DVD or VHS someplace in your home. Fans that own the complete series are far more uncommon.
While the show has become more affordable over time thanks to season sets, it was once sold three to four episodes at a time. Given that the program has 291 episodes, 13 movies, and a few specials, how much would it have cost a Dragon Ball Z fan to own the complete series on home media back in the day? The final expenses may astound you (especially if you grew up streaming the series on Funimation Now or Crunchyroll).
Dragon Ball Z on VHS
VHS was the first American medium to acquire Dragon Ball Z. The pricing of these tapes was largely determined by whether you wanted to buy the series uncut or edited, as which version you bought determined the amount you would pay. Pioneer only issued the first 17 tapes in edited form, and there is no uncensored VHS version of these episodes. Many fans believed that this was the last time they would see Dragon Ball Z, therefore it wasn't uncommon for fans to have all of these tapes, as they were all they had for years. The first 53 American episodes of Dragon Ball Z would cost a fan $254.15 at $14.95 a tape. A lot of money for a kid in the 1990s.
Funimation would later release the rest of the series on VHS in both trimmed and unedited versions. This totaled 69 tapes. These 69 tapes would cost $1,031.55 if purchased in the edited format at $14.95 each tape. If you include the edited-only Pioneer VHS tapes, the whole Dragon Ball Z series on VHS would cost $1,285.70. If you wanted to buy the series uncut, it would cost $19.95 each tape, so you'd pay $1,376.55 for the Funimation discs and $1,630.70 for the uncut tapes with Pioneer's edited-only release.
The 13 films were also available in trimmed and unedited versions for $14.95 and $19.95, respectively. So, if you bought the modified versions, the movies would cost $194.35 each, for a total of $1,480.05 if you included the series. If you wanted the movies uncut, you'd have to pay $259.35 for the movies alone, or $1,890.05 for the movies plus the series. In the days of VHS, Dragon Ball Z was not a cheap show to collect.
Dragon Ball Z on DVD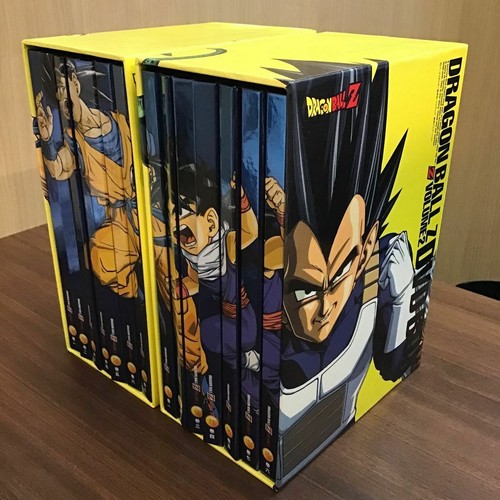 Dragon Ball Z DVDs were initially more expensive (but simpler). Pioneers' edited-only releases were the only uncut DVDs available in Japanese and English. $29.95 per CD (movies and all). The Dragon Ball Z DVD set costs $2,965.05, with the TV series costing $2,575.70 and the movies $389.35.
Funimation returned to the series in box sets after the original release, indicating a turning point. Each season would cost $49.95 in orange brick box sets. Dragon Ball Z fans can get all 9 seasons for $449.55.
The supporters will be relieved. Fans were unhappy with the DVDs' poor quality and heavy picture cropping. Funimation addressed these difficulties with 'Dragon Box' releases, which were uncut and extra-packed.
There were seven $69.95 collector sets. Fans who wanted Dragon Ball Z unedited and in the best possible presentation had to pay $489.65, only a BIT more than the dubious orange bricks (on a side note, these sets are out of print and VERY expensive now, so the cost of owning them will be a LOT higher these days).
Dragon Ball Z Today
Buying Dragon Ball Z is easier and cheaper on Blu-ray and digital. Dragon Ball Z in cropped widescreen costs $404.82. Original aspect ratio costs $539.82. Both examples include 9 sets. Different retailers provide digital solutions at different pricing (depending on whether or not you want the series in English or Japanese). This guide isn't foolproof.
In all of the aforementioned scenarios, you'd likely spend less than retail pricing (and if you included Dragon Ball, Dragon Ball GT, and the movies, the cost may increase). Dragon Ball Z thrived on TV since it was too expensive for kids to buy the complete series. You can own the entire anime franchise for less than Dragon Ball Z cost on VHS, but is it still too expensive? Do you own Dragon Ball Z on one of these formats or do you pay $9.99 a month for Crunchyroll?
Thank you very much for reading!
Check out what we have in our Dragon Ball anime collection.>>