Simply put, belts are essential. They're in practically every professional and informal clothing. However, belts are more than just an useful accessory. Belts have the potential to be a terrific statement or finishing piece to any ensemble in addition to, you know, holding your pants up. When it comes to adding a dash of color or separating your middle from your lower body, nothing beats a belt. So, if you have any uncertainties, go with Teeanime!
What to Avoid
This appears to be the most logical place to begin. There are numerous belts available, many of which are dreadful. Cheap materials, such as synthetic leather, will stand out on a belt and should be avoided. It's worth it to spend a bit more money on a belt that will last you for years.
Length
The first step in selecting a belt is determining the length you require. In most cases, belts are measured in inches or millimeters. When you put on a belt, you'll know if it's the proper size. Unless you're buying a belt online, never buy a belt without first checking sure it fits. If a belt has waist numbers (30, 32, 34, etc.), the typical recommendation is to buy a belt two sizes larger than your pant size. This will allow for better adjustment, preventing you from using the last hole on your belt and having too much extra belt jutting out.
Material
Leather belts are timeless and indispensible. Every man should own a leather belt, which is the hallmark of formal attire. Having said that, belts have evolved into more casual materials. When it comes to casual aesthetics, cotton and polyester belts are excellent and probably even preferred alternatives to leather belts. They are available in a variety of hues and can stand out against a monotone ensemble. If you still want to keep it formal, distressed leather is a fantastic option for a more casual look. Distressed leather adds character and charm to an otherwise boring business belt.
Buckles
Every belt, in theory, has a buckle. However, "belt buckles" are frequently associated with dazzling buckles. The use of flashy belt buckles is frequently questioned. Avoid them, in our modest view. Some belt buckles can be used to add interest to an outfit. However, they frequently appear excessive, especially given the price. The gaudy, blinged-out look is overpowering, and excellent style should always appear effortless. However, to each their own, so check them out and make your own decision.
Types of Belts
Belts come in many different styles, and they are all used for different things. Most of the time, you should have one of everything.
Formal Belts
This is the belt, of which you have very certainly always owned at least one. It is the belt that you fasten around your waist when wearing a suit or any other type of formal attire. They are nearly always dark brown, black, or tan in color, and leather or suede may be used in their construction. The pattern, if there is one on these belts, ought to be understated. These are not the focal points of your ensemble; rather, they are the finishing touches that tie everything else together. It is a good idea to coordinate the metal of your buckle with the metal of your watch or other accessories if you want to seem fashionable.
Casual Belts
Whereas formal belts are intended to be utilitarian, casual belts are designed to add style. Experiment with different colors and materials. Many casual belts are constructed of leather or woven fabric, which allows for a wide range of color and design options. These belts aren't necessary supposed to be matched with anything else in your outfit, so feel free to experiment and wear one with almost any outfit, except your formal business clothes.
The Belts Checklist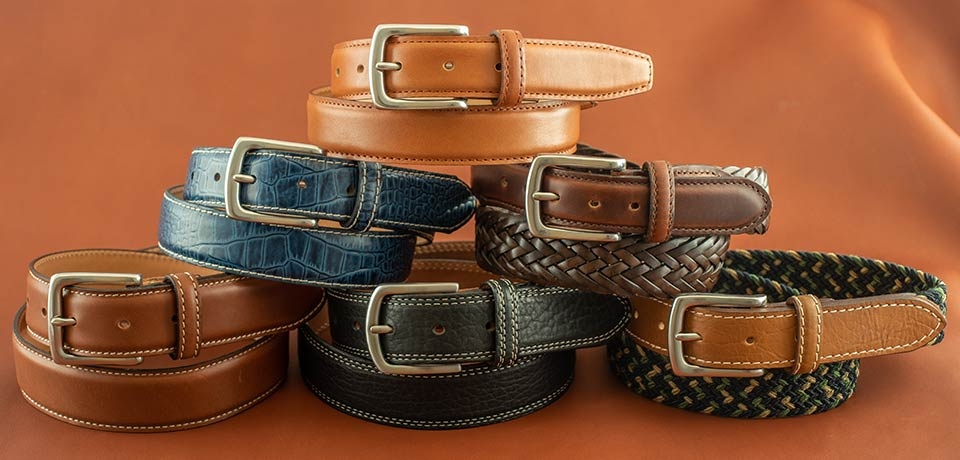 If you want to build a belt collection that can be used for many things, you should probably start small. Every man should have at least three basic belts: a formal belt in black or brown, a leather belt in tan or light brown, and a casual belt made of fabric.
1. A Black Belt
You can wear the classic black belt in almost any way. As a general rule, these belts should be the same color as your shoes or at least be close to that color. You can always try to break fashion rules by wearing a belt and shoes that aren't the same color, but it's usually a good rule of thumb to make sure that everything matches. Most of the time, black belts look best with black shoes or darker shoes, like blue shoes. When it comes to these belts, you really only have one choice: a good leather belt. Black belts look good with black and navy suits, but because they look neutral, they can be worn with almost any outfit or color. The most dressy way to wear a belt is with a black one.
2. A Tan Belt
Tan and brown belts, like black, are often paired with shoes of the same or lighter hue. These are also commonplace in formal attire. Brown and tan belts go nicely with lighter-colored clothing and look great with brilliant blue and olive suits.
3. A Casual Belt
When you want to spice up a simple outfit or add some flair, the casual belt is the way to go. While casual belts can be bought in neutral colors, this is an excellent opportunity to add some color and texture to your outfit. Your attire may truly make a statement here.
When to Wear a Belt
Belts are appropriate for practically any situation. They are most likely required at work, but their importance does not end there. A belt can greatly improve the look of a casual outfit. By dividing your upper and bottom pieces, a belt will break up the monotony of an outfit. Belts may also spice up an ensemble while keeping it casual and approachable enough for a night out.
When Not Forego a Belt
While belts can add style to a look, there are times when you can forego them. If you like to wear suspenders, you should absolutely avoid wearing them with a belt. Also, with a suit or some tailored pants, the no-belt style can make a statement, but only when done intentionally.
Of course, a belt is required. That being said, belt style is much more than just a conventional black leather belt. Belts can add a lot to any outfit, whether they're serious and structured like a brown leather belt or relaxed and colorful like a braided fabric belt (and of course, anything in between). Every man, regardless of career or style, should understand what belts he needs and how to wear them.