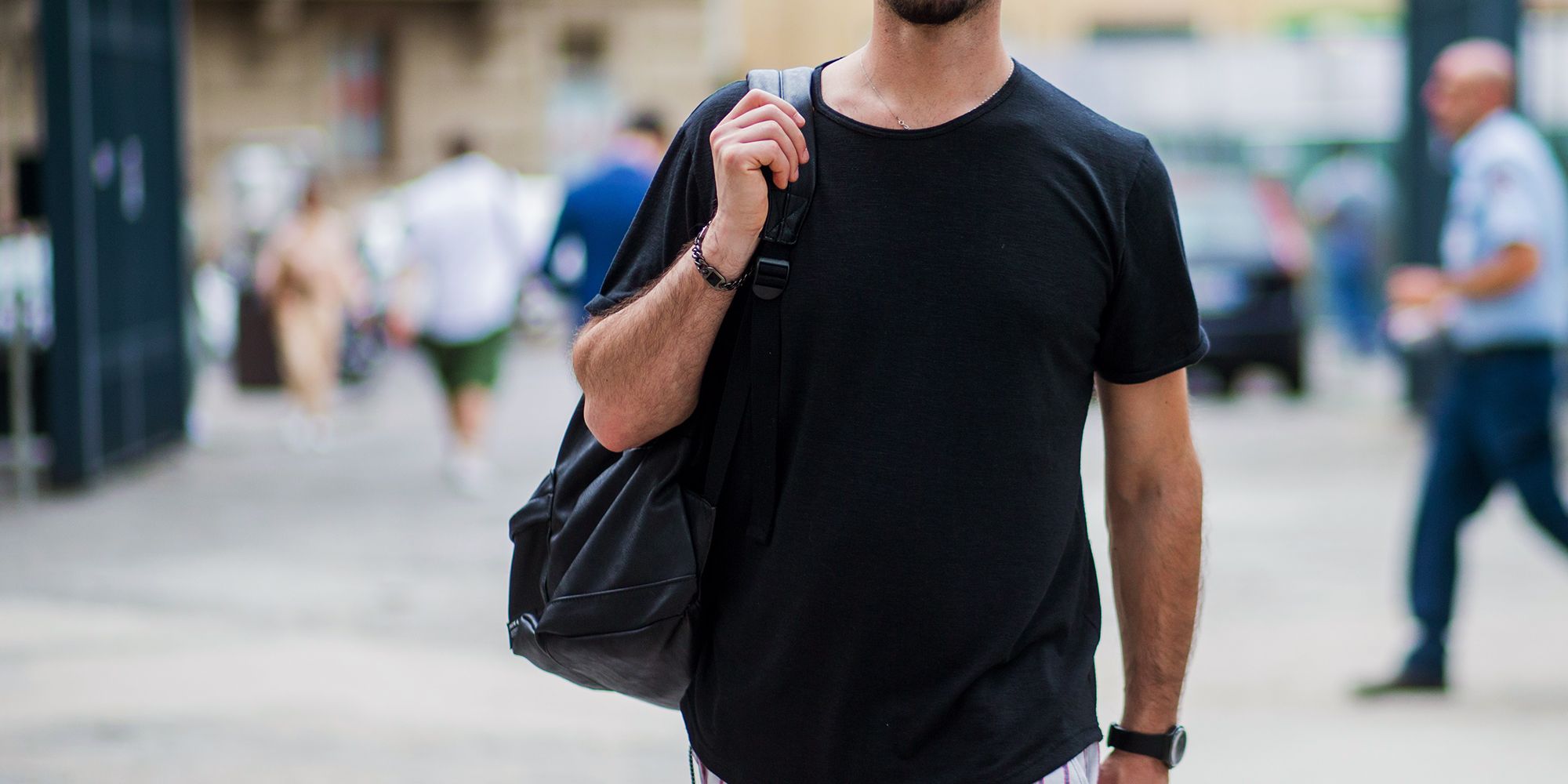 Don't know what to wear with your black T-shirt?
When it comes to wearing a black T-shirt, there are many additional garments that may be paired with it to create the perfect look.
A classic black T-shirt is one of my go-to things in my collection.
It's an item that can be worn casually or dressed up for a smarter edge, and it's a must-have for every man's wardrobe in my opinion.
So, what should you wear with a black T-shirt?
Well, the answer is almost anything. That's kind of the point and benefit of a plain black tee.
Here are 9 different ways to wear a black t-shirt, whether you want to dress it up or down. So, if you have any doubts, trust Teeanime!
All Black Outfit – Black On Black
Black on black is the way to go if you want to create a sleek aesthetic and have a slim silhouette.
You may get this by wearing black pants with a black T-shirt, and there you have it.
This attire has nothing to do with anything and will always look the part. Take it a step further with a black leather jacket for a triple black appearance. Alternatively, a black blazer is a more formal option.
Wearing all black will also make you appear taller and slimmer, thanks to the all-black silhouette.
This makes an all-black ensemble suitable for men of various shapes and sizes.
Black T Shirt With Dark Wash Jeans
If you want a stylish casual pair of jeans but don't want to go for a blackout, indigo is the color to opt for.
The darkest blue is quite stylish and will look great with the black T-shirt.
Black T-Shirt With Light Blue Jeans
Light blue denim is the way to go for a more relaxed and laid-back vibe.
The pale blue of the jeans stands out against the pure blackness of the top.
You can go for a distressed pair for an even more casual style, or keep things tidy with a solid pair of jeans.
Black T-Shirt With Beige Chinos
If you're seeking for an alternative to jeans for your lower half, chinos or pants are a good option.
A variety of colors might work well, but I've chosen beige. Any shade of grey, whether light or dark, will complement the black.
The darker you go, the more sophisticated the overall look. In the summer, lighter colors work best.
Black T Shirt With White Jeans
When summer arrives, the white jeans come out. When it comes to denim, white or off white is unquestionably my favorite color.
If you want to color block, the clean white against the black is ideal. Wearing a belt to separate the two adds a touch of sophistication.
Layer With A Check Shirt
A check shirt can be worn as a layer over the black T-shirt. This works great for a cool casual style, and wearing it open gives off one of the best laid-back looks.
Because black is such a versatile color, practically any color can be used in checks.
Black T Shirt With A Blazer
A blazer or suit jacket is the best method to seem professional.
Wearing a blazer with a T-shirt is a straightforward process, and adding a fashionable jacket over the tee quickly gives your ensemble a sharper edge.
Grey works well as an alternative to black on black.
A Bomber Jacket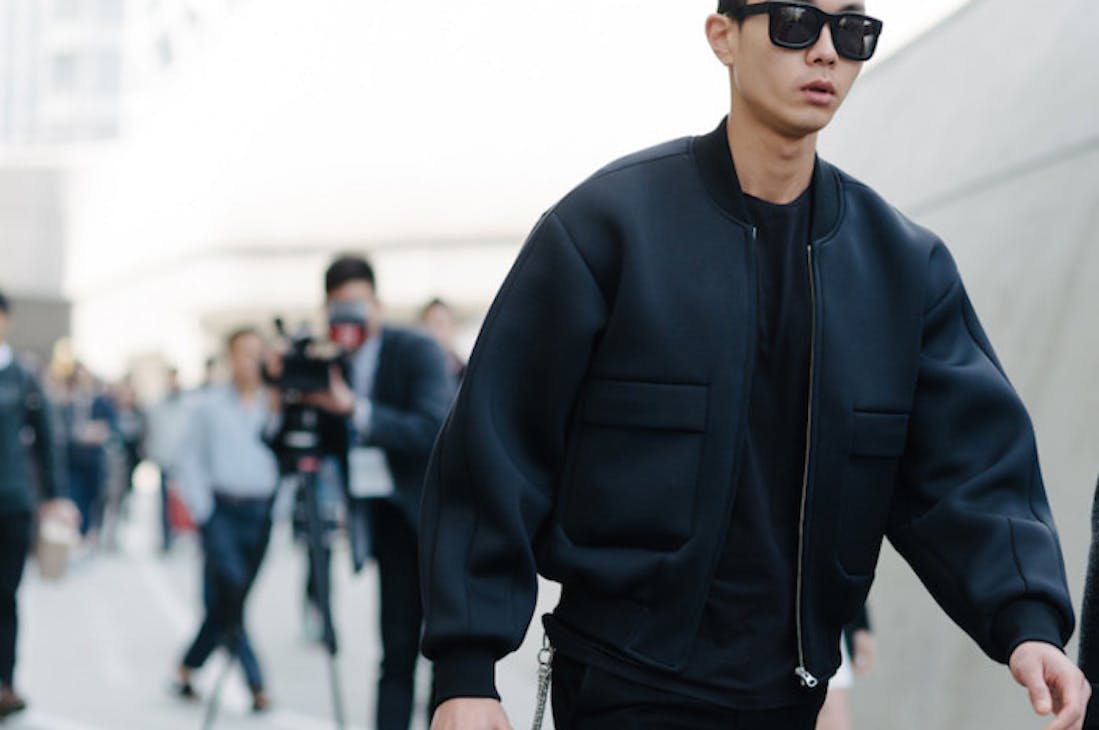 A bomber jacket is arguably my favorite item of apparel for layering a sophisticated casual jacket over a shirt.
A blazer will lend a smart edge, but it can be pretty stuffy, which is where the bomber comes in.
It's a casual garment that doesn't seem sloppy if you obtain the right size and color. Grey, blue, and even black on black will work well here, but you could add a touch of color as well. A jacket in yellow, green, or red will brighten up your look.
A Denim Jacket
When it comes to adding an edge to your outfit, a denim jacket is the way to go.
You may double up on the color by wearing black denim. Alternatively, choose a more conventional blue denim jacket or something more lively, such as a coloured denim.
It is crucial to note that if you choose a denim jacket and pants, the colors should not match. That will give you a double denim effect, which is probably not what you're going for with this outfit.
Style Rules For Wearing A Black T Shirt
When it comes to styling a black T-shirt and what to wear with it, the typical principles apply. They are as follows:
Check for proper fit – More fitting signifies sharper, less fitted and loose means more informal.
Plain T-shirts are more formal, but they are not the only option.
If you want to go for a street style vibe, logo T-shirts can be a wonderful choice.
Superior quality will last longer.
When To Wear A Black T Shirt
Because this is such a versatile suit, it may be worn at practically any time and for any event. From a night out with the fellas to heading to work, college or university, or simply an everyday outfit for day-to-day living, there is a style for every occasion.
A black t-shirt can be worn casually or as part of a smart casual ensemble. This will be determined by the accessories worn with it.
Stop Black T Shirts Fading
One issue with black T-shirts is that the more you wash them, the more they fade. The black no longer seems like the new black edgy object you formerly had, and instead appears washed out.
There are a few things you can do to prevent this from happening.
First and foremost, purchase a high-quality T-shirt. You can try washing only black items together on a cold cycle to help preserve the color.
You can also wash the shirt inside out in the washing machine. Finally, there are goods on the market that will revitalize your old black clothes, such as a dye pod.
Verdict
Wearing a black T-shirt is an easy way to keep stylish and can be worn with a variety of different outfits. If you don't already have one, it's an excellent investment piece.
It certainly is an item that you can utilize to put together an outfit the next time you go out.
If you're seeking for fashion suggestions to dress better, go no further than the men's style guide.
Tell me how you'd wear a black T-shirt and what your favorite occasion is to wear it.