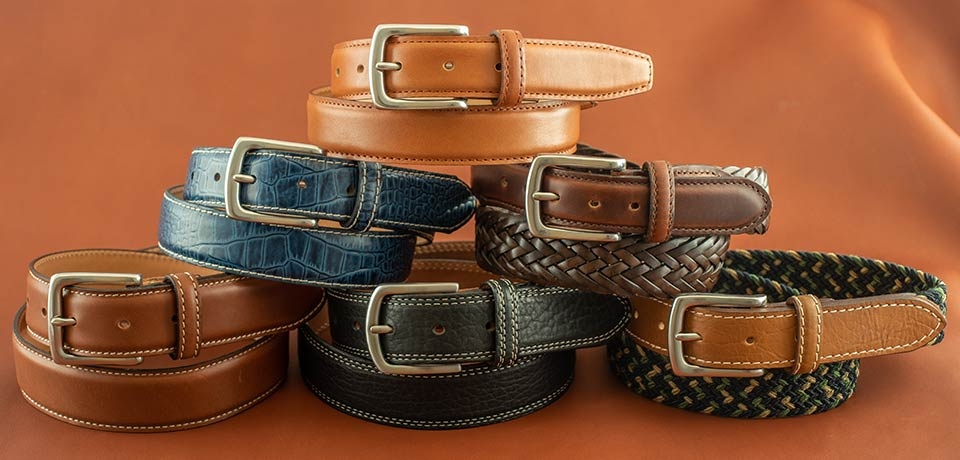 Many men overlook the importance of regular belt care in extending the life of their black belt. If you want your belt to last a lifetime, you must take care of it. Everything you need to know about belt care is right here, from fundamental belt care advice to a step-by-step guide to cleaning your belt. So, if you have any doubts, trust Teeanime!
WHY DO YOU NEED TO WEAR A BELT, ANYWAY?
If you're tempted to go beltless in order to save belt maintenance, we've compiled a list of reasons why you should wear a belt.
#1 YOUR PANTS WERE MEANT TO BE WORN WITH BELTS
Levi's added belt loops in 1922, allowing men to wear their pants however they chose. Belt loops allowed them to properly wear their pants, and although though today's pants fit better, individuals have grown accustomed to wearing their pants with a belt. That is why practically all of the pants on the market include belt loops.
It's difficult to find pants that fit properly, so having the ability to tighten your pants as needed is a benefit. Furthermore, wearing pants with belt loops but no belt seems inappropriate. While you may always have the loops removed by a tailor, belts are necessary on some occasions. Going beltless at a cocktail party, for example, would be a fashion faux pas.
#2 BELTS DON'T MAKE YOU LOOK BASIC
How would your friends describe your fashion sense? If they say "basic," it's probably because you don't wear a belt.
Wearing a belt is a terrific way to add some "oomph" to your clothing. Consider adding a belt to your regular attire if it comprises of a t-shirt and trousers. Going beltless gives the impression that you picked the first thing you saw in your closet. Wearing a belt, on the other hand, gives the impression that you put some thought into your attire. In other words, a belt can dramatically alter how your coworkers perceive you.
#3 BELTS CAN ELONGATE YOUR BODY
Belts do more than just keep your pants up. If you've ever desired to add a few inches to your height, invest in a nice belt that can help you achieve that goal. Do you want to make your legs appear longer? Wear a belt in the same color as your pants. Want to look thin without exercising? Wear a belt that matches the color of your bottoms to cover your stomach area.
#4 BELTS LAST A LONG TIME
Your belt will almost certainly outlast all of your trousers. If you choose your belt carefully, you won't have to replace it every few years – it's an investment! And, because your belt will last that long, you won't need to buy a new pair of trousers every time you embark on a weight-loss adventure. You can just tighten your belt till you achieve your ideal weight while you're "in between" waistlines. That's less expensive than buying new jeans that will be too big for you in a few months.
WHY YOU NEED TO TAKE CARE OF YOUR BELT
Neglecting routine belt maintenance can result in damage. Your belt is designed to endure an extraordinarily long period, but many belt owners are unaware that it requires continual care to maintain the belt lasting longer.
The best way to extend the life of your belt is to take proper care of it. After all, you wouldn't want to replace your belt every year, would you? Taking care of your belt not only makes you look good, but it also helps you save money.
Furthermore, taking care of your black belt can help to prevent cracks. Remember that once your leather belt cracks, there's no turning back. Regular cleaning and conditioning are required to extend its life.
HOW TO TAKE CARE OF YOUR BELT
Do you have no idea how to care for your belt? To keep your black belt looking as good as new, we've compiled a list of belt care tips:
#1 HANG YOUR BELT
If you have a habit of rolling your belt, it's time to quit. By the end of the day, your belt should be able to breathe. Because your belt is wrapped around your waist all day, it need time to be in its "resting" position. It will last longer if you hang it on a hanger since the stress that would otherwise generate creases is reduced. So, instead of storing your belt in a drawer, hang it alongside the rest of your clothes.
#2 ALTERNATE BETWEEN TWO BELTS
Wearing the same belt twice in a succession can cause it to wear out. It's better to switch between two belts so that each belt can rest. Wearing a reversible belt too frequently may cause it to wear out much faster. Consider purchasing a black and a brown belt because these colors complement any outfit.
Remember to flatten your belt afterward. When switching belts, never leave the previous belt on your pants as this can cause it to curl.
#3 KEEP IT AWAY FROM WATER
Water is the worst enemy of any belt, including a leather belt. If your belt gets wet, air-dry it right away. Allowing your belt to soak water can result in unsightly stains. Instead, blot it dry with a towel and let it air dry. Using a hairdryer to speed up the process can lead the material to become brittle. If possible, apply leather oil on the belt to keep the sheen.
And, sure, this also applies to sweat. "Don't sweat it," we'd say, but when it comes to belt care, you should be concerned.
#4 WEAR THE RIGHT BELT SIZE
When it comes to belts, size does important. A belt that is too large for your waist can generate creases, while a belt that is too small can rip. The simplest approach to ensure that your belt lasts is to get the sizing correct.
HOW TO MEASURE YOUR BELT SIZE
BASED ON YOUR BELT
Do you have a belt that fits properly? Lay it down on the floor and measure from the normal hole to the end of the belt. Remember to measure in inches and round up – it's preferable to get a belt that's a little too big than one that's too small.
BASED ON YOUR PANTS
This is the simplest method for determining your belt size. All you need to do is increase your trouser size by two inches. If you're wearing 38-inch trousers, a 40-inch belt is a good bet. Keep in mind that this method only works for belts worn around the waist. If you're looking for a belt to go with low-rise pants, add four inches instead of two.
BASED ON YOUR WAIST
The best technique to determine your perfect belt size is to thread a tape measure through the belt loop. When taking measurements, make sure to stand in a natural position – no sucking in! Simply thread the tap measure through the loops like a belt, wrapping it tightly around your waist.
#5 KEEP YOUR BELT AWAY FROM THE SUN
Keep your belt away from the sun to keep it from cracking. Cracking is one of the worst things that can happen to your belt, so keep it away from windows and other heat sources.
#6 CONDITION YOUR BELT
Invest in a leather conditioner to avoid having to buy a new belt. This product nurtures your belt and gradually creates a natural patina. It is absorbed by the leather, strengthening its fibers and preventing stains. Consider it a "holy grail" product that will keep your belt looking brand new.
SIGNS YOUR BELT NEEDS CLEANING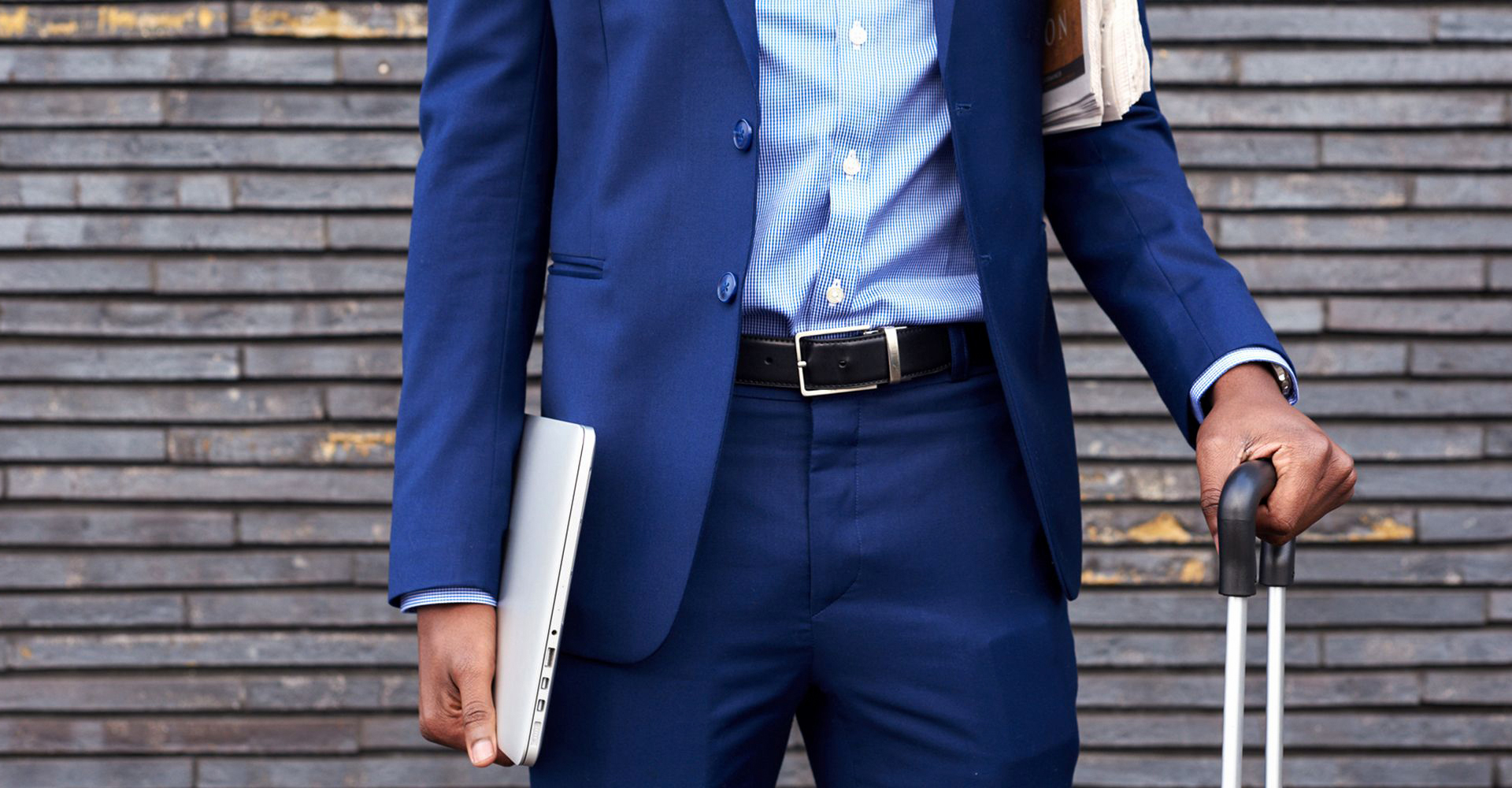 Do you want to ensure that your black belt lasts as long as possible? We've already discussed the dos and don'ts of belt care, but the best method to keep your black belt lasting longer is to clean it on a regular basis.
Because a belt isn't cheap (a luxury belt can cost up to $1,000! ), it's crucial to know how to care for it. If you don't, you'll have to buy another belt, which will cost you more money than you planned.
So, how can you know whether your belt requires cleaning? Here are a few indicators that it is time to clean:
#1 YOUR BELT FEELS STIFF
A rigid belt will not fit snugly around your waist. If you notice the fibers in your belt hardening, it's a solid sign that it needs to be cleaned. We recommend purchasing a belt conditioner to keep it supple.
#2 YOUR BELT IS STAINED
Did you get a drink on your belt? Clean it as soon as possible, or else the stain will be impossible to remove. If it's water, you can wipe it away with a towel, but if it's another type of liquid (like wine), you'll need to work quickly. Because dried-up wine can be tenacious, blot as much of it as possible.
#3 YOUR BELT SMELLS BAD
If you use a leather belt, keep in mind that it will absorb scents such as sweat and smoking. It's natural for leather to do this, but you shouldn't let your belt become that terrible.
The scent of your belt is another indication that it needs to be cleaned. If your belt begins to stink, remove it and soak it in baking soda.
HOW TO CLEAN YOUR BELT
Cleaning your black belt, fortunately, does not require a lot of supplies. We'll go over a couple methods for cleaning your belt with stuff you already have below:
#1 HOW TO CLEAN YOUR BELT WITH BAKING SODA
Baking soda does wonders when it comes to eliminating odors from your belt. However, keep in mind that this procedure isn't inexpensive, since you'll need roughly twenty packs of backing soda. This is due to the fact that you will need to immerse your entire belt in it.
Put your black belt in a zip-lock bag to deodorize it. Then, pour baking soda all over the belt until it is completely covered. Seal it and set it aside for the night. After 24 hours, you should be able to empty the zip-lock bag and your belt should be deodorized. To remove the baking soda from the black belt, use a delicate brush.
#2 HOW TO CLEAN YOUR BELT WITH VINEGAR
Vinegar may not have a nice odor, but it can efficiently combat bad odors. But be careful: before applying vinegar to your belt, perform a spot test to ensure that it does not cause discoloration. Test a small part of your belt with white vinegar and water, and if there is no discoloration after a few minutes, you're ready to go.
Wipe the vinegar solution over the surface of the belt with a towel. Allow it to air-dry before immersing the black belt in the solution if the stink continues.
#3 HOW TO CLEAN YOUR BELT WITH CORNSTARCH
Cornstarch might rescue your belt when oil-based stains are difficult to remove. To absorb oil from new stains, sprinkle cornstarch on the black belt. For old stains, clean the stained area with a cloth first, then coat it with cornstarch. To speed up the process, massage the cornstarch into the material.
#4 HOW TO CLEAN YOUR BELT WITH RUBBING ALCOHOL
Small stains, such as pen traces, can be difficult to remove, so you'll need something strong, such as rubbing alcohol. However, be cautious when using rubbing alcohol to remove stains because this chemical is not compatible with leather. As a result, you should always use a cotton swab to ensure that you just apply it to that one spot.
Dry the area with a blow dryer after gently rubbing it with the alcohol.
#5 HOW TO CLEAN YOUR BELT WITH SOAP
One of the most popular materials used to clean a belt is soap. There are two types of soap available: saddle soap and Castile soap.
Saddle soap is the original sort of soap, and it is a chemical used to clean, condition, and protect leather objects. Cleaning your belt with saddle soap will return it to its original state. Castile Soap, on the other hand, is a vegetable-based soap that contains no chemicals, making it ideal for consumers looking for gentle cleaning methods that will not harm their leather items.
To use saddle soap, simply rub it over the belt with a damp towel until it is eliminated. If your belt has oily patches, apply more dry-cleaning fluid before applying castor oil to condition it.
To use Castile Soap, dab a moist towel over the soap bar before rubbing it on the belt. Maintain a fast motion to effectively remove the dirt and stains. Rinse the area with another moist towel, then repeat the process until the belt is fully clean.
SIGNS YOU NEED A BRAND NEW BELT
Cleaning isn't always enough. Examine your black belt carefully and keep an eye out for the following symptoms that you should replace it:
#1 YOUR BELT STILL SMELLS
Your belt is not supposed to stink over time. If it still stinks after soaking it in baking soda, it's time to get a new belt. The truth is that some belts (especially cheap ones) aren't built to last.
#2 YOUR BELT FEELS UNCOMFORTABLE
Your belt shouldn't feel like it's poking and stabs your sides. It should fit snugly around your waist. If your belt is becoming uncomfortable, it's likely that it's no longer appropriate for your waistline.
#3 YOUR BELT IS TOO WORN-OUT
It's time to hang up your belt. Wearing a worn-out belt makes you look unkempt, so acquire a new belt for a better look. You'll appear more official and professional this way. After all, once your belt cracks, there's no turning back. You can try to repair it, but it won't last long.
#4 YOUR BELT BUCKLE DOESN'T WORK
What's the sense of maintaining a belt with a broken buckle? Your belt is designed to keep your pants up, but with a broken buckle, it can't. If your belt cannot be properly tied, throw it away. You don't want your belt to come undone unexpectedly.
#5 YOU DON'T LIKE HOW YOUR BELT LOOKS
That $20 belt you bought after graduating from college should not be the same belt you wear now. While no one will make fun of you for wearing an old belt, it can make you feel self-conscious. Buy a belt that flatters your figure and gives you confidence.
FINAL THOUGHTS
If you wear your belt frequently, you should clean it four times a year. The belt care techniques we stated, such as hanging your belt and switching between two belts, should be done on a daily basis.
By taking care of your belt, you can extend its life and avoid having to buy a new belt every few months. Belt care can help maintain your belt looking as new as possible for as long as possible.