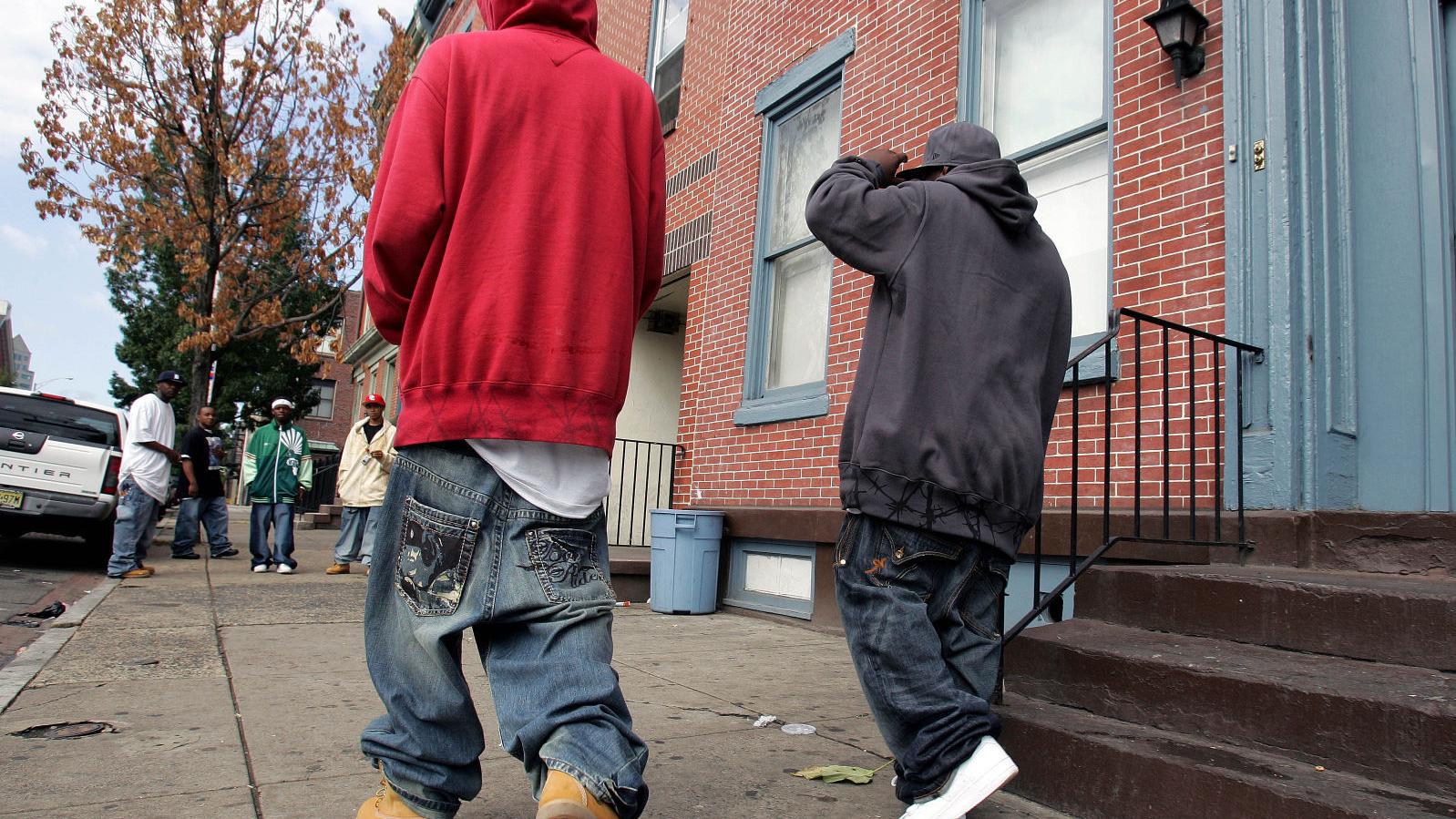 This season, Teeanime pay attention to our inner artists and vibe "bohot hard" with our true selves. Fashion can seem a little hard for men who are creative, adventurous, and always on the go. We enjoy our coffees tall, our fries enormous, our T-shirts oversized, and our jeans baggy because comfort is our best friend.
Finding your personal style can be difficult with so many brands, changing trends, and so little time. But let us let you in on a little secret.
But, psst…I heard through the grapevine that the Real Slim Shady wears baggy jeans!!
From Eminem to Snoop Dog to our very own Divine, everyone has proven that baggy jeans are the original style. So put on your favorite jeans and say goodbye to the misery of tugging at your jeans to avoid frequent wedgies (ouch!).
What are Baggy Jeans?
Wide-leg jeans with a relaxed boxy fit are known as baggy jeans. Men's baggy jeans offer substantially larger legs than skinny fits, allowing you to bend, stretch, and work comfortably. It is influenced by street fashion and is commonly connected with rap and hip-hop performers.
For the longest time, the baggy look was regarded as shabby and unprofessional. However, baggy does not have to be synonymous with slouchy or sloppy. They can be customized to fit well while yet allowing your legs flexibility and comfort.
This pants style is particularly great for people who are self-conscious about their physique. The baggy shape gives the ideal fit for all body types while emphasizing your cool personality.
We wouldn't wear baggy jeans to a formal occasion or to your professional workplace. However, if you want to spend a quiet Saturday afternoon lounging with your pals, baggy jeans are a practical yet fashionable option. You are allowed to go skating or even engage in an impromptu dance battle. Your cozy denims will be there for you.
But please do us a favor and don't allow your boxer shorts peek over the waistline of your jeans. That is not fashionable, and it never was.
So, Bantai… Don't waste time and board the stylish bus! Look through the current styles of baggy jeans to find a fit that works for you.
Carpenter Chic Straight Leg
Let's start with something simple but timeless. If you're not sure about your style and want to play it safe, the straight-leg fit is a great place to start. This silhouette is neither too tight nor too casual, and it allows you to experiment just enough. This practical pair prevents sweating, so you can go about your day without worrying about rashes or wedgies.
Baggy Straight Fit Jeans by U.S. Polo Assn.
Ripped Jeans
If you want a cool look with a lot of pizzazz, ripped is the way to go. This airy fit will undoubtedly pass the vibe test. Ripped jeans typically have rips or holes around the knee. To get an effortless street vibe, wear them with a flannel shirt or a vintage T-shirt.
Tapered Fit Jeans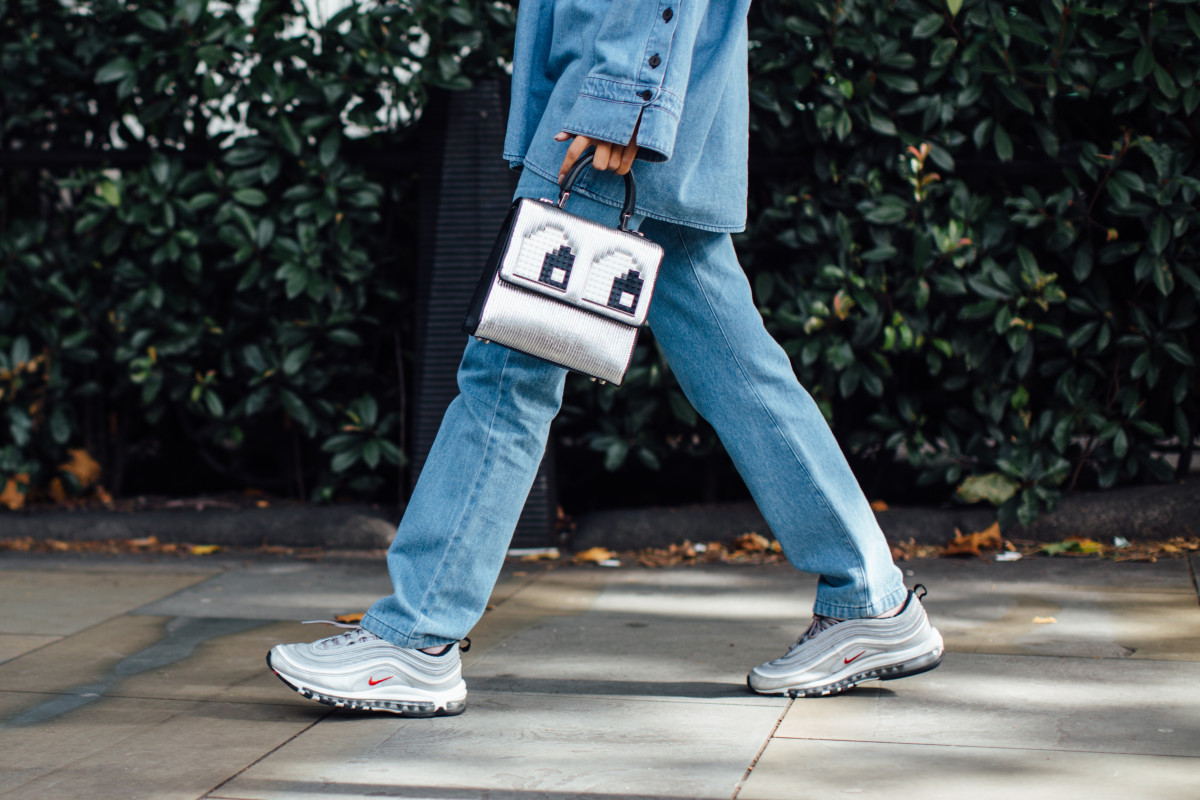 Tapered jeans are ideal if you want a clean style with the added benefit of comfort. They're broader on top, flattering on the thighs, and taper right at the ankles. This combination of straight and narrow fit gives you a sleek image without requiring you to wear clingy denim. Guys with larger bones and thighs will look great in this outfit. They will suit your body structure and provide you with the comfort you need to get through your day.
Wide Leg Fit
Go all in on the 'bad daddy' attitude. This silhouette is very straight and baggy. These pants are broad at the bottom and do not taper, as the name implies. These will give you a boxy comfortable look that will ignite your inner hip-hop artist. Add a few chains to your outfit and you're ready to funk it up!!
Bootcut Jeans
These aren't the sloppy pants from the 1960s that cling to your legs. Baggy bootcut jeans are typically relaxed-fit pants that taper slightly around the thighs before flaring out to the ankles. Choose this appearance if you want to wow your guests.
Distressed Straight Fit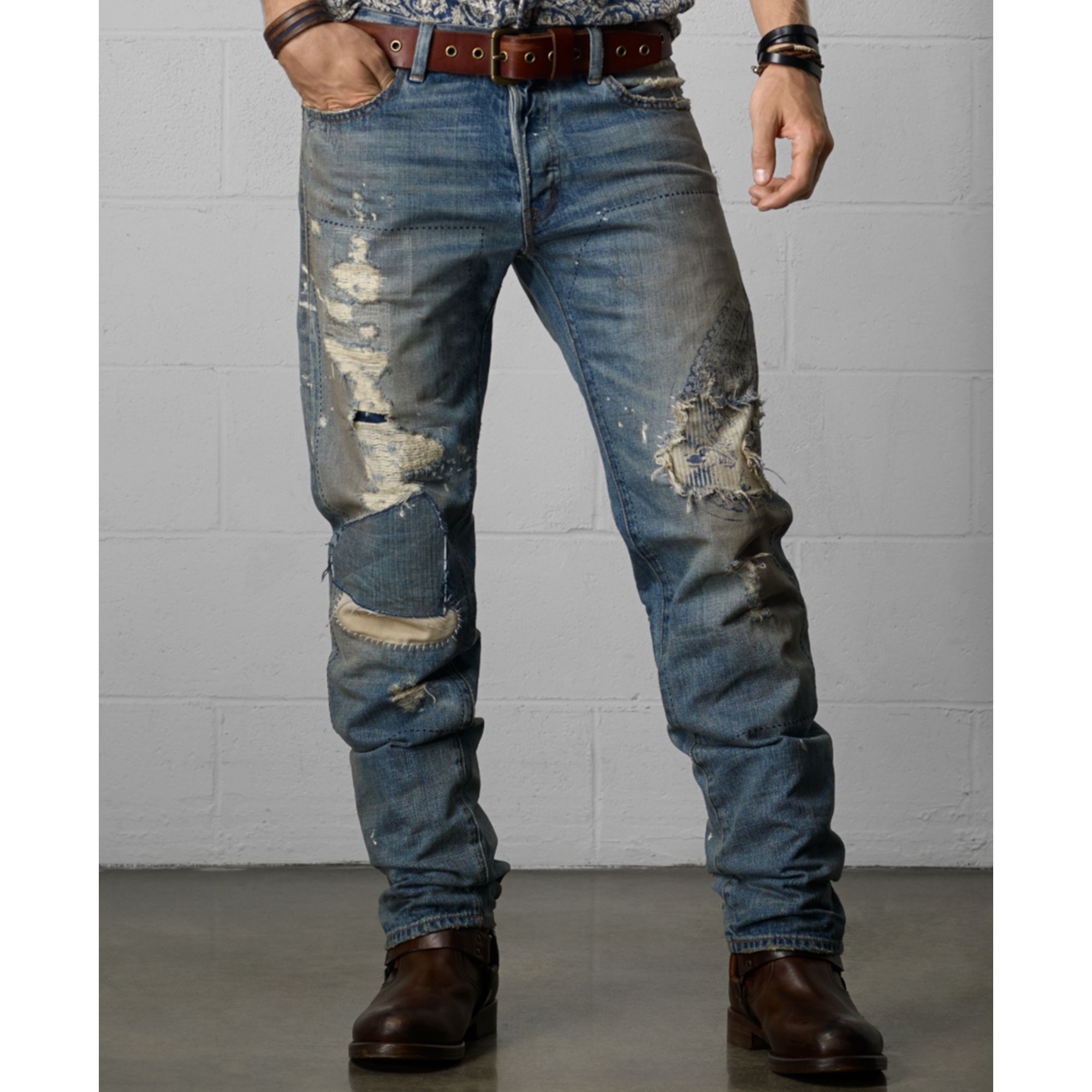 This is a fit as agitated as your sleep pattern. We may be amusing, but we don't make light of current events.
Distressed jeans are intended to seem worn in and old while remaining fashionable. They may appear tattered, ragged, faded, washed out, or incomplete. However, this look combines casualness with flair.
A basic white T-shirt paired with distressed blue jeans: a look straight out of the celebrity playbook.
When shopping for damaged jeans, seek for a pair with reasonable tears. You don't want to get a pair that's more shabby than stylish.
Loose Fit Jeans
This is the most baggy fit you can get. The cloth is wide from the waist to the floor. It may also be longer than your legs as they bundle up at the ankle, providing you with a callously cool fit. They are quite spacious and comfortable.
Coloured Baggy Jeans
If you don't feel so sad, let's make your clothes more cheerful. Here is a funky choice for boys who like to be bold: baggy jeans. Choose a pair of jeans in your favorite color to stand out as a fashion leader.
Pocket Baggy
Hey Skater boy! This style of denim is both easy to wear and useful. This silhouette lets you move around a lot while looking super cool. The chain and buttons make it look even more stylish. Add a cool graphic tee and cool shoes to finish off your skater boy street look.
Pyjama Fit Jeans


Get rid of your big belts and suits. We got you the right pants for your "Netflix and Chill" date. This outfit will let you relax in style on your friend's couch. These jeans are made to look like pajamas because they have an elastic waist and drawstrings for support.
Funky Baggy Jeans
Does plain denim not suit your quirky and creative nature? Then a small, fun detail can take your whole look to the next level. You can play around with prints, colors, patterns, buttons, embroidery, and threads that look different from each other. Bring out the wild and colorful artist in you and show it through what you wear. Let your wild, energetic self run free.
Jogger Jeans
This is a mix of pajama pants and jeans. The bottom of these jeans are elastic and tapered, and they also have drawstrings. They will give you the freedom to move around quickly.
Detachable Baggy Jeans
You got it right! We finally have a style of pants that works in India, where the weather changes all the time. So, you don't have to worry about making it hotter because you're hot because these pants make it easy to turn your long jeans into shorts. That's a quick change of clothes for your Instagram reel!
Bottomline
You can wear baggy jeans whether you want to look like you're going to brunch or like a hip-hop star.
There are many different styles and colors of rapper swag. So, if someone tells you to dress up but you want to dress down, baggy jeans are your secret code. Find a style that looks good on you and make a fashion statement with your casual but stylish baggy jeans outfits. You can pull off the "rapper-dapper" look by adding belts or chains to your outfit.
So hurry up and get some new clothes! Tell us what style caught your eye and fit your laid-back style.