Sneakers in white are versatile, comfy, and functional. They go with everything and, as a result of being a fashion staple, are now ideal for workplace wear. Although a new pair of fresh white kicks looks like a million bucks when you first put them on, all it takes is that first small scratch and those once-new sneakers are looking a little dirty. Teeanime, on the other hand, has some handy hacks that will have your clean white shoes looking like new.
Best way to keep white shoes clean
It is worth emphasizing, however, that prevention is always preferable to cure. The best way to keep your white shoes clean is to apply a stain and water resistant solution as soon as you get them home. Most shoe stores carry leather or cloth protection; simply inquire at the checkout.
Hack #1 – baking soda and detergent 
@sarahtraceyy, a Twitter user, uploaded before and after cleaning photos of her white Converse shoes, as well as instructions on how she did it. What's more, the best part? You most likely have all of the components on hand.
What you need
Baking soda
Detergent
Toothbrush
DIY instructions to clean white sneakers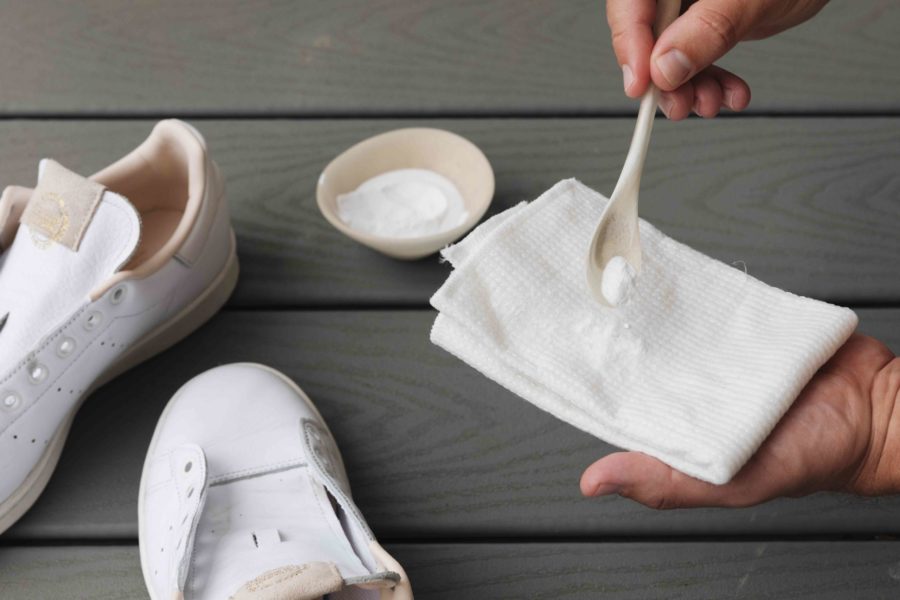 1 part baking soda to 1.5 parts detergent. Using a toothbrush, scrub the mixture onto your shoes. Rinse the shoes and place them in the washing machine on the delicate option, making care to remove the laces and inner soles first. To prevent the shoes from slamming on the drum, add some towels to the wash.
Hack #2 – Magic Eraser
Another method for cleaning white shoes, especially those with gripping rubber soles like Converse, is to use a little cleaning instrument called a Magic Eraser. This small cube of white foam can remove practically any stain; simply add water and begin rubbing!
Hack #3 – How to clean white shoes with baking soda and vinegar
Combine 1 tablespoon baking soda, 2 teaspoons white vinegar, and 1 cup water. Scrub your white fabric sneakers with a cloth or an old toothbrush until they are clean. This technique also works on leather and canvas. This procedure appears to also work with 1 tablespoon baking soda and 1/2 tablespoon hydrogen peroxide/water mixture. Scrub the shoes with a toothbrush dipped in the mixture, then rinse with water after 30 minutes to allow the baking soda to do its job.
Hack #4 – Micellar water
Micellar water is a revolutionary makeup remover that also cleans your shoes! Simply use a clean cloth and some micellar water to clean your white sneakers. It is suitable for leather, rubber, and suede finishes.
Hack #5 – Toothpaste
If it's good enough to keep your teeth white, it'll also keep your kicks clean. Using an old toothbrush and a little water, scrub the dirty region of your leather, canvas, or mesh shoes, then wipe away excess with a damp cloth.
Hack #6 – toilet paper and water
This procedure is great for canvas shoes that have yellow streaks despite being cleaned with conventional ways. Soak sheets of toilet paper in water and use the paper to create a Papier-mâché effect on your footwear. Allow 12 hours for the mixture to set and dry. Remove the paper and you'll have clean white shoes with no yellow streaks.