30 Cool Short Haircuts for Men
Taking care of your hair is one of the easiest ways to show that you care about how you look. At the end of the day, all you have to do is pick a style and check in for a chop, right?
True, but it's still up to you to get the all-important first steps right if you want hair that stands out from the rest. This is just one reason (among many) why men should try out all the short haircuts that are out there. Let's find out 30 Cool Short Haircuts for Men in 2022 with Teeanime.
BEST SHORT HAIRCUTS FOR MEN
You can also "accessorize" short cuts with details like a fade, which is often part of the Edgar haircut. You can choose from tapered, high, skin, or scissored fades, or you can add texture to slightly longer styles, which is great for people with unruly hair or cowlicks.
As for maintenance, you need less of everything except time at the barbershop. You only need to shampoo your hair once every three or four days, and you won't need as much product as you would for a quiff or other style with medium-length hair. But the style will grow out more quickly, so you should try to get it cut every few weeks. Here are some of the best short haircuts for men to take with you.
1. HIGH AND TIGHT
The high and tight is a sleek and sophisticated short hairstyle for guys that is universally attractive. This traditional military cut mixes skin-shaved sides with length on top and is a good choice for men with thinner hair. Look no further than everyone's man crush, David Beckham, for celebrity motivation.
2. IVY LEAGUE
The Ivy League is a great example of the popular "old money" style. This is one of the best short haircuts for men who want to look preppy. The sides are short, and the top has just a little bit of volume. Change the length to suit your tastes, but stay true to the original by keeping the proportions the same.
3. CREW CUT
Are you a guy who doesn't want to spend a lot of time getting ready? Then you should look at the crew cut. This short haircut for men is simple and will never go out of style. To get the look, trim the hair close at the back and sides, but leave more hair on top and leave some longer strands at the front of the head.
4. BUZZ CUT
A buzz cut is without a doubt one of the best hairstyles for guys who have oval or oblong facial shapes and want to balance proportions. Furthermore, a buzz cut is one of the few styles that can be done at home. So get a good pair of clippers, set them to a No. 1 or 2, and shave evenly all over your head.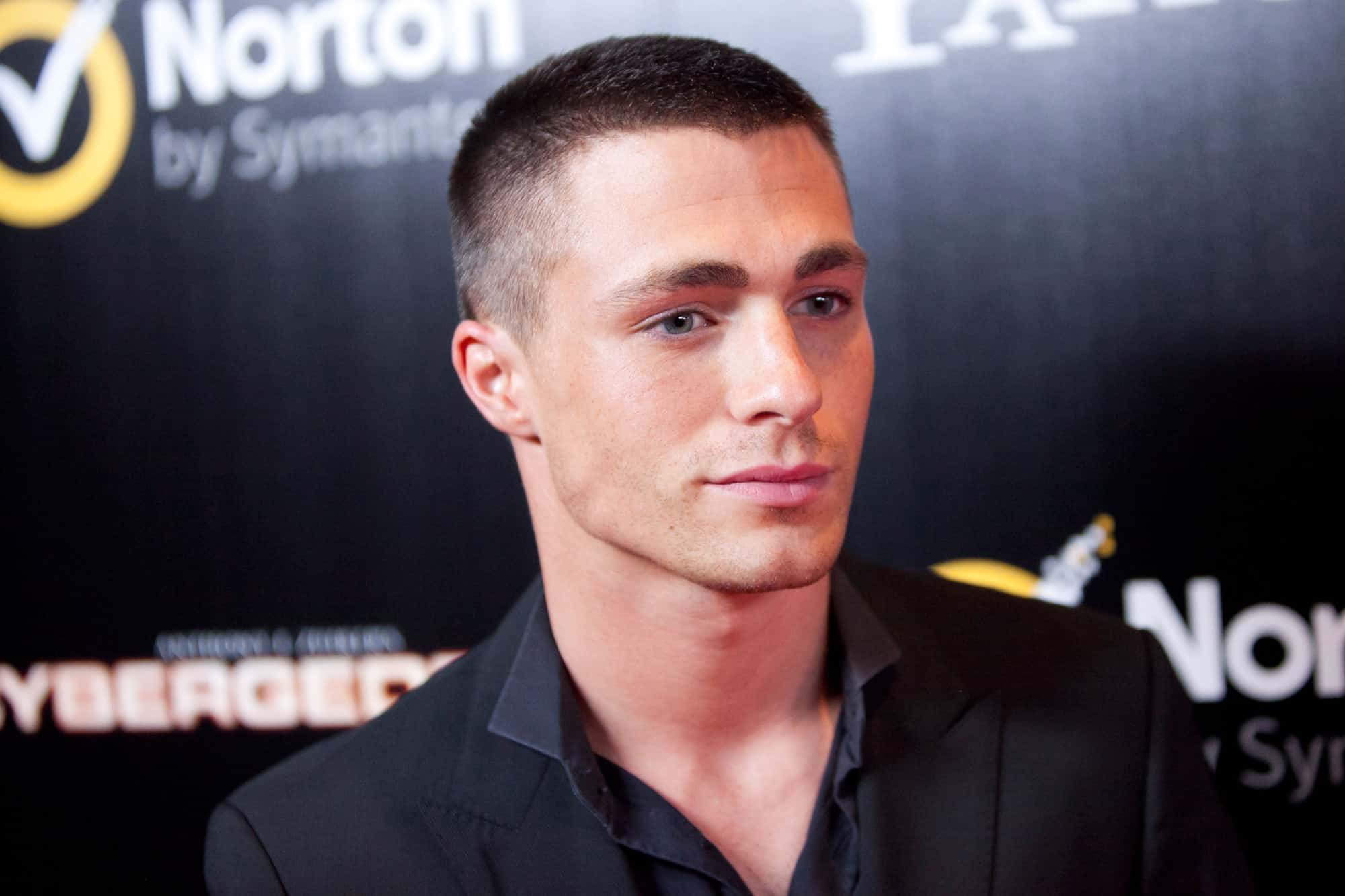 5. BUZZ CUT WITH LINE-UP
A line-up combined with a more stylized variation of the basic buzz cut creates a modern, fashion-forward look. Sharp, bold edges will frame and draw attention to the face, thus this trim is appropriate for confident guys who want to stand out. A buzz cut is one of the few short hairstyles for guys that requires little or no maintenance.
The bowl cut was one of the most fashionable men's hairstyles in the 1960s and 1980s. The current version, on the other hand, is much cooler. With an even-cut fringe sitting mid-forehead and a textured top with buzzcut sides, it's edgy, untidy, and manly. It is one of the best short haircuts for guys and an emerging style.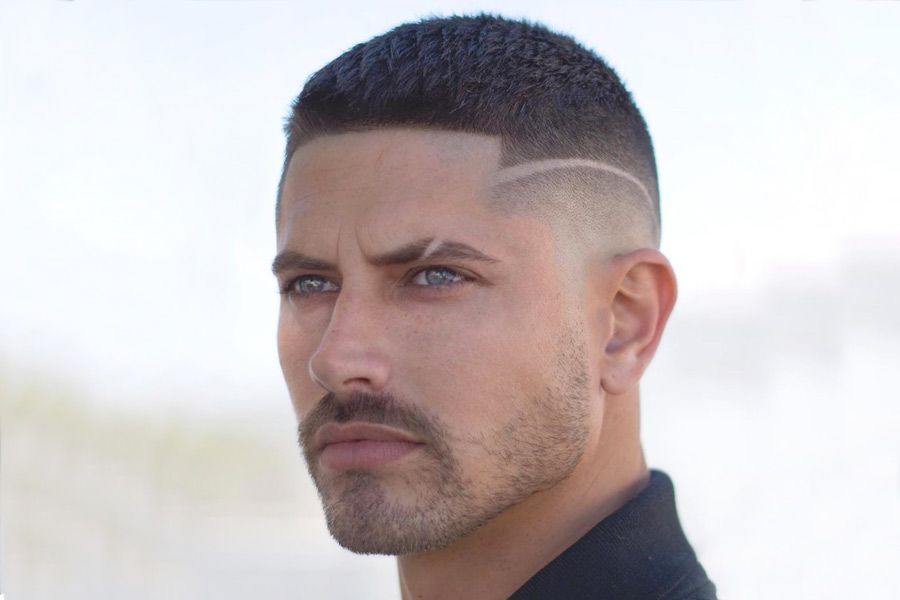 6. BOWL CUT
The bowl cut was one of the most fashionable men's hairstyles in the 1960s and 1980s. The current version, on the other hand, is much cooler. With an even-cut fringe sitting mid-forehead and a textured top with buzzcut sides, it's edgy, untidy, and manly. It is one of the best short haircuts for guys and an emerging style.
7. BUTCH CUT
A butch cut is one of the greatest short hairstyles for men who don't want to spend too much time shaping their hair. The hair is cut very short in a military style and looks great with an undercut or fade on the back and sides. Furthermore, the style is simple to replicate at home with clippers.
8. CAESAR CUT
The Caesar cut is eternal, from ancient Rome to the red carpet. The sides, top, and back are all short, with the top combed forward to highlight the fringe. It's perfect for males with thinning hair on top and is one of the greatest short haircuts for men with an oval, diamond, or square face shape.
9. UNDERCUT
An undercut is one of those short haircuts for men who want to stand out from the crowd. It's sleek, elegant, and trendy. It emphasizes powerful features, and while the back and sides of the head are buzzed or chopped precisely, some length on top is left to accentuate volume.
10. EDGAR HAIRCUT
The Edgar is another variation on the Caesar cut, with a high skin fade integrated into a short Caesar cut. There are several short hairstyles for men that you will either love or despise. Whatever side of the fence you're on, it's a daring look. Short, manageable, and perfect for facial shapes like as rectangular, oval, and pointed.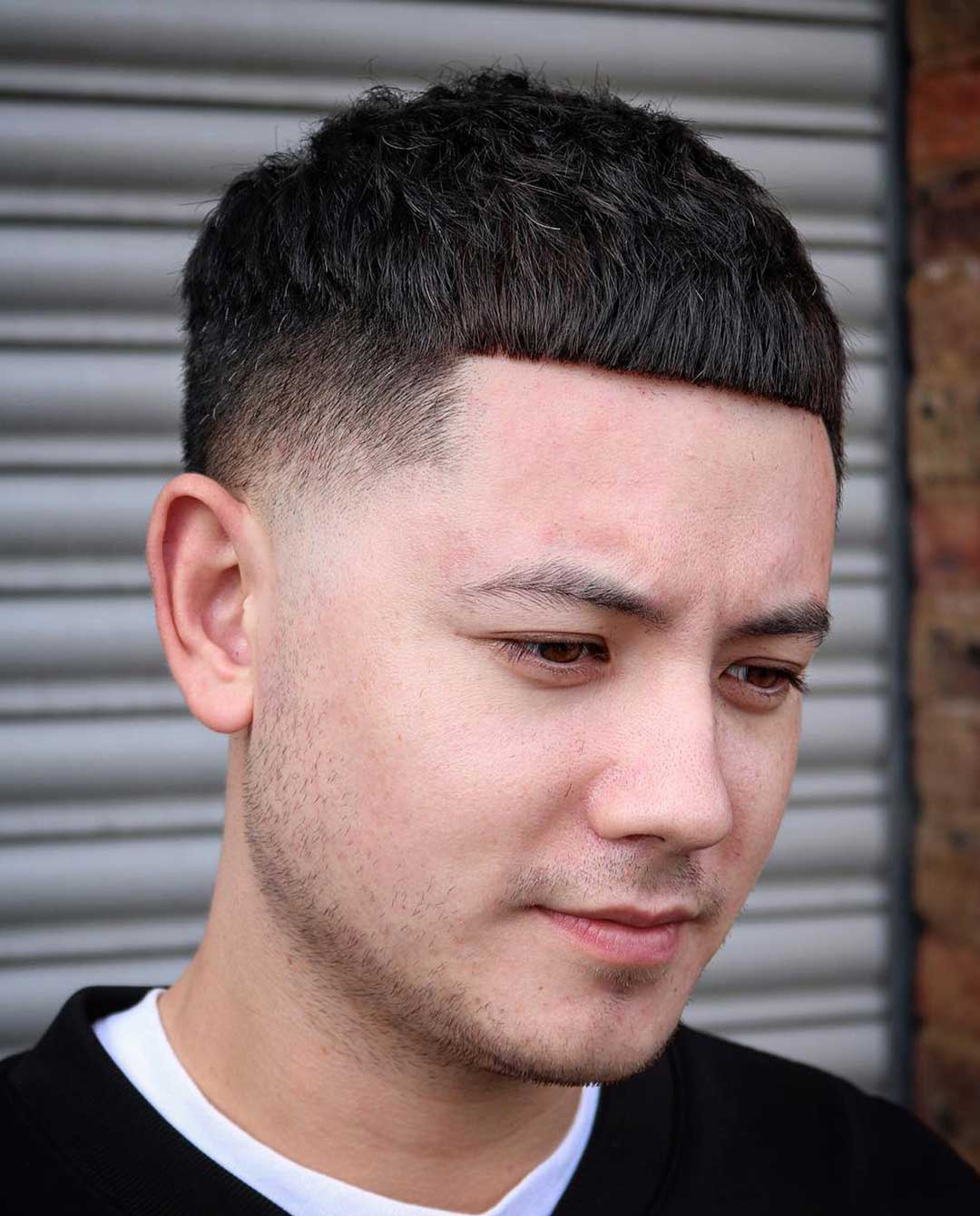 11. DISCONNECTED UNDERCUT
Do you know the distinction between an undercut and a disconnected undercut? In a nutshell, a classic undercut fades gradually, whereas a disconnected undercut contrasts dramatically between the top length and shaved sides with no fading. As a result, short hairstyles for males can frequently pack a punch and go unnoticed.
12. SHORT HAIR WITH HARD PART 
Consider a hard part if you're looking for a quick approach to update your short hairdo. A hard part is a precise, narrow line shaved at the side parting that separates two parts of the head with distinct hair lengths. Consider a quiff, fade, comb-over, and undercut. Short hairstyles for males are hot, so go big or go home!
13. SOFT PART 
If George Clooney approves, it must be one of the best short haircuts for men. A soft portion can be made in two ways. Make the parting using a comb for a more professional appearance. Alternatively, if you prefer a more relaxed look, split the hair with your fingers. In any case, this is a red carpet outfit for aspirational men.
14. FRENCH CROP
Oh, la la! Europeans are known for having easy, stylish style, and the French crop is no different. Ask your barber to add a fringe section to your short hair around your head. The French crop is one of the short haircuts for men that can be worn with either straight or curly hair. It adds definition and texture to the hair, which looks good.
15. SHORT DREADLOCKS 
Did you know that the word "dreadlocks" was made up by Rastafarians in the 1950s? "Living in fear of God" was what it meant. To choose this style, you don't have to be religious, though. Dreadlocks can be a sign of a natural, free spirit these days. There are more than one way to get these short haircuts for men that have meaning.
16. MILITARY CUT
From the butch cut to the crew cut, buzz cut, regulation cut, and more, there is no one hairstyle that works for everyone who wants a military look. So, talk to your barber about all of the short haircuts for men in this style before you decide which one you want.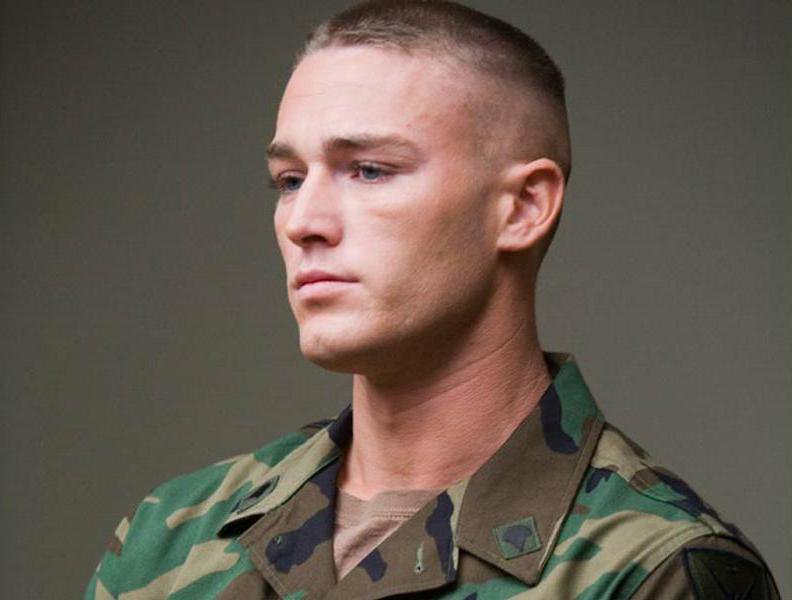 17. REGULATION CUT
This military-style cut usually has a part on the side, which makes it one of the best short haircuts for men on a mission. The top is longer than the sides, and the sides are faded or shaved. To look like a real Officer and a Gentleman, you should shave your face. It works for hair that is straight or curly.
18. COMB-OVER
George Clooney is to blame for the comb-over becoming one of the most popular short haircuts for men. To get this look, part your hair to the side and comb it across the top of your head. The sides are short, but the top is longer, which makes it perfect for people whose hair is starting to thin or fall out early.
19. FLAT TOP
This look combines upright hair on top with trimmed short or shaved sides to create a boxy top. This retro-style popularized by celebrities such as MC Rakim in the 1980s is currently at the top of the short haircuts for men charts. If you want to show off your flat top, you'll need to visit your barber on a regular basis for cuts.
20. LINE UP SHORT
To get this appearance, your barber will use clippers to line up and shave straight lines and sharp, exact angles into the hairline, parting, or temples. This sharp cut will bring attention to the eye-catching forms it generates. Some short hairstyles for guys reveal a lot about your personality, so let yours speak for itself.
21. SHORT SPIKY HAIR
In the 1990s, the most popular short haircut for men was short spiky hair. That doesn't imply it's out of date; just ask Adam Levine. To get the full impact, style your hair with matte-effect products after washing it. Use a styling paste or clay to separate strands and create textured spikes.
22. SHORT MULLET 
Mullets were a big part of the 1980s, along with leg warmers, neon, and spandex. They show that retro short haircuts for men are a fun way for a guy who doesn't take himself too seriously to stand out. The short in the front, long in the back cut with taper fade sides gets a new look with the modern mullet.
23. MOHAWK FADE
During the punk era, the Mohawk was a big, bold sign of anarchism. They are one of the less extreme short haircuts for men these days and are much more common. If you have a rebellious side, ask your barber to leave a long strip of hair down the middle of your head and fade the sides.
24. FAUX HAWK
The faux hawk is the best short haircut for men who like the original Mohawk style but aren't ready to go all the way. Instead of shaving, the sides are cut close to the head. On the other hand, the length of the top is shorter than on a regular Mohawk, which is a subtle difference. Also, this version is easier to style and take care of.
25. FAUX HAWK WITH FRINGE CUT AND FADE
Ask your barber to add a fringe and fade to your faux hawk to make it even better. With a longer part on top and a fringe, you have a lot of hair to play with, so you can make the style fit your style. The best short haircuts for men can be styled in different ways, like Zayn Malik's messy and dark look or Cristiano Ronaldo's cool and sleek look.
26. LOW FADE WITH FAUX HAWK
A fake hawk isn't as rebellious as a Mohawk, so it's better for the office. No need to buzz the sides of the head or shave them. Your barber will instead give you a taper fade on the sides and a longer top. Short haircuts for men are popular among celebrities, and Zac Efron likes this one.
27. BALD FADE WITH SHORT MOHAWK
This style is sexy and smooth, and it makes a statement. Keep it short and taper it into the skin for contrast. A bald fade with a short Mohawk is more appropriate for the job than a high or mid fade. However, any variation of the Mohawk is among the most distinctive short haircuts for men.
28. HIGH FADE 
If you're seeking for compliments, a high fade is at the top of the short haircuts for guys list and will ensure you get those adoring glances. It's a top trendy style with longer hair on top merging downward to very short hair on the sides and back.
29. BURST FADE
The burst fade, as opposed to the drop fade, focuses on the hairline's edge and behind the ear. This new look is amazing because it works for both curly and straight hair. It also goes great with a variety of hairstyles. Furthermore, it is one of the short hairstyles for guys that suit all ethnicities.
30. DROP FADE WITH SLICKED BACK
The sleek back is a throwback to rocker styles from the 1950s. When combined with a drop fade, which tapers down the back of the head to the neckline, it's a whole new game. It's one of the best short hairstyles for men to wear after work.