Many people thought that the man bun would be a short-lived style, but it has shown that it is here to stay. The man bun can also compete with other popular hairstyles, like the pompadour and undercut. So, if you have long hair, the man bun is a great style to think about. You just have to find the right one for you. So, go with Teeanime for all your doubts!
1. Classic Man Bun
The classic man bun is easy to do and looks great. The style looks best on hair that is at least shoulder-length or longer and has a simple bun tied in the middle of the back of the head. Even though the style isn't as unique as it used to be, it's still stylish and fashionable. Even better, the classic man bun is also very useful. So, if you want to get your long hair out of your face or just want a stylish look, this is a great option that doesn't require a trip to the barber.
2. Short Man Bun
Men with medium-length hair can also look great with a man bun. But if your hair is on the short side, you will only be able to make a short man bun. But don't let that make you feel bad. A mini man bun can look very stylish and is a great way to pull off this hairstyle. Just make sure that the bun is low on your head so that the lower parts of your hair don't fall out.
3. Half Bun
The half-bun is another great way to wear the man bun. The top half of the hair is pulled into a bun, and the rest is left down. This is called a "half-bun." Men with long or medium-length hair can pull off this style well. You can also choose this style if your hair is just starting to grow out. It's easier to make and keep up with short hair than a full man bun. If pieces keep falling off, try a small amount of a product to help keep them in place.
4. Top Knot
The top knot is a higher-on-the-head variant of the man bun. It can be made tight and clean for a more professional appearance, or loose and messy for a more relaxed appearance. The most critical aspect, regardless of which variant you choose, is the location of the bun. Sweep your hair up into a ponytail before forming your bun to achieve the appearance. The base of your ponytail should be at the crown of your head or slightly higher.
5. Messy Man Bun

For an edgy and relaxed take on the man bun, try making it messy. The messy man bun is ideal for gents who prefer a casual look but still want to appear stylish. The disheveled hairstyle is also perfect for men with wavy or wild hair as it utilizes its natural texture. To create the look, skip brushing and just use your hands to loosely rake your locks into a low ponytail. Then, secure it in a messy bun at the nape of your neck.
6. Man Bun Fade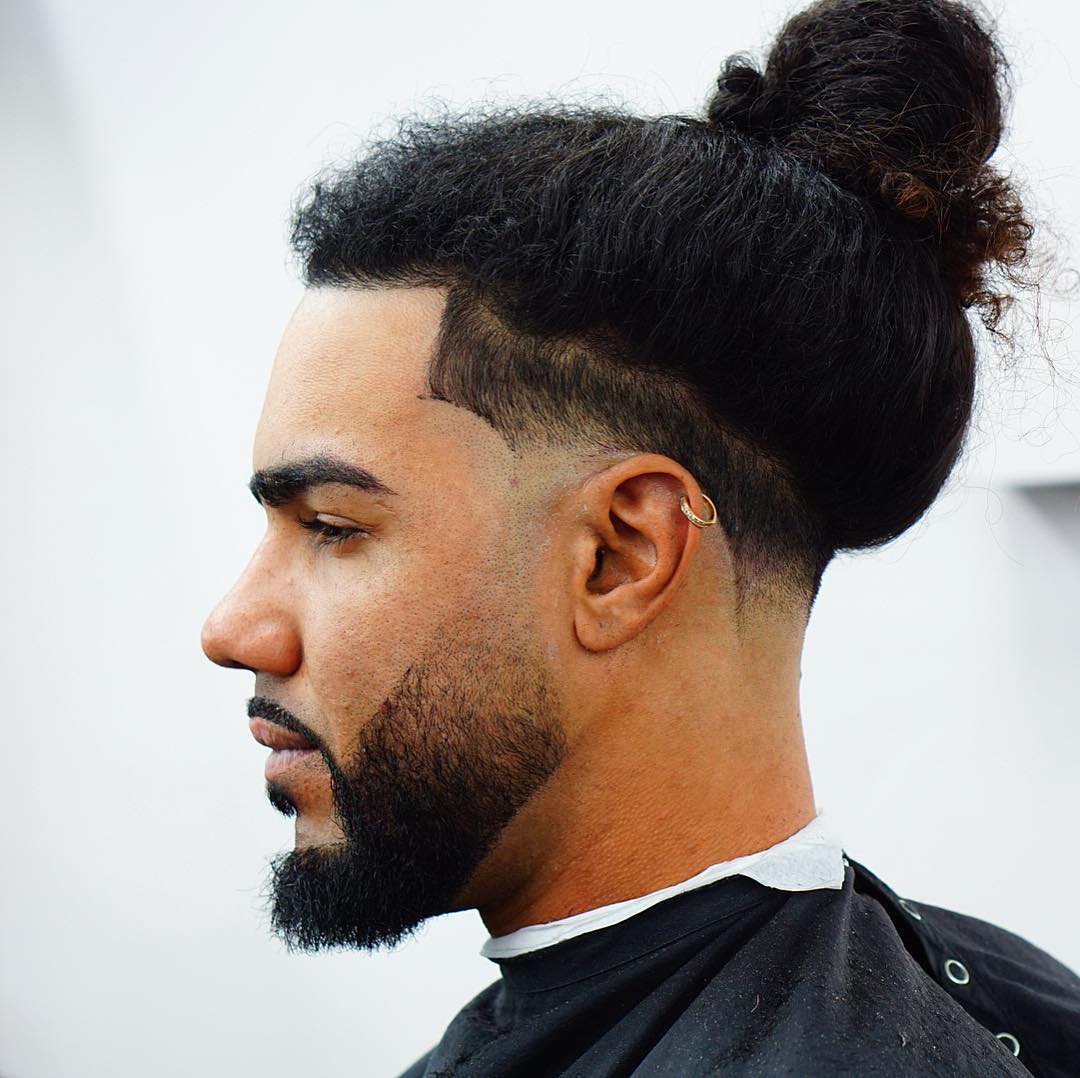 Combining two trendy hairstyles into one is a great approach to look fashionable and cool. Although not every couple will look well together, a man bun and fade is a match made in heaven. The mix of these two styles results in a distinct and eye-catching appearance. A low undercut that begins about the middle of your forehead can be used to make the look even more eye-catching.
7. Low Man Bun
A low man bun is a great variation to the conventional look. The look, which includes a bun at the nape of the neck, exudes a carefree and easygoing vibe. As a result, it's ideal for casual and informal gatherings and parties. So, while you may not be able to wear the look to work, keep it in mind for the weekend and other days off.
8. Spiky Man Bun
A spiky hair bun hairstyle can give your lengthy locks an edge this season. The design is a fantastic variation on the classic man bun that appears modern and fresh. Begin by tying your hair into a high ponytail to achieve the effect. Then, bind it in a bun with an elastic, leaving the ends of your ponytail protruding out the top.
9. Man Bun Beard
A beard is required to return the man bun to its hipster beginnings. You may obtain a fashionable hipster image by wearing a man bun with a beard. Although the style is simple to achieve, if your head and facial hair aren't already long, it will require a lot of patience. Fortunately, there are a few tactics and ideas you can do to help your hair and beard grow quicker, longer, and stronger.
10. Dreads Man Bun
Whether you've had dreadlocks for years or are new to the look, a man bun can be a great way to show them off. A man bun with dreadlocks not only looks good, but it's also very functional, especially in the summer. Make your man bun untidy and loose for the greatest results. This will let you to show off your dreads in a casual, relaxed manner.
11. Half Up Half Down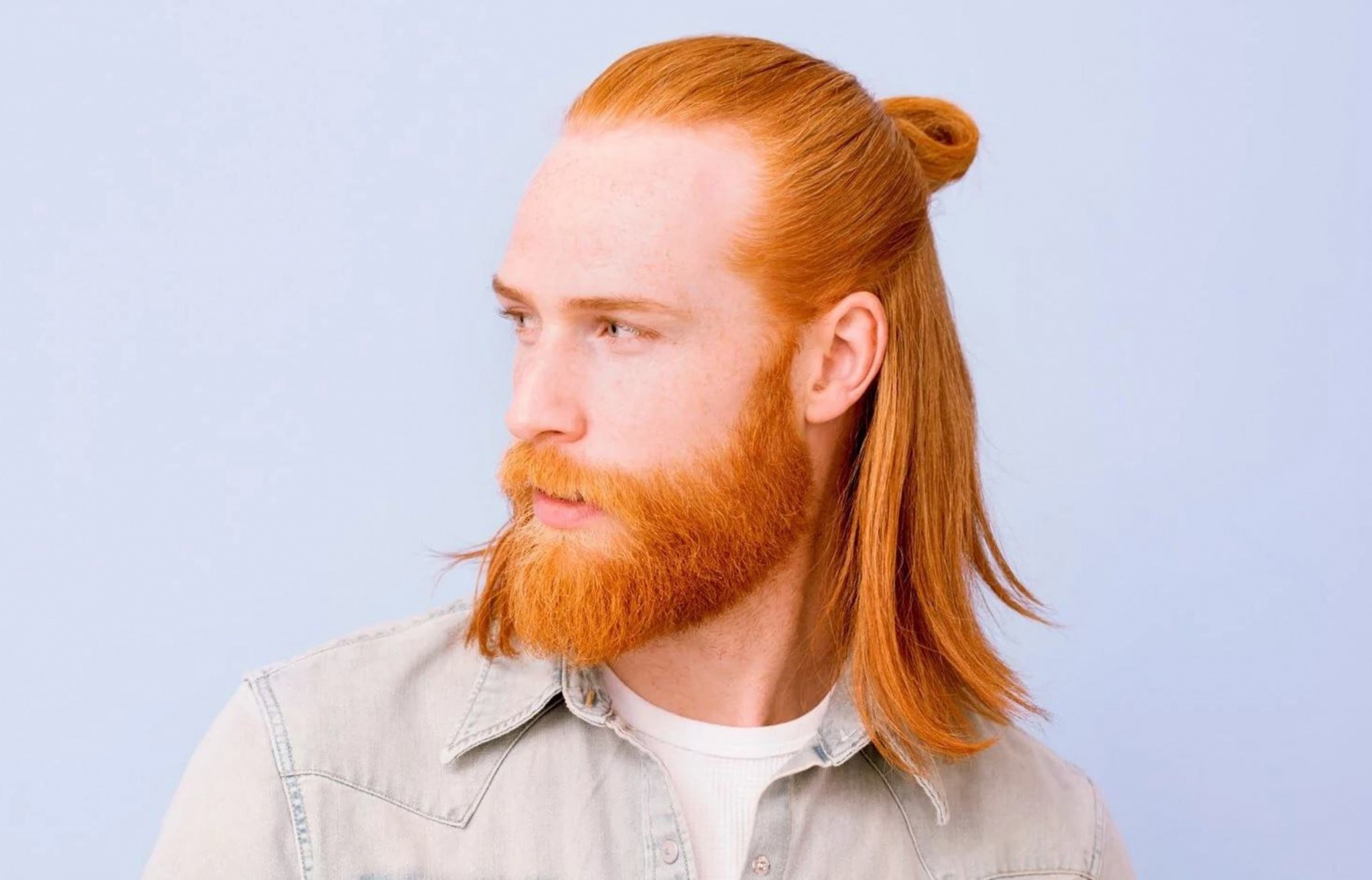 Half up, half down hairstyles entail tying half of your hair up in a bun and letting the rest fall loose. The distinction between the two is that the half-up top knot is fastened at the crown of the head. As a result, the style appears to be one-of-a-kind and fascinating. As a result, it's great for gents with a distinctive or daring sense of style.
12. Man Bun Shaved Sides
Do you want to up your top knot game? Why not chop off half of your hair instead of letting it loose? As a consequence, you'll have a daring bun with an on-trend unconnected undercut. Although this appearance will be too intense for many, people with a lot of confidence will love it. If you want, you can even grow a beard to add interest to your appearance.
13. Man Bun Braids
Man braids are a terrific alternative for gents who want to spice up their man bun without shaving or trimming. Combining a man bun with braids can result in a stunning and interesting look. Although they appear challenging, braids aren't that difficult to do, and practice makes perfect. Consider starting with a simple plait and progressing to more complicated ones.
14. Double Man Buns
Double man buns are an excellent way to take the man bun to the next level. The style, which has two buns instead of one, is produced by making two equal knots on either side of your head's crown. The final appearance is completely adventurous and bold. As a result, it's ideal for men who desire to stand out from the crowd and aren't scared to experiment with new haircuts.
15. Asian Man Bun
Long before hipsters, the bun was a classic Japanese hairstyle that frequently included hair sticks to hold it in place and add a decorative aspect. You can now channel these beautiful Japanese buns by creating your own Asian-inspired man bun. Brush your hair back neatly and put it in a tight bun high on the back of your head to achieve the effect. If you're feeling bold, you can finish the look with a hair stick or two.
FAQs
How long does your hair need to be for a man bun?
What's wrong with man buns?
Can a man bun cause hair loss?
Are man buns still trendy?